Save time, reduce risk and unleash the power of your content
The best digital asset management software for getting work done faster – and staying on brand
Modern marketing teams are tasked with managing exploding volumes of data, tracking assets across multiple-channel campaigns, and ensuring employees and agencies stay on brand. Shared drives no longer get the job done, especially in regulated industries where a lack of compliance can result in heavy fines.
IntelligenceBank's online Digital Asset Management System (DAM) makes it easy to create, find, share and track the entire lifecycle of all your digital assets. Now, content management and compliance has never been easier.
Make the most of your digital assets
Kiss your shared drive goodbye. Say hello to enterprise DAM Software
Upload, store, and manage assets from one secure location
Centralize approved creative with permission-based access
Find the content you need with Lightning fast search
Categorize content with AI tagging and custom metadata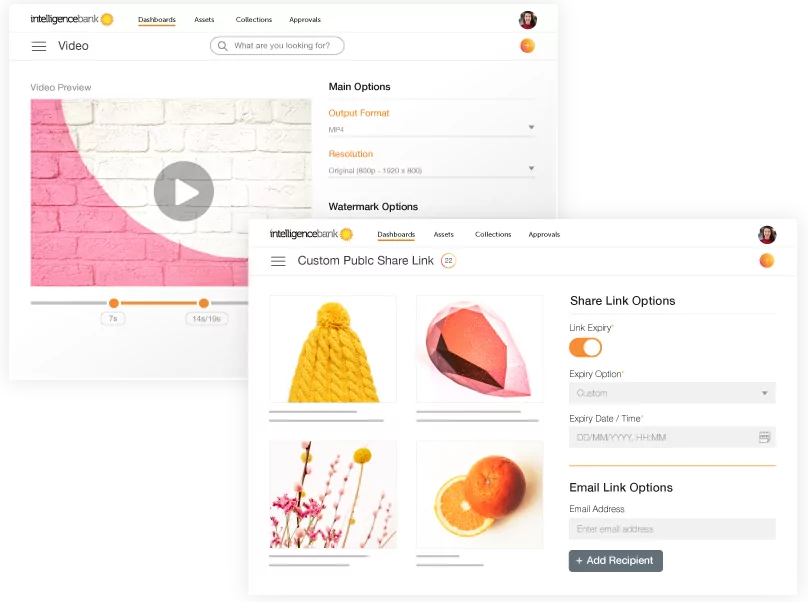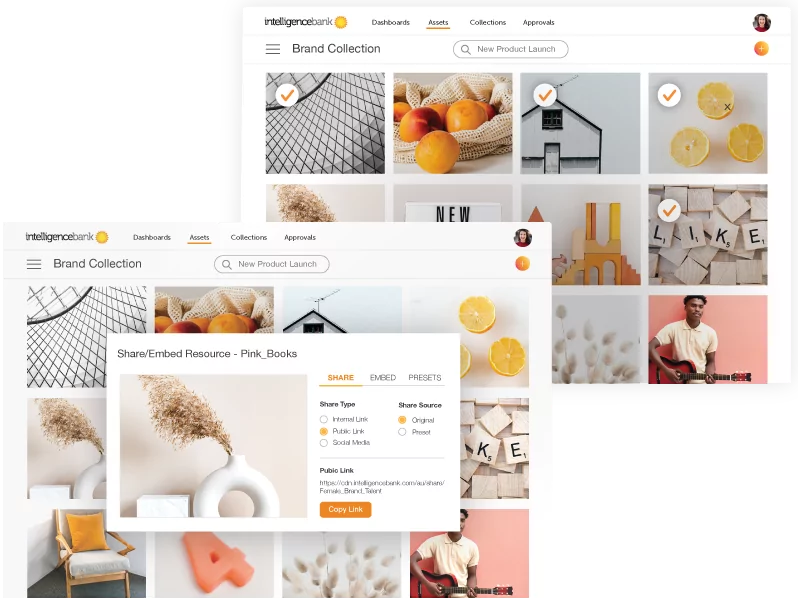 Email large file links to internal or external users
Embed media into private portals or public websites
Create once, then instantly update assets across multi-channels
Group assets into personalized Lightbox Collections to share with your team
Control the entire content lifecycle
Streamline content requests and workflows for final creative approvals
Approve downloads for files with Talent Usage Rights
Proof and mark-up assets for feedback and collaboration
Compare multiple versions side-by-side with Smart Highlights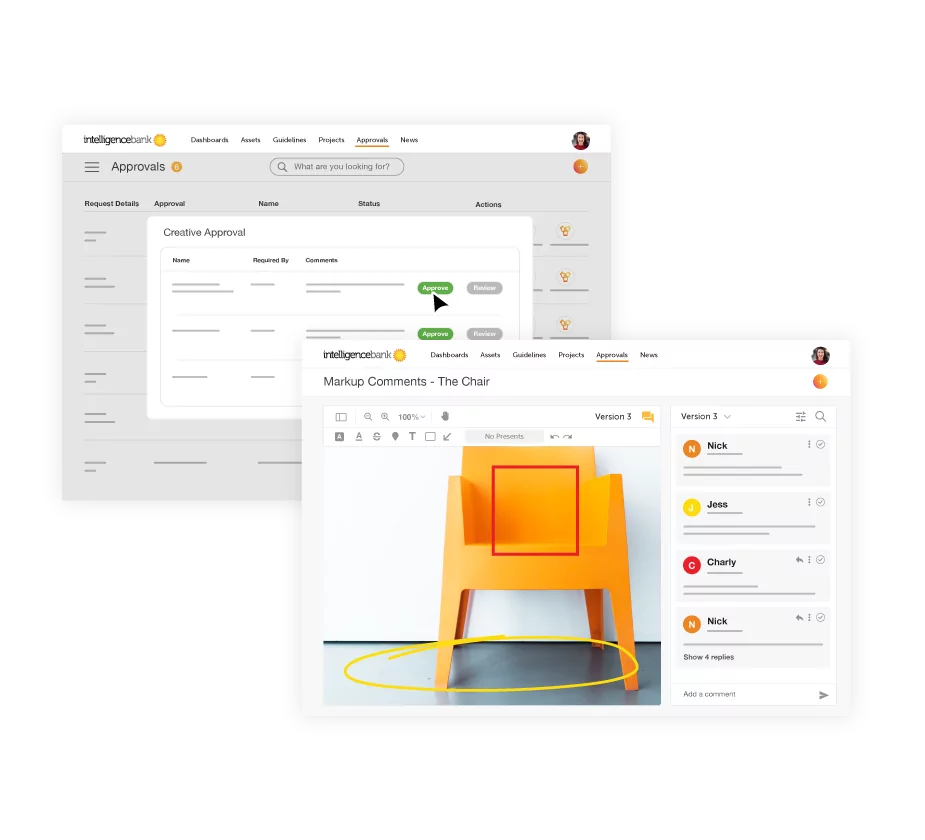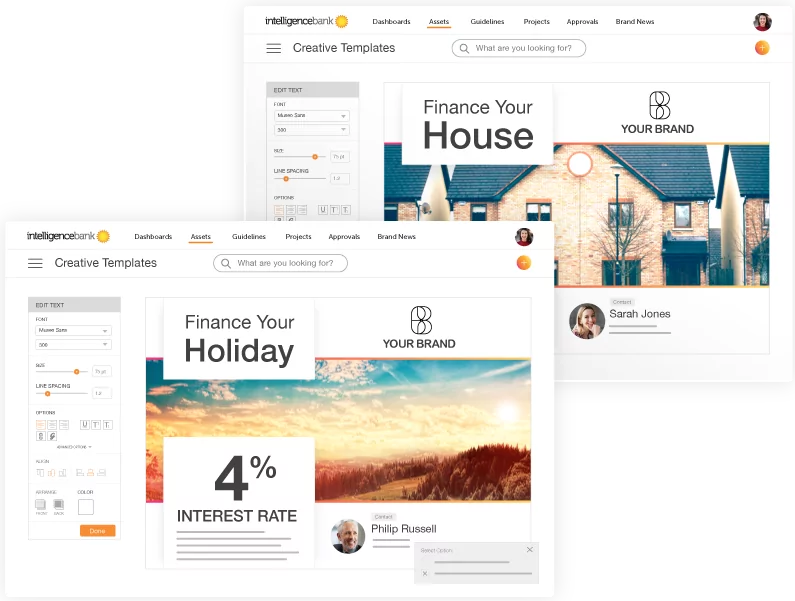 Templates to create content at scale
Empower teams to localize marketing collateral with pre-approved Creative Templates
Integrated with Approvals and Asset Library
Reduce product time and save on Agency Fees
Reduce risk to ensure Creative is on-brand
Transform media (on-the-fly)
Easily convert images and videos into different sizes and file formats. No more converting files in third-party software
Crop video footage to share snippets of key content
Standardize pre-sets that crop files perfectly to size
Edit, transform and download files in bulk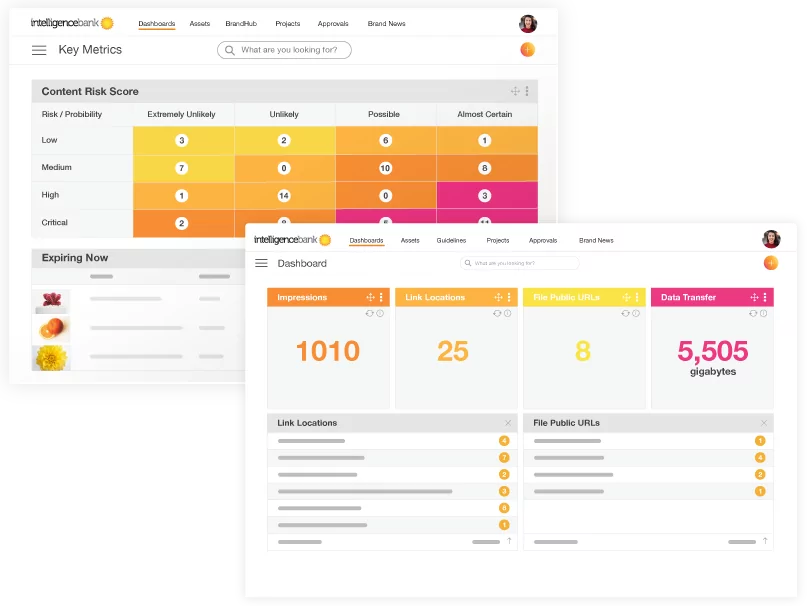 Track what's important and stay compliant
Track usage rights, talent consent and expiration dates
Audit asset usage and how users engage with content
Get instant ROI of content impressions linked to your online DAM
Connect to the tools you use every day
Achieve marketing efficiency and brand compliance across your entire MarTech stack
Access DAM assets directly within InDesign, Photoshop and Illustrator
Integrate DAM assets with your website CMS, such as WordPress, Drupal, AEM, Contentful and more
Edit Word, PowerPoint and Excel files directly inside your DAM
Hundreds of out-of-the-box workflow integrations (Handshakes) available. Configurable API for ad hoc integrations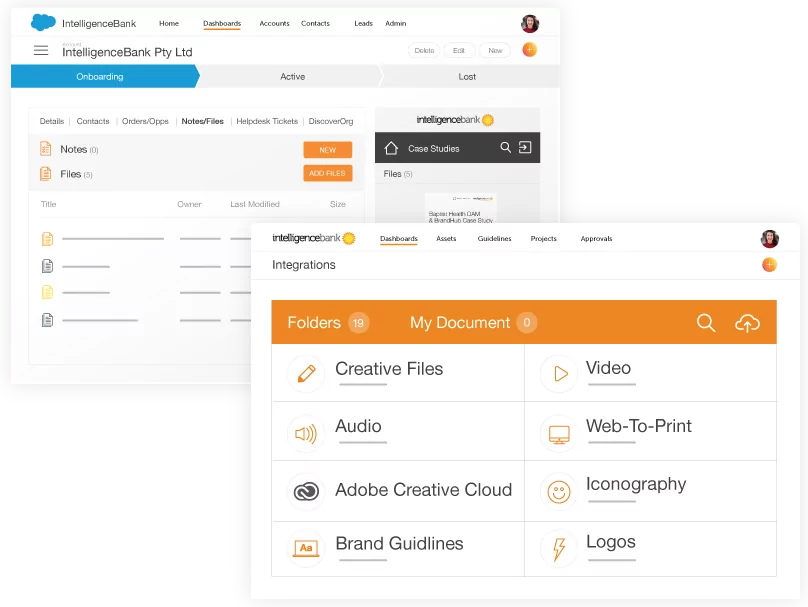 Digital asset management system features

Centralized Asset Library
Store, organize and access all your images, videos, documents and files in one location for a single source of truth. Hundreds of file types supported.

Share Assets
Email asset links to internal users, teams or external agencies via public or private links. Embed DAM assets directly into websites. Update assets across multiple platforms with 1-click.

Metadata Management
Customize metadata fields and embed metadata from IntelligenceBank into your files.

Lightning Fast Search
Search millions of files in seconds according to keywords, metadata filters, and custom tagging using AI.

AI Keyword Tagging & Transcripts
Use AI Technology to automatically tag assets with the most relevant keywords. Create transcripts of audio and video files in fewer steps.

Custom Welcome Page
Give users a beautiful experience that is true to your brand.

Lightbox Collections
Group assets for specific projects and share them with your team or externally.

Transform Assets
Quickly transform images and videos in different sizes and file formats. Including presets for social content and headless DAM applications.

Bulk Upload + Download
Everything is better in bulk!
Save time with easy-to-use drag and drop for files and folders.

Creative Templates
Create localized content using pre-approved templates that link directly to approved assets.
Asset Relationships
Link assets together with one-to-many relationships, such as grouping images into a campaign, or tracking a model's talent usage rights across different images.

Asset Review Dates
Set review dates for licensed assets, talent usage rights and promotional end dates. Setup dates for assets to expire and archive.

Workflow Approvals
Deliver approved marketing projects faster. Conditional and multi-hierarchical workflows included. Scenarios include approvals for downloading assets, publishing new creative, or general feedback.

Proofing & Markups
Mark-up documents, images, videos, URLs and other file types with annotations and comments.

Version Control
Maintain a history of all asset versions. Compare different versions side-by-side with associated markups and comments for each version.

Custom URL
Access via your own branded URL.

Main Admin Panel
Manage and control users permissions and access. Configure general settings and run usage reports by user and features.

Asset Reporting
Everything is tracked for compliance. Create custom reports and dashboards on your digital asset usage, expiry dates, metadata and approval information.
Download the DAM one-pager to get a snapshot of DAM Features and Benefits for easy sharing.
Explore more products
See what other products and services we can help you and your business with.
BrandHub Portal to keep everyone on brand
Online dynamic guidelines to keep everyone on brand
Marketing Operations to power content marketing
Manage briefs, creative approvals and compliance with instant audit trails