You can have the most advanced Digital Asset Management software on the planet, but that means nothing unless you know how to get the best out of it. If you've just purchased or inherited a DAM, you're sitting on a valuable resource that saves an enormous amount of effort managing your digital assets. 
We've curated the top ten Digital Asset Management best practices to help you better control your ever-growing bank of creative assets. You'll learn the most effective ways to: 
Set up your DAM; including folders, metadata, version control, governance, sharing, headless applications and more.
Save time by empowering your team to self-serve approved content.
Understand how to streamline workflows with automations, AI, proofing and approvals, better reporting and compliance.
Best practice #1: Audit your assets
This best practice holds the number one spot as it's essential. An audit helps you identify what to add from your existing assets, what's overused, what's expired, what's duplicated, what's underused and what's missing.
There are also dashboards to help manage every aspect of usage rights attributed to each asset, whether that's photography, footage, graphics, and audio.
Once set up, it's worthwhile having someone spend a few minutes each week to run through the usage reports to keep on top of things.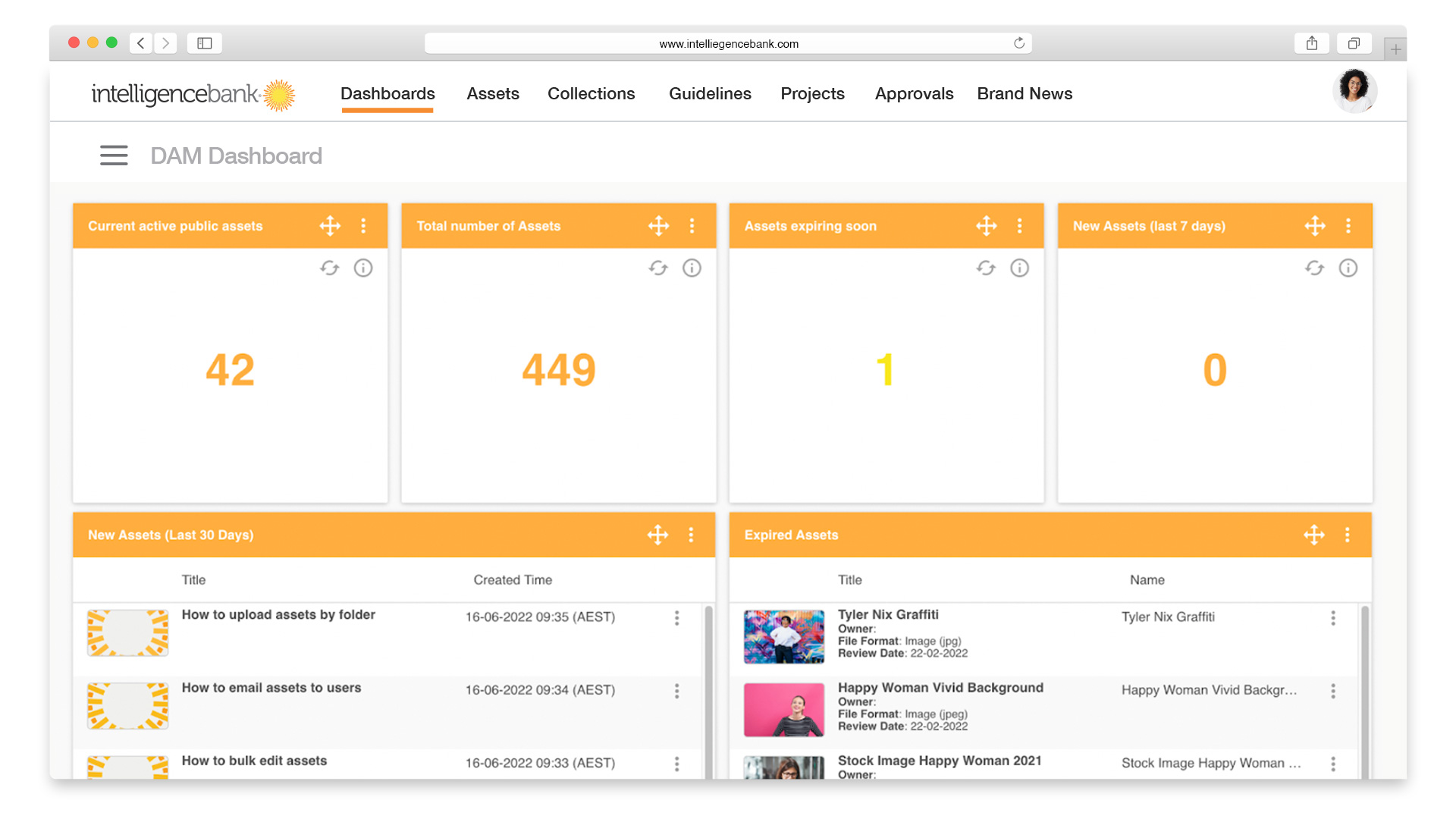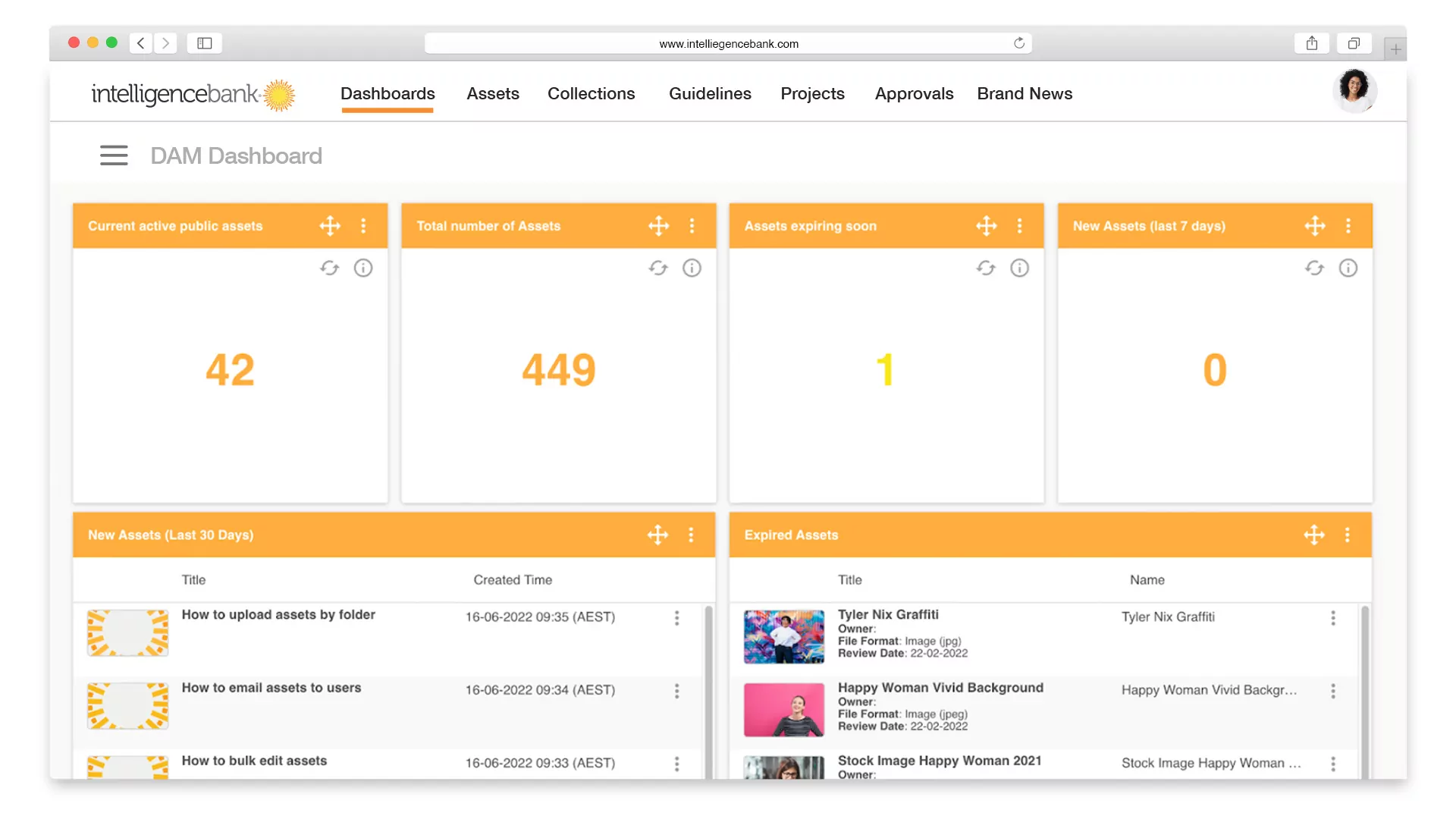 Best practice #2: Centralize your assets
At the start of your Digital Asset Management journey, your assets – which can include logos, images, videos, creative work, PDFs, docs, presentations and podcasts – will be spread over multiple locations. Some will be in file drives, others in portals, web platforms and even desktops. Most likely there will also be multiple versions of these assets. By consolidating and centralizing all assets, you reduce the need to keep storing them in other locations. It is a process and can take time, but it ultimately saves time and money recreating assets that already exist.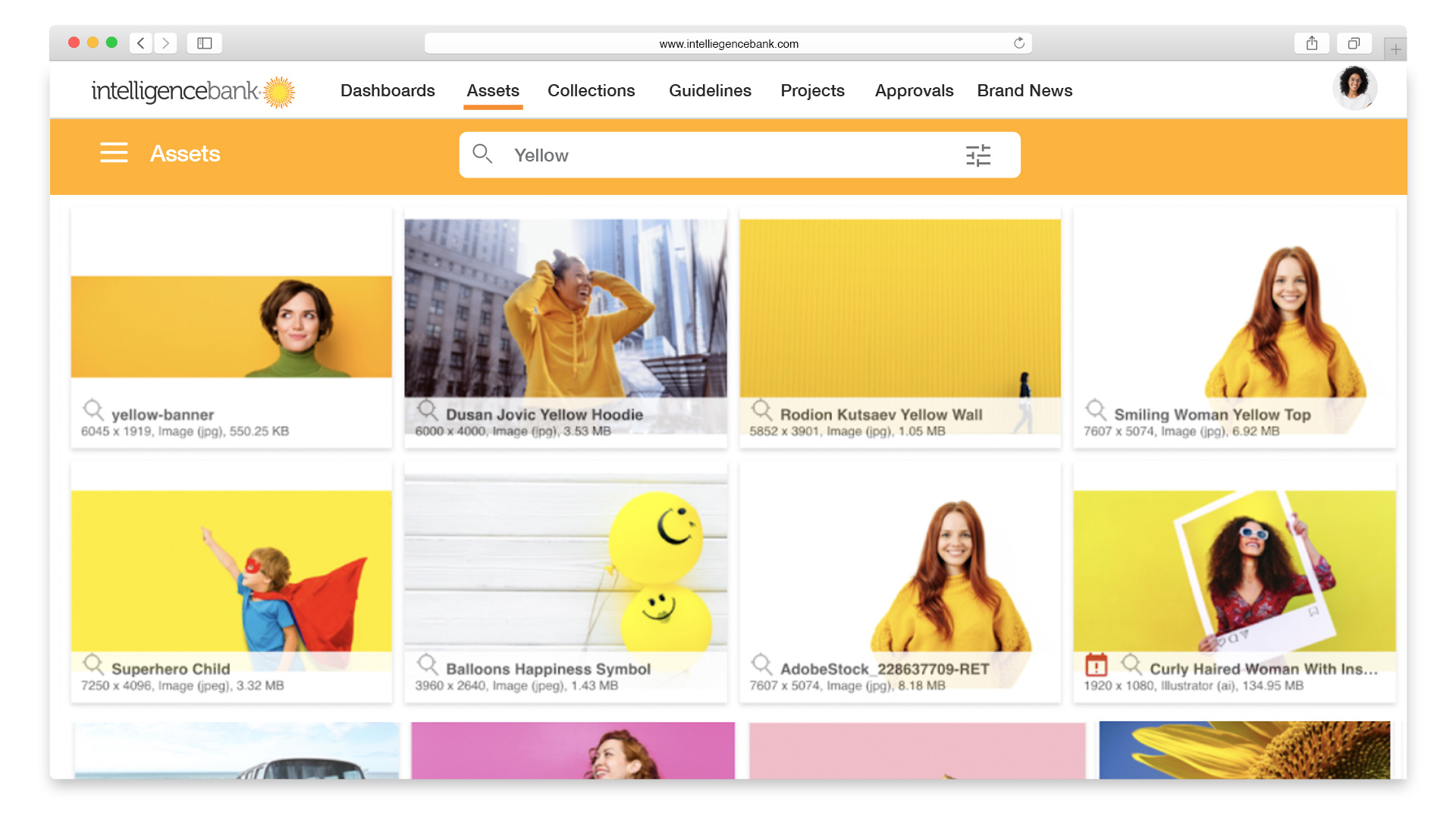 Best practice #3: Make self-serve easy
This starts with consistent naming conventions. For example, you may have one file labelled 'Christmas Campaign 2022 V4 10/31/2022' and a previous iteration labelled 'Version 4 Christmas Campaign'. Setting a protocol and order makes it so much easier for collaborators to find the correct file the first time. We recommend keeping the file name simple, and if you notice you have the same file with two entirely different names, use version control to differentiate them.
On top of naming conventions, it's also prudent to map out a file structure. This may be organized by asset type, campaign or business unit. DAM folder structures are totally customizable and can be easily set up to whatever configuration makes the most logical sense for your organization. There is no right or wrong answer. We've seen every structure going. 
The biggest mistake we see with Digital Asset Management systems is when file structures are too granular. When folders have 12 layers of sub-folders, drilling down becomes an ordeal. It seems counterintuitive, but the more segmented your folders are, the more it can end up hiding your content. Another benefit to having folders is that it allows you to quarantine content, say, by country or when sharing with agencies.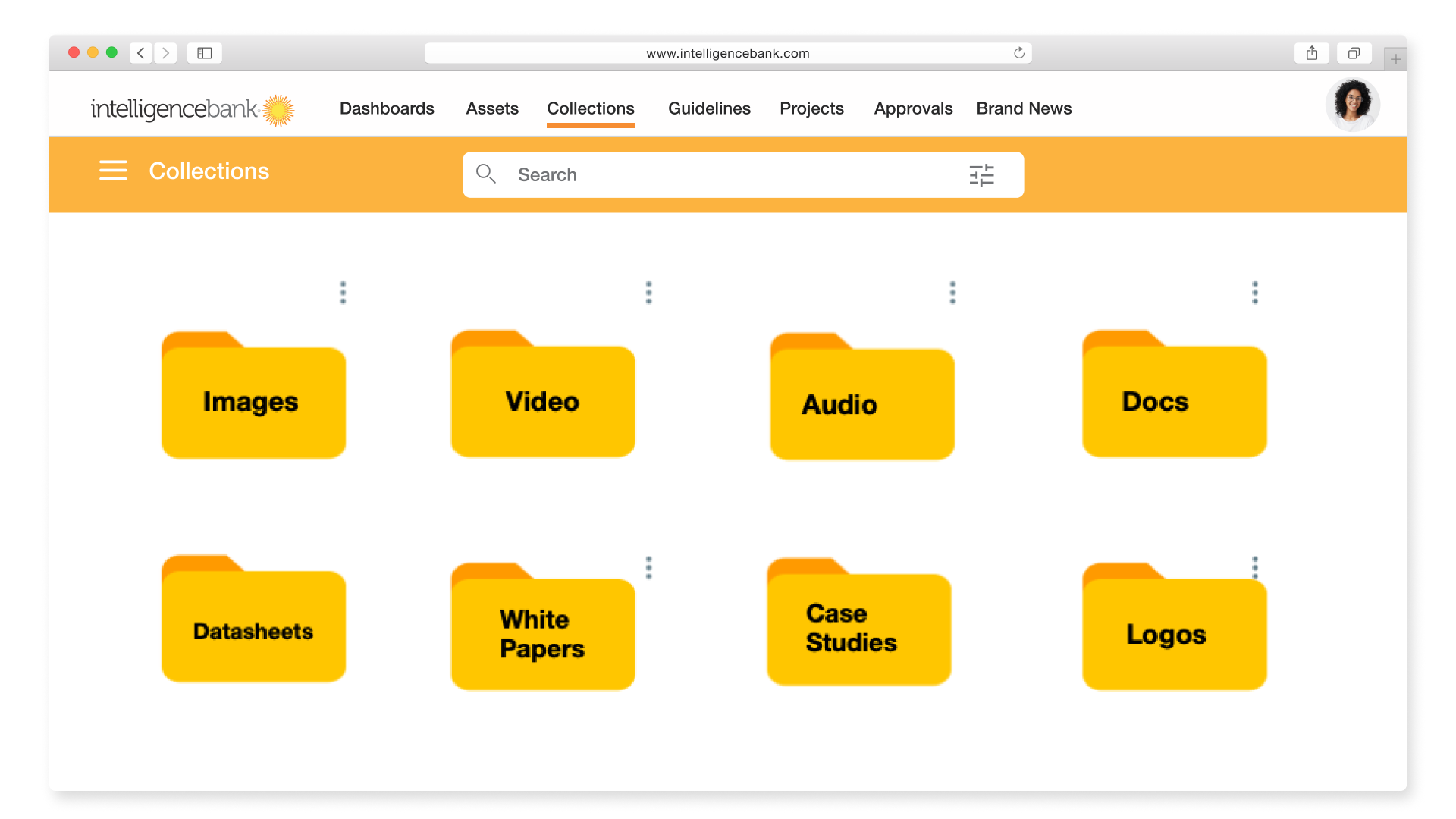 Best practice #4: Power-up search
The secret to a more powerful search is your metadata layer. Metadata is data about your asset. It typically includes technical and administrative and information about the asset, e.g. specs, camera setting used, location, dates, time and talent. 
Adding asset tags can also supercharge your search. Tags can be manually entered or auto populated with suggested keywords AI. One of the most popular features of AI tagging is facial recognition as it's used to recognize individuals and groups –brilliant for staff and paid talent.
Auto transcribe is another key tool used to boost searchability. It makes current and archive audio and video files easily discoverable and comes with the added benefit of accessibility.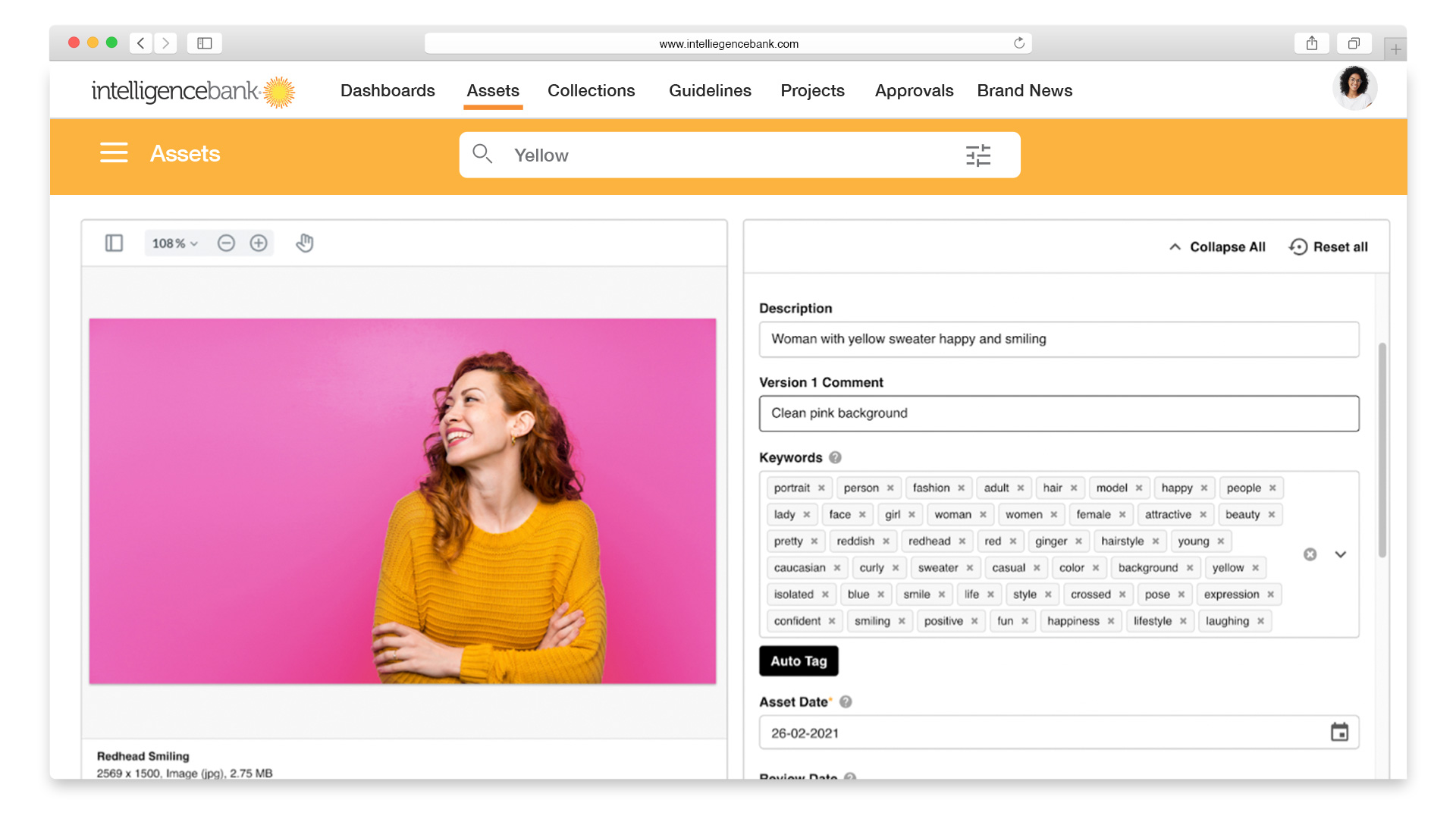 Best practice #5: Share it
This sounds simple. But any DAM manager knows this is where training really kicks in. To get the best out of this tech all collaborators should know how to deliver assets directly from the DAM. The best way to do that is for you to start sharing with them. There are three ways to share assets from your online DAM:
Email – from the DAM, email people a link to an asset of any size
Share Links – share a link giving access to the asset, (private or public link)
Embed Asset – into a webpage or a document using a CDN link
Your DAM may also include a branded public portal section allowing a selected amount of content freely available.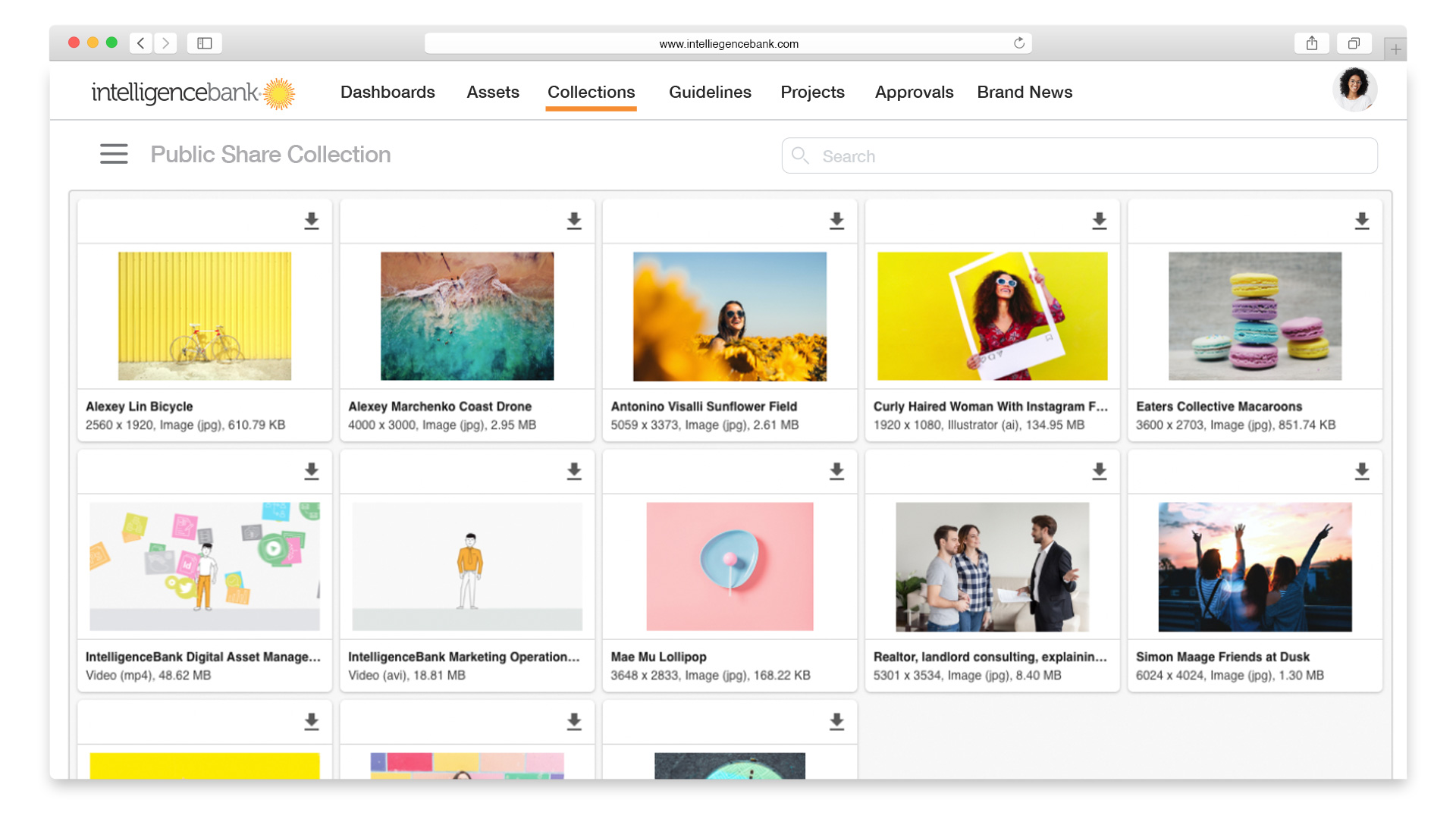 Best practice #6: Integrate your tech 
Your DAM should not exist in a vacuum. To get more value from your creative assets, make your Digital Asset Management system the foundation of your MarTech Stack. You can do this via API integrations that connect to other software you use every day. Most integrations are simple to configure and end up saving massive amounts of time. They remove the need for collaborators to download assets then upload them into other applications such as Adobe and content management systems like WordPress. One of the great advantages of working straight from the Digital Asset Management system is that you always know your assets are approved for use and on brand. 
You can also opt for the ultimate in integration which is a Headless DAM. This system integrates into your marketing workflow without going through a separate portal.
Best practice #7: Transform assets
Rather than having dozens of variations of the same asset in different file formats (say PNG, JPG or WebP), a DAM allows you to save assets in any selected format size and dimension. You can even configure pre-sets for commonly used sizes – for example social media or website specs that suit say, the set content type sizes on your website.
Sophisticated DAMs will also be able to serve brand approved creative templates that allow users to localize collateral for their markets such as price, interest rate, date or address changes. This is an enormous time saver for global teams and franchises as creative is immediately brand compliant.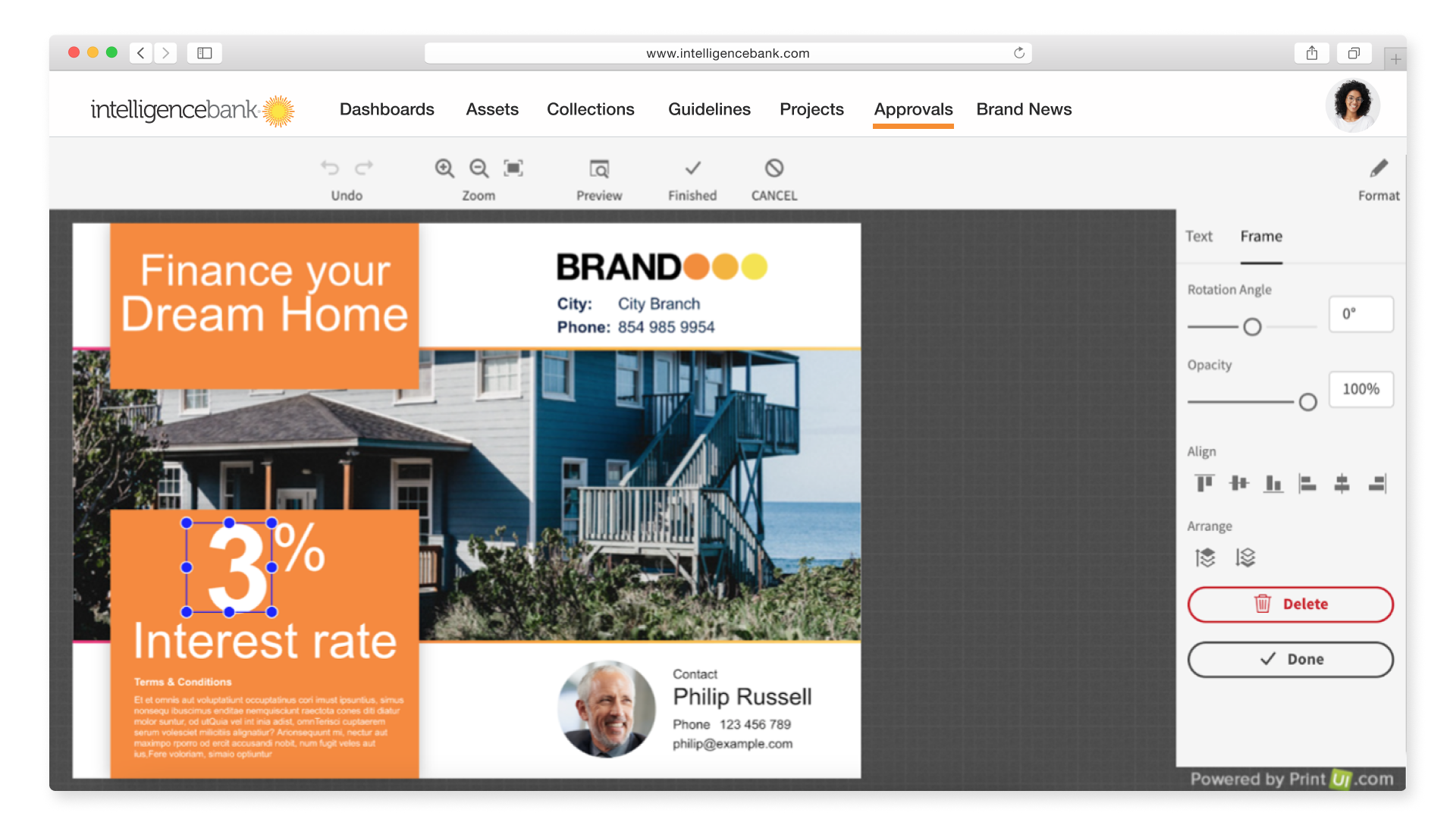 Best practice #8: Automate workflows
There's no limit to the automated workflows you can trigger through your DAM platform. Along with pre-approved creative templates, others automated functions include:
Download request approvals.
Dedicated marketing in boxes to automate common requests and funnel the more complex.
Website connectors that automatically update your site if you are using a CDN link.
Auto-detect duplicate files – even if they have a different file name.
Connect to messaging tools such as Slack to auto notify users of any changes to assets.
Endless automation when integrated with other software such as CMS and e-commerce tools.
Best practice #9: Automate compliance
Digital Asset Management systems and compliance are a match made in heaven as they include auditable proofing, markup and approval workflows that greatly assist version control. Requests for legal approval can be triggered and tracked directly from the DAM.
Automated email alerts for expiring assets are another useful back up mechanism for managing licenses and talent agreements.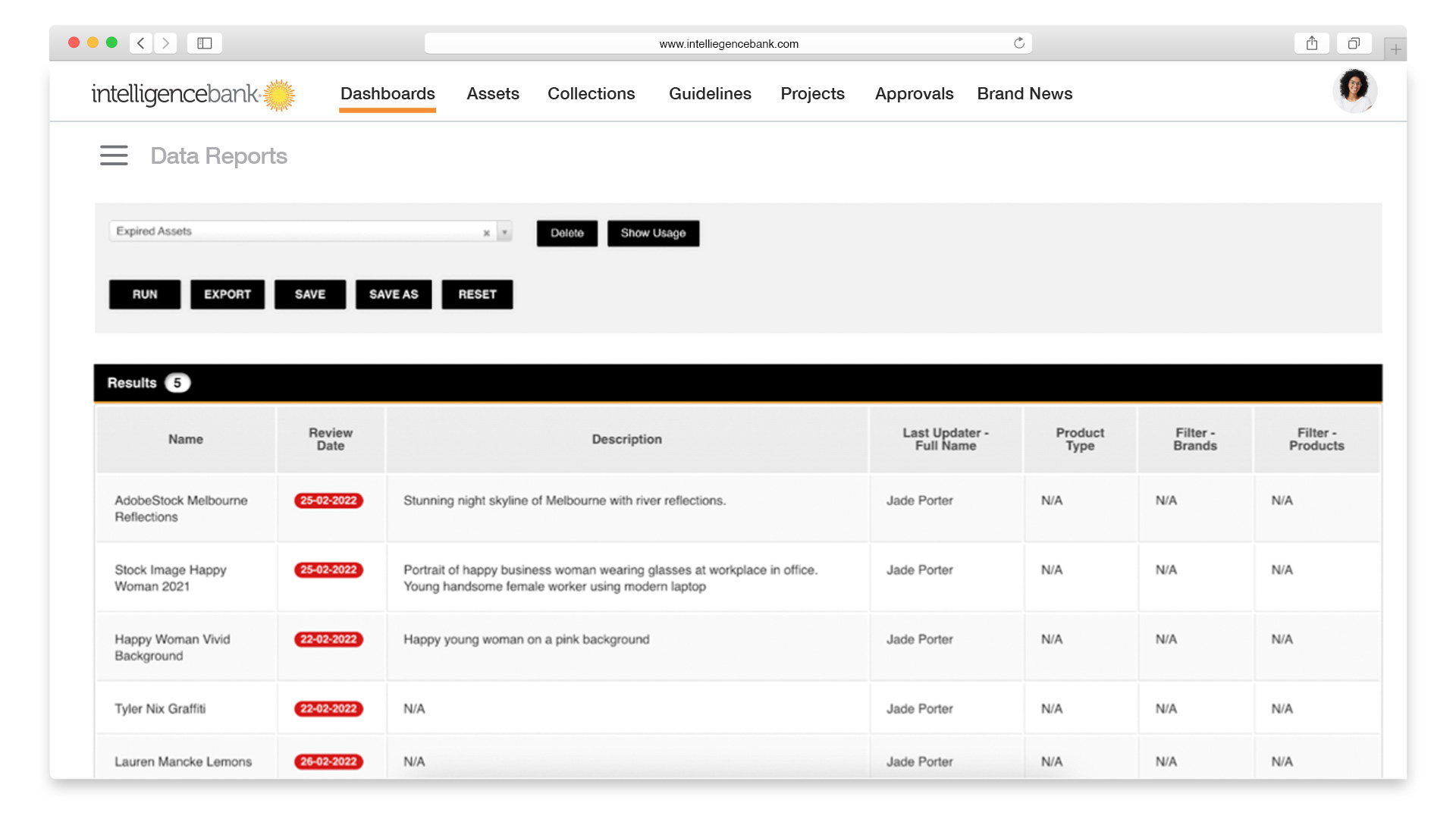 Best practice #10: Governance and reporting
This starts with Single Sign On access (SSO). It's much easier than remembering passwords and it's great for governance. It's also best practice to include granular permissions. This includes things like locking down access so only people who are meant to see certain content can see it. This can be done at either folder or asset level. A DAM also allows you to lock down functionalities such as who can create, view and share. Better still, reports can be generated measuring usage, e.g. Top downloaded files, total logins etc. via a customizable dashboard.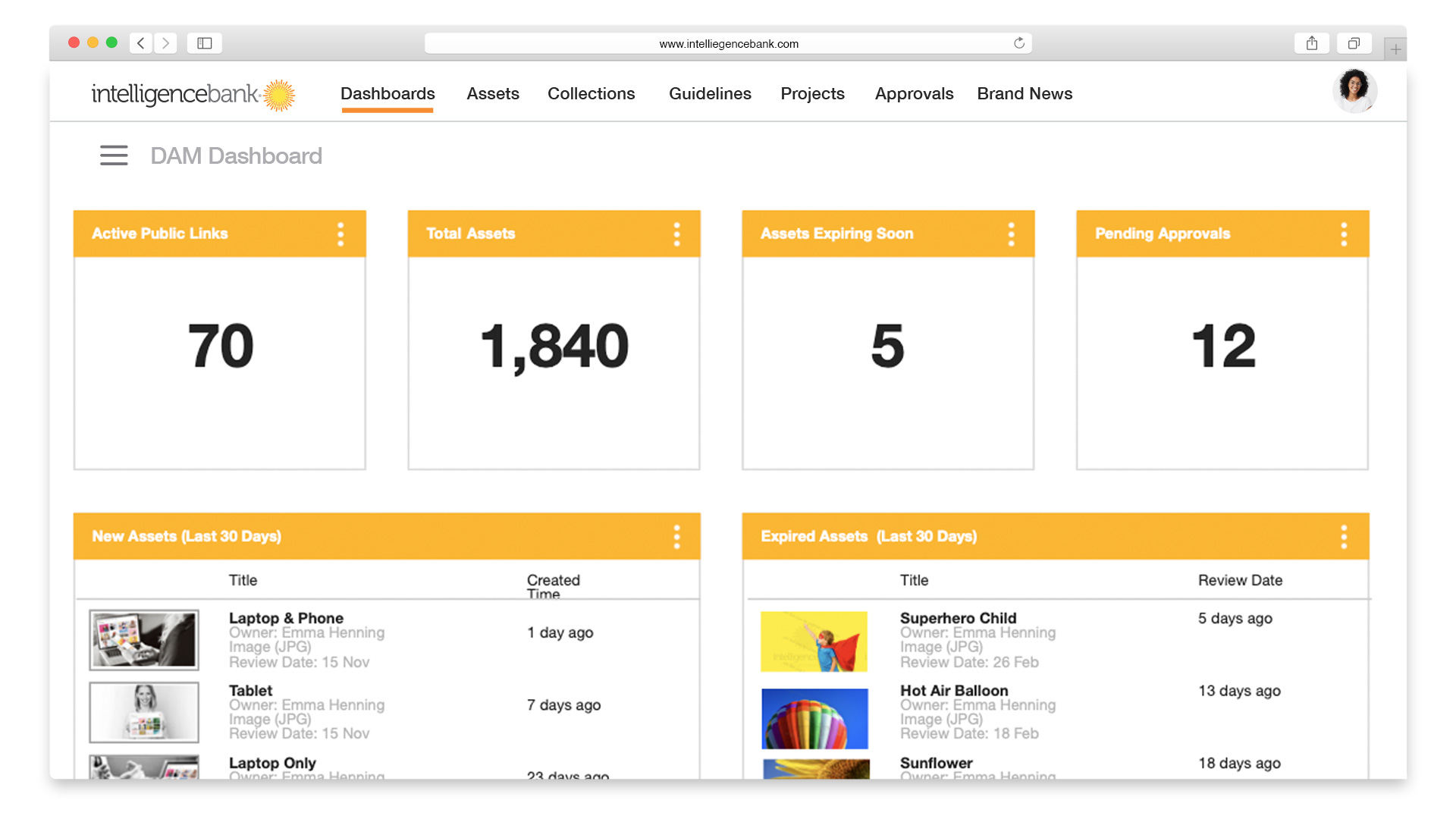 The key to unlocking potential
These best practice tips along with our
Ultimate Guide to Digital Asset Management
provide practical intel on what this powerful tool can do for you. But nothing replaces the availability of ongoing customer support and training. It's as important as functionality and price when procuring a DAM as it's only through a close relationship and true understanding of business needs that a solution is truly optimized.