Is a general tool like Dropbox good enough to manage your creative assets? Or do you need a purpose-built Digital Asset Management (DAM) software solution? Digital Asset Management software has some distinct advantages over Dropbox, but it's not for everyone. This article will help you understand what each solution can do for you and the pros and cons of each.
The distinctions, of course, lie in their core functionality, but for context here is a summary of the purpose of each:
Dropbox
Dropbox is a reliable and cost-effective cloud-based file management tool. As the name suggests, it's a great tool for simply dropping files neatly into folders and allowing authorized users to view, upload, download, and share links to synchronized files. It's built to handle all types of file formats, yet it is not tailored to manage creative assets. This is an important point we'll come back to later. If you are a small organization with just a modest amount of creative inventory, Dropbox is ideal.
DAM software
Taking off over the last ten years, Digital Asset Management systems grew from marketers' need for more than a place to 'drop' and share files. Those with banks of high res finished art, images, audio and video coupled with demanding content schedules and a ton of stakeholders, regulations and processes, had a need for a solution with more visibility, functionality and connectivity beyond what Dropbox could provide. DAMs filled that need by providing a centralized platform with tools that make content easy to create, find, share, mark up, track and approve. One of the most compelling benefits of a DAM is its position as the single source of truth when it comes to producing and accessing brand and legal approved content.
Differences between a DAM and Dropbox
We've summarized the top eight differences between the two solutions:
1. File setup and visibility
Dropbox adopts a classic interface where users can create and organize files into folder icons just like on a computer's file system. Files are represented in uniform folders that are distinguishable only by name.
A DAM system is much more than just a sharable file structure. It's a dedicated online portal that not only organizes your creative assets with large visual thumbnail displays of the content, but integrates workflows, a host of automation tools and granular reporting.
2. Search capabilities
Searchability is one of the most important differences between Dropbox and Digital Asset Management systems. Although you can hunt Dropbox for folders and files by entering keywords in a search bar, there are limited granular filters. And, if you have a lot of similarly named files – good luck. Unless you have tightly managed naming protocols and a memory like an elephant. When/if you find your file, it stands alone with no supporting information.
A DAM search is lightning fast due to the power of metadata and tags. The metadata and tags attributed to each file contains information about that asset and follows it for life. For example, your metadata may contain technical information about the camera used, location, talent and other licenses, while your tags help identify people, places and objects. These can be populated by customized automation, AI or manually filled.
The power of the information contained in a file's data is one of the core reasons companies opt for Digital Asset Management software. Not only does a DAM help you find documents quickly, but saves hours of resources cross referring to supporting files stored elsewhere.
3. File flexibility
A file in Dropbox is what it is. A file in a Digital Asset Management system can be downloaded in multiple different formats and sizes at the click of a button. A DAM gives non-technical, non-design types total control to serve themselves and avoids wasting creative team resources on minor requests. Creative files housed in a DAM can also be downloaded to pre-set dimensions; for example web tiles that can be easily dropped into your content management system.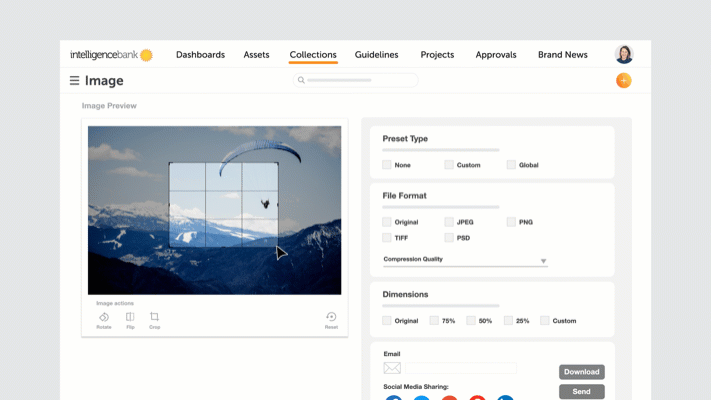 4. File capacity
Dropbox can cope with many kinds of files – but it has its limits. While Dropbox offers various storage plans, it's primarily designed for individual users or small teams. Attempting to house large volumes of rich media such as B-roll video slabs and vast catalogs of high-res photographic and design assets on Dropbox is a challenge. Digital Asset Management systems on the other hand, are custom built for business to not only handle scale, but sophisticated file types.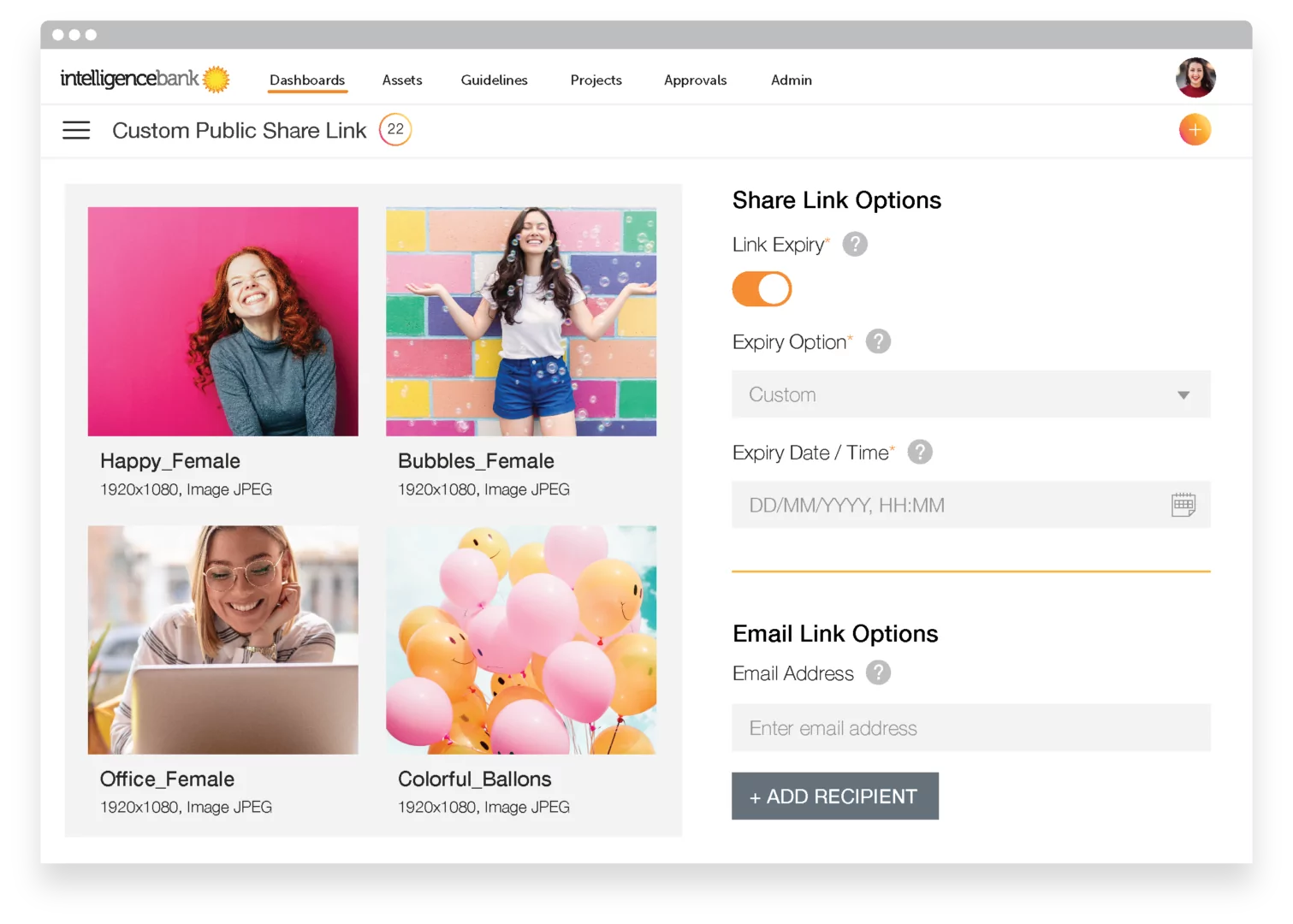 5. Workflow and sharing
A DAM allows you to set up an entire content creation workflow. A fully customizable step by step process can be included to span project creation, creative development, launch and post analysis with safeguards to make sure your team doesn't miss important checkpoints. DAMs can also integrate with commonly used third party software and services such as Adobe, Google, Microsoft and stock image libraries.
When files are managed within a DAM, project owners have control over sharing and editing permissions as well as visibility on those edits, stakeholder approvals, version control and user tracking. Dropbox sharing links cannot provide the same intel and depending on your plan, share links expire. As it's a pure online filing system with a broad permission system that begins and ends with the ability to edit, view, share and comment, Dropbox has no other comparable features.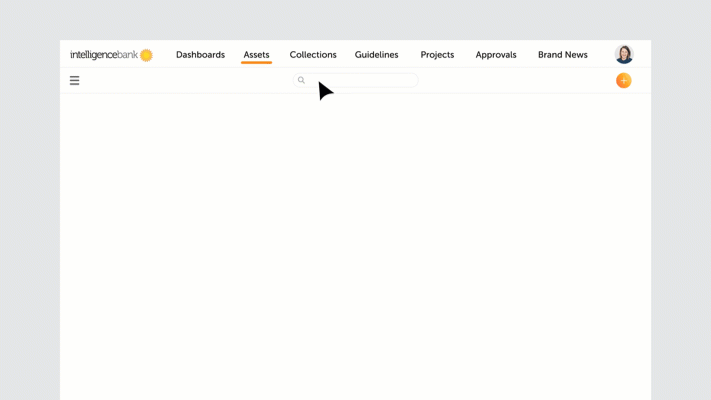 6. Security
To prevent IP theft and brand misrepresentation, data security should be the number one priority with any DAM vendor. Both Dropbox and Digital Asset Management systems offer two-factor authentication and encryption. DAMs though, go the extra mile with data storage security, firewall protection, proactive monitoring, and penetration tests.
At a user level, Digital Asset Management software can be set to allow various levels of permission to access, view and edit. This is particularly useful when dealing with external partners and agencies who may only need access to parts of your DAM.
7. Support
Dropbox has generic call center style support during business hours. As a Digital Asset Management system is a bigger play, vendors generally offer a much more personalised service. They also offer training and customization services managed by a dedicated Account Manager with 24/7 tech support.
8. Price
As a DAM offers much more than Dropbox, it costs more. Prices vary depending on your needs and the quality of what you're buying. When considering a DAM, the cost cannot be viewed in a vacuum. There must be a compelling ROI to switch from a base system like Dropbox that provides either efficiencies or the avoidance of missteps that can end in a financial or reputational cost.
By streamlining and automating processes within a DAM, your team is freed up to focus on getting on with creating great work.
Evolution
Things change. Just as base file systems have evolved to offer sophisticated time saving solutions, so too will your needs. Whether a DAM is right for you now or in the future, you now have a firm grip on core differences between it and Dropbox. There's a lot more to know about the world of DAM. You can find further reading in our Ultimate Guide to Digital Asset Management as well as an article that zeros in on the Benefits of a DAM. Alternatively, please contact us if you'd like to know more.