Seamless Board Meetings & Governance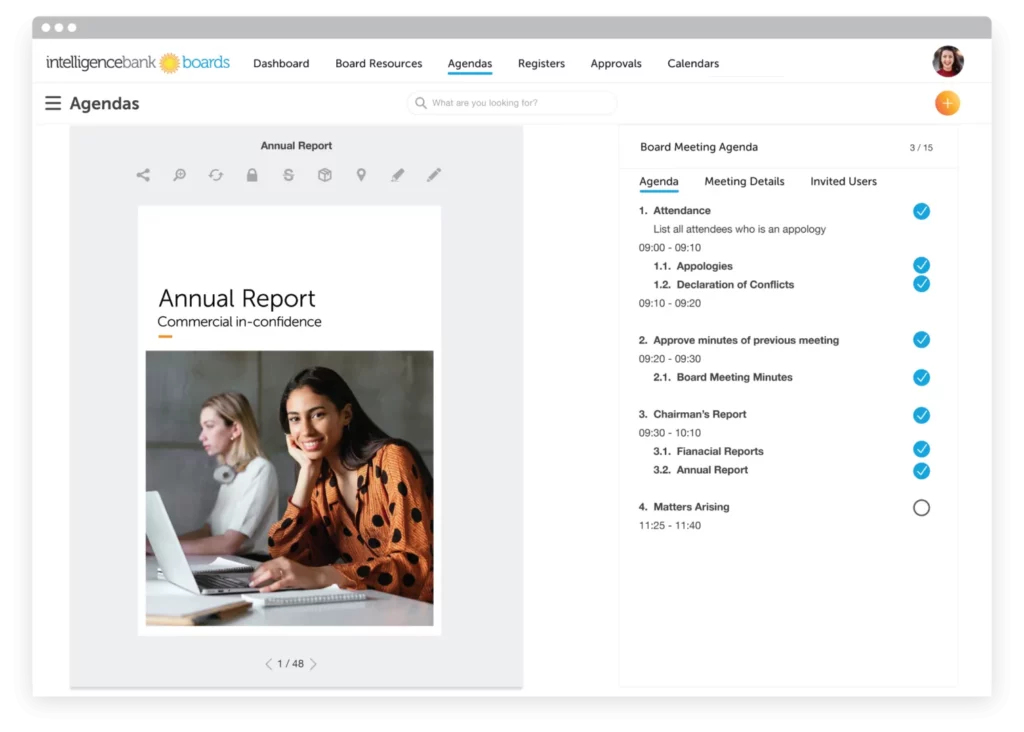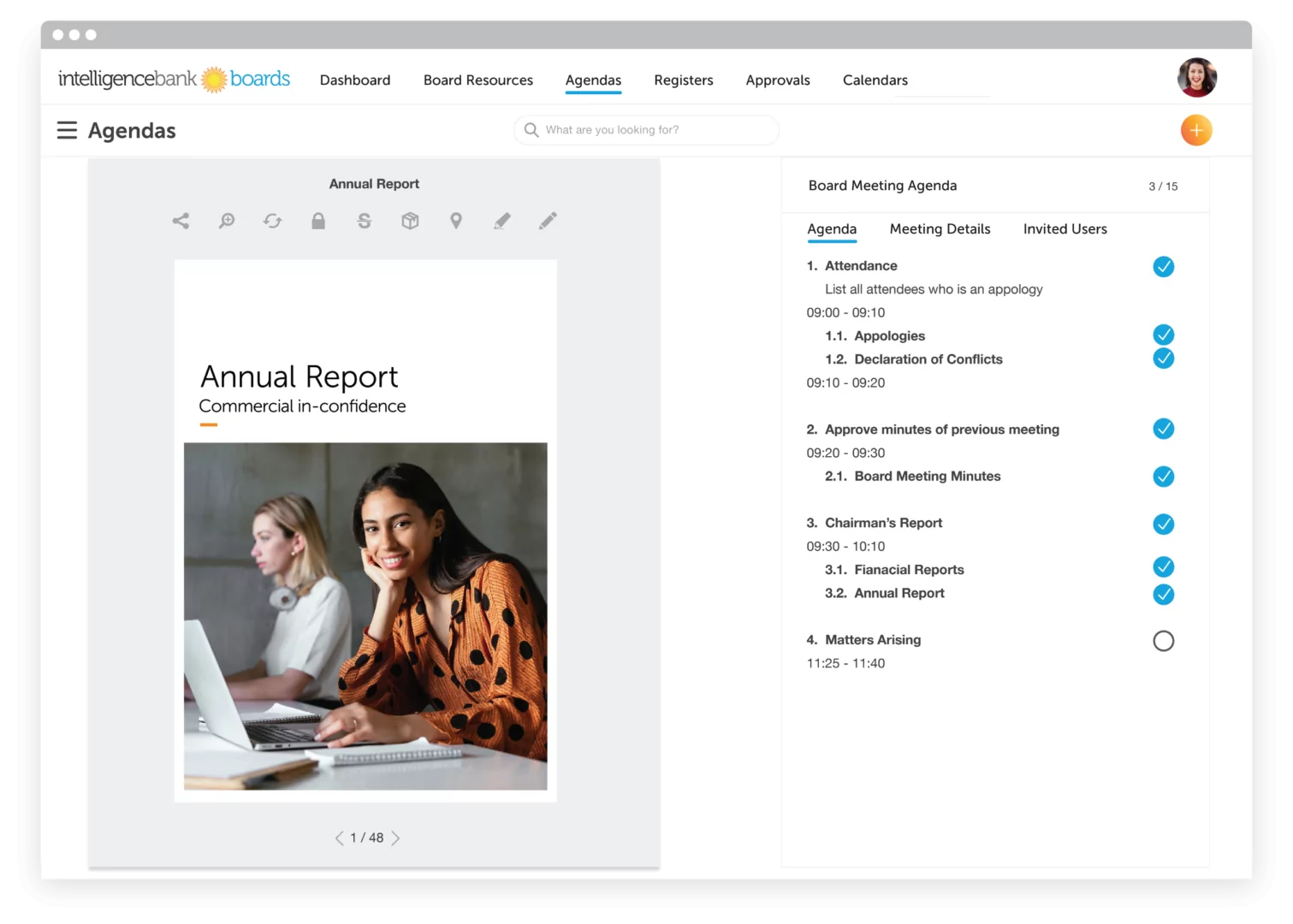 Specifically Designed to Give Your Board Better Governance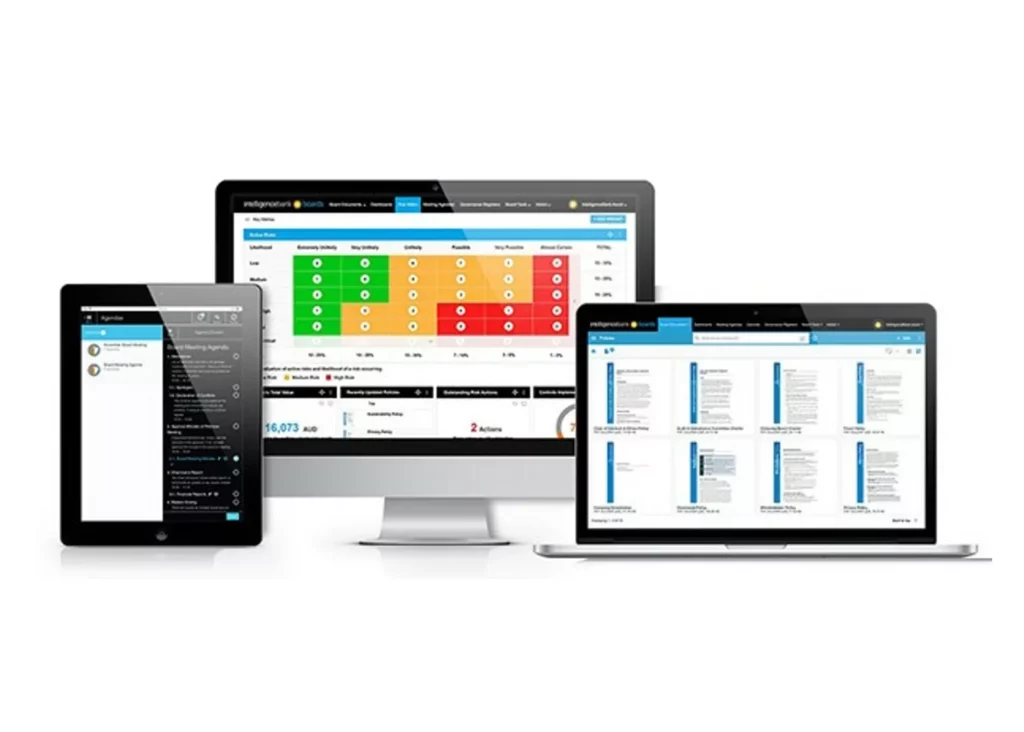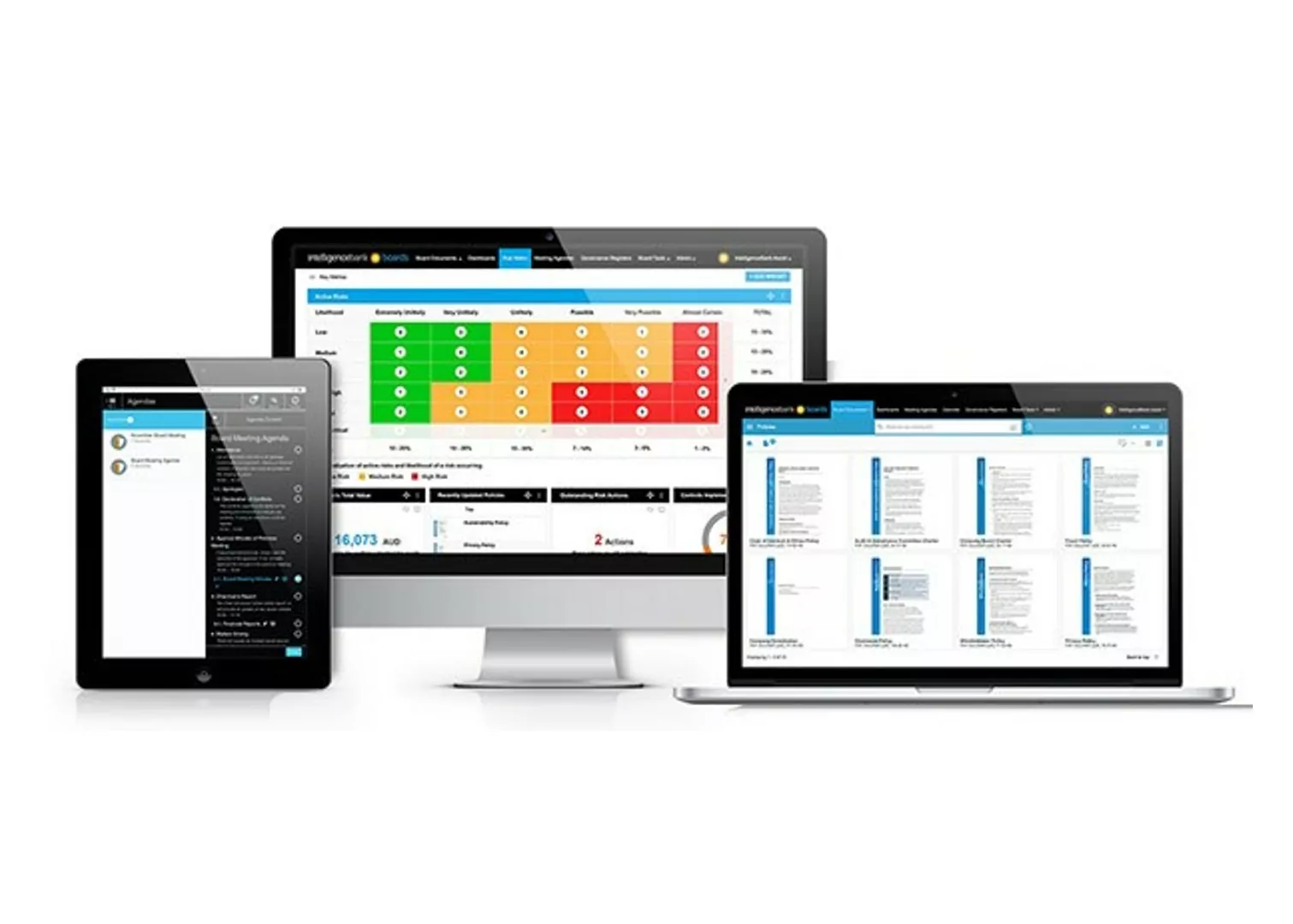 Loved by directors & corporate secretaries
We make it easy to streamline board meeting processes. From collecting papers and publishing an agenda, to enabling directors to make private annotations either online or offline.
It's also simple to securely access and annotate board papers anytime and anywhere, including offline through our dedicated iPad app. Great governance is just a click away.
The entire IntelligenceBank platform is customisable, so it looks like your brand and maps to your governance process. It can be accessed anywhere, anytime and from any device, including when offline with our dedicated iPad and Android apps.
Our robust API also makes it easy to integrate data and documents uploaded to IntelligenceBank with other systems, thanks to our push and pull, out of the box API.
Agenda Builder & Board Packs
Streamline your meeting with the Agenda Builder and by providing your directors with the information they require. Agenda Builder allows you to structure your meeting, create discussion topics and links to specific files. Clone agenda structures and export agendas into Word to save time. Directors can tick boxes to follow the meeting as it progresses, then securely read and comment on board packs. Automatic agendas ensure everyone's on the same page.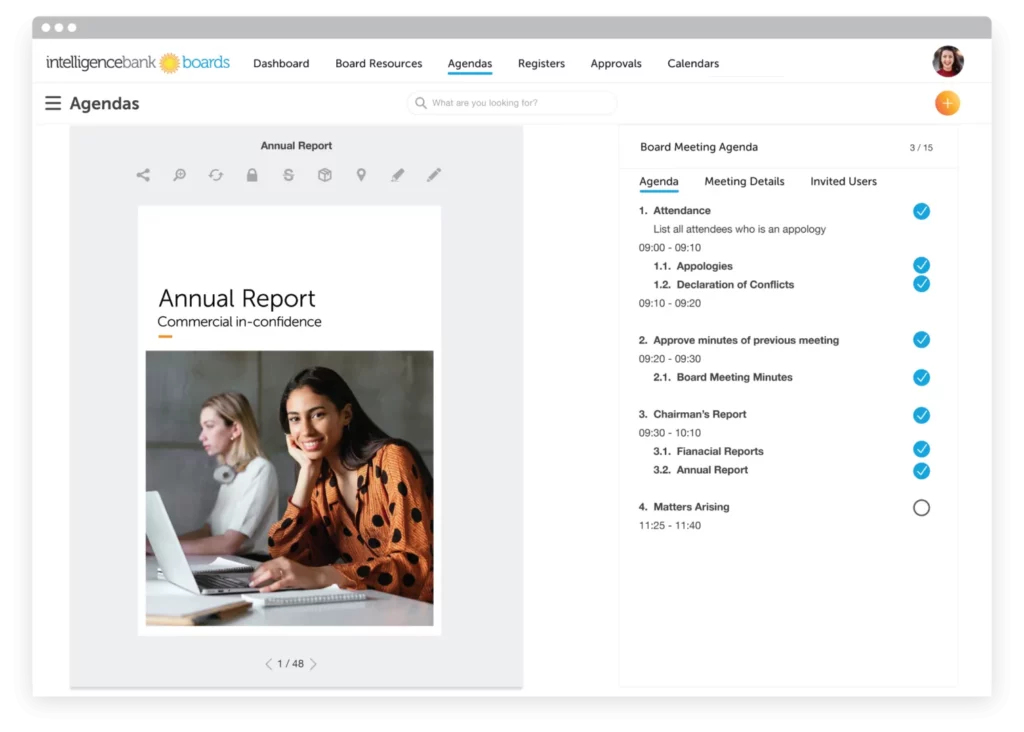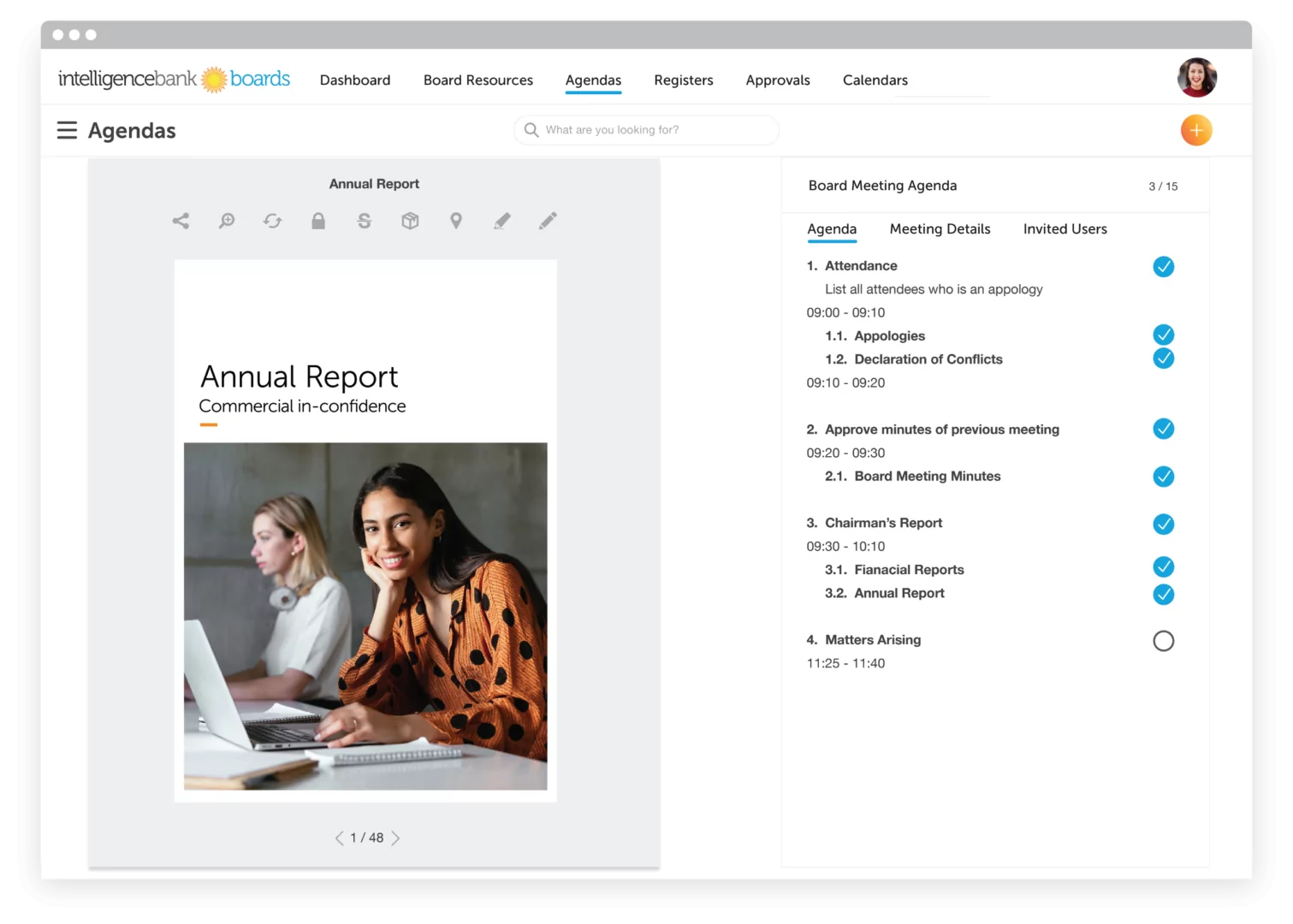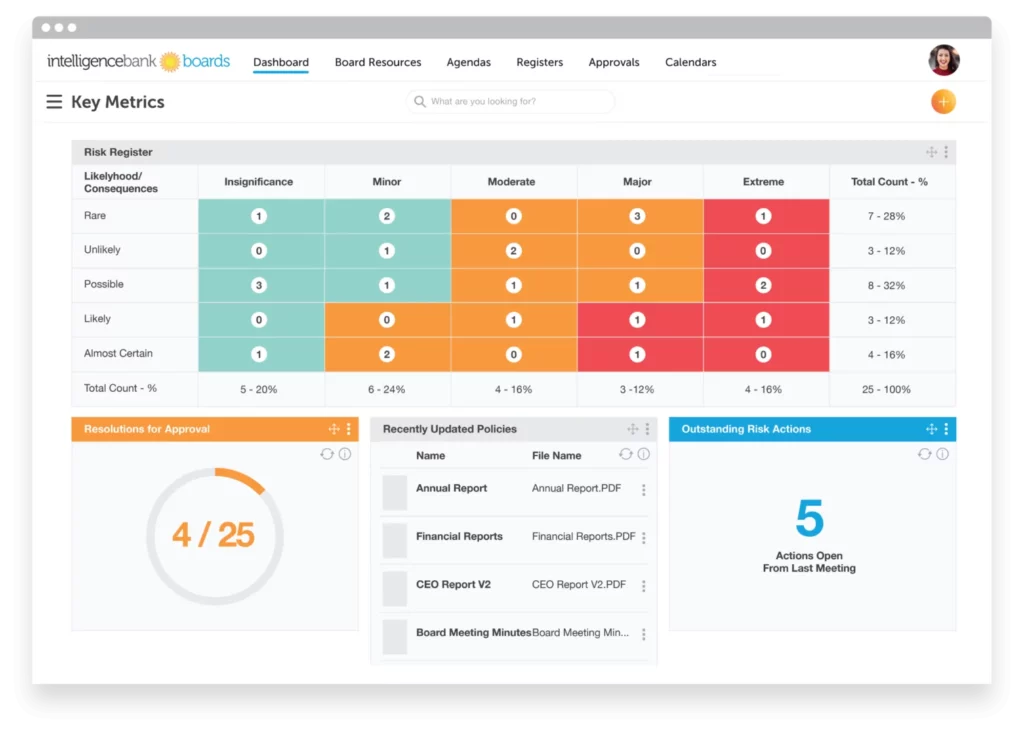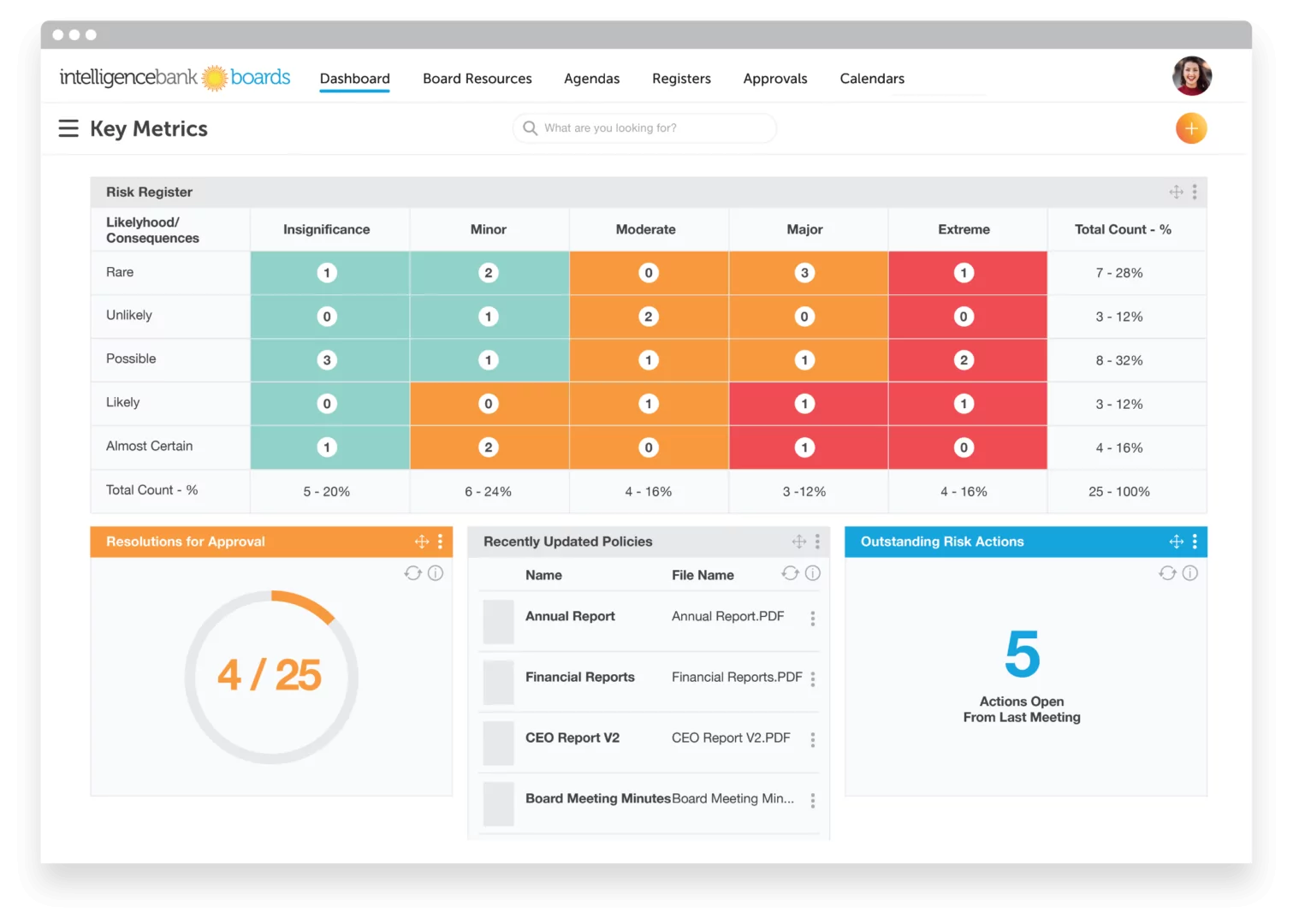 Custom Dashboards & Usage Analytics
Take control of the information you view on IntelligenceBank. Dashboards can be tailored to show the latest board management software pack, governance registers, risk heatmaps, a calendar of board meetings or usage analytics.
Usage analytics give you an overview of how directors have interacted with the portal providing a real-time audit trail showing usage data by director, by board paper and overall usage.
Workflow, Approvals & Voting
With workflow, approve meeting minutes and resolutions quickly, with quorum settings, workflow triggered emails and an electronic audit trail of approvals.
A dedicated workflow dashboard lets you run reports on approved, declined and pending approvals.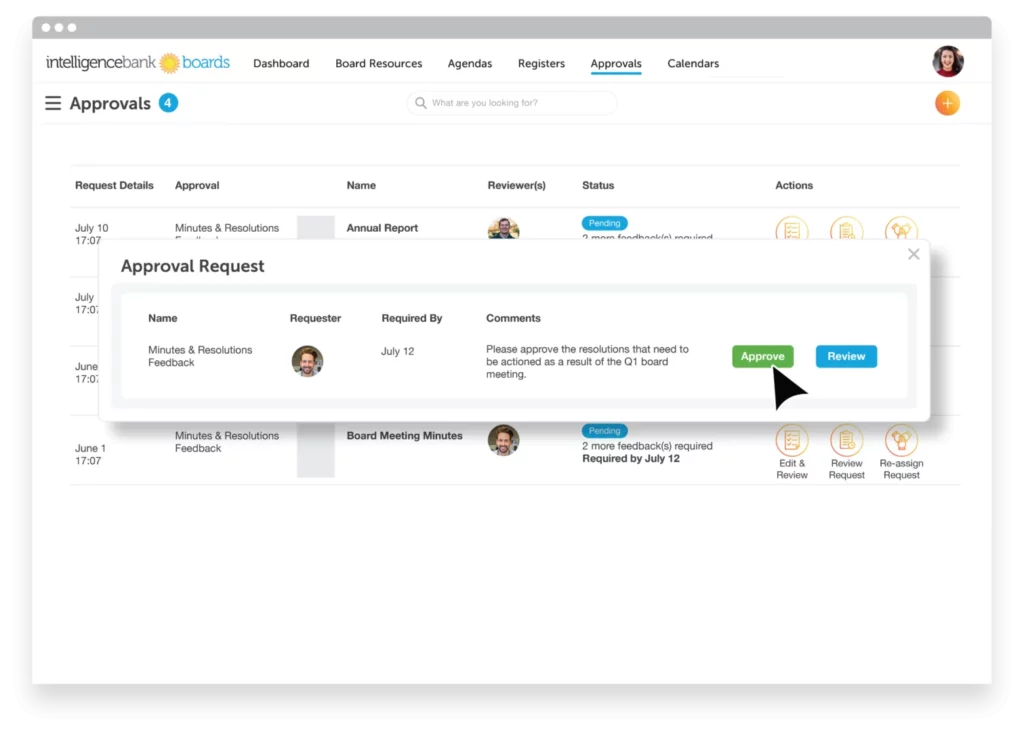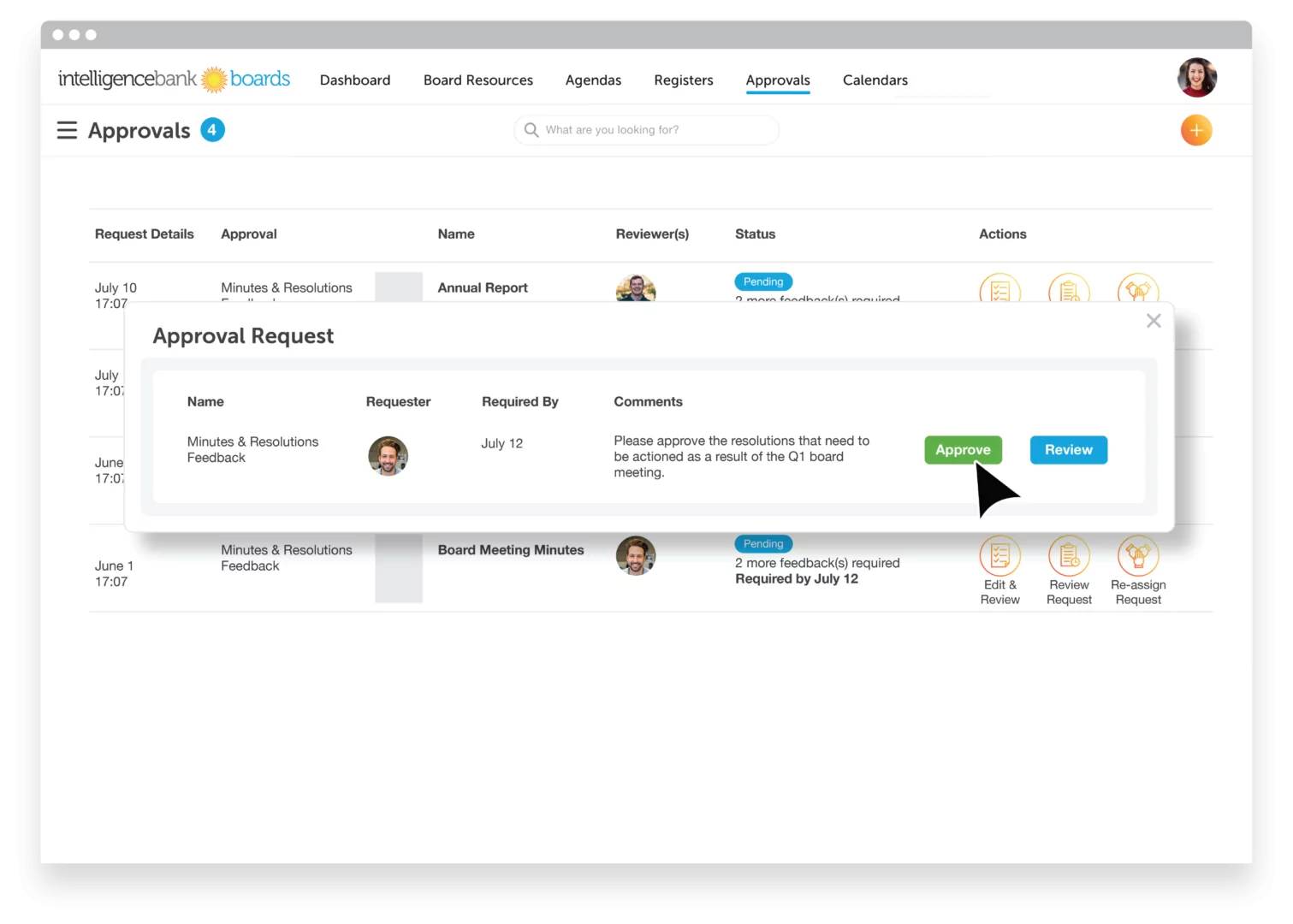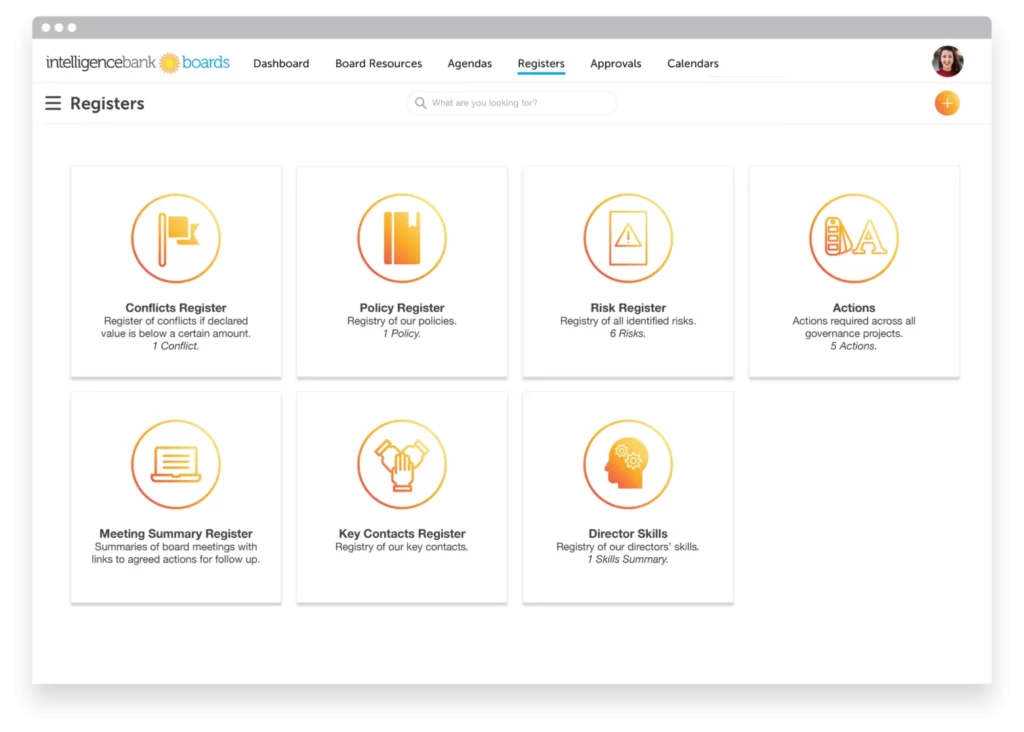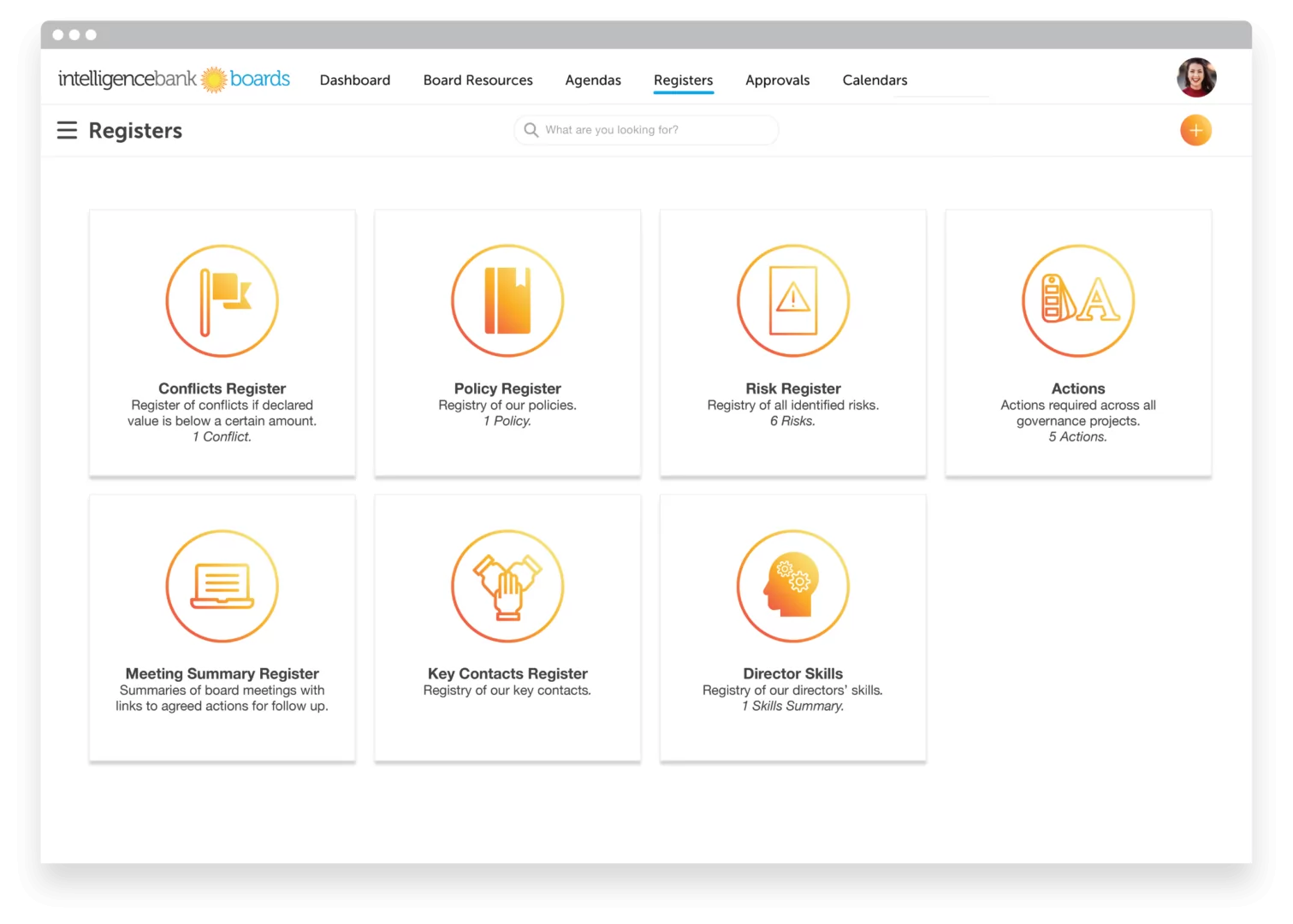 Seamlessly manage risk registers, directors skills, conflicts, significant contracts, and actions from meetings and audits, within our Risk and Compliance registers. Databases are customisable and workflows can be added to escalate issues internally for audit reports.
Surveys can also be built into the platform to review director performance or receive feedback on processes. With advanced search, you can search the platform for records or files by title, description, contents of the file, metadata and any universal keywords you add.
Board Meeting Planner, Calendar & Directory
IntelligenceBank Board Portal provides a central location for communication. The meeting planner and calendar is used for scheduling committee and board meetings and for sharing key dates. Users can save meeting invites to their personal calendar and respond with their RSVP status, allowing organisers to track RSVPs.
The platform also includes a directory where you can list board members and other users, with contact information, skills overview and photographs.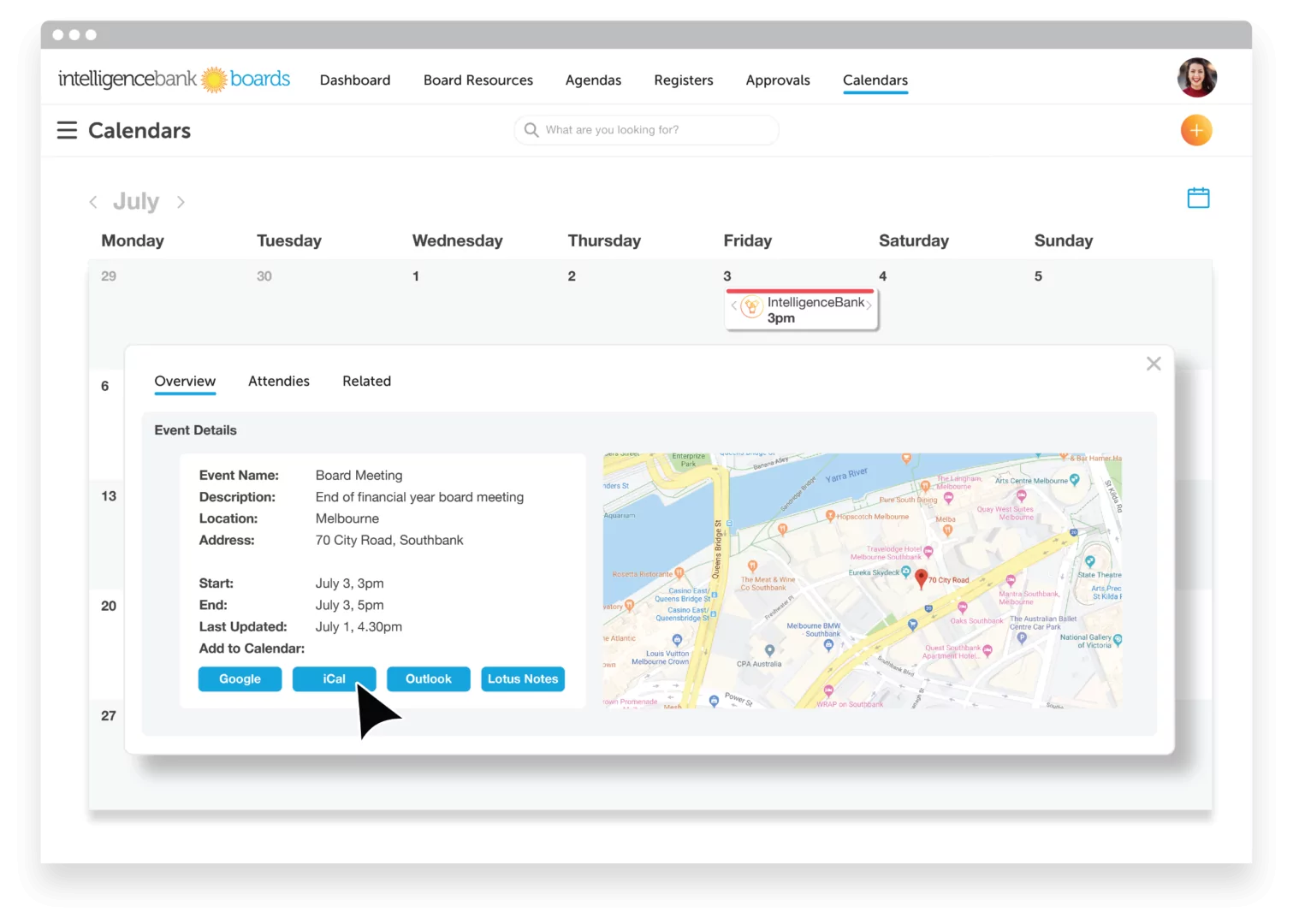 Explore more products
See what other products and services we can help you and your business with.
Governance, Risk & Compliance Software
to keep everyone on brand
Online dynamic guidelines to keep everyone on brand
Knowledge Management Software to power content marketing
Manage briefs, creative approvals and compliance with instant audit trails