Marketers who work at local councils or city governments have a hard job. Not only do they have multiple services to promote and communicate, but they juggle diverse media channels, languages, and cultures. From basic signage to large public event comms, there is a lot to cover between internal stakeholders, a highly engaged community and let's face it – red tape. That's why so many local government councils use Digital Asset Management systems to ensure they can execute content quickly and be certain it is compliant.
A Digital Asset Management system, (DAM) prevents local government marketing and communications teams being overwhelmed by an ever-growing asset bank of creative files. Storing logos, brand elements, campaign assets, images and video on shared drives is a headache. It's clunky, slow and does not have tools like tagging and
metadata
to help you find what you need quickly. Re-formatting files and checking usage rights are also features that services like Dropbox, or Sharepoint just don't provide. But a Digital Asset Management system has this and a whole lot more.
How do local councils use a DAM?
Several local councils, state government departments and local government associations use IntelligenceBank DAM software to make their lives easier. In practical terms, this means they use their DAM to:
Organize creative assets
DAM software allows local government communications teams to organize and categorize their digital assets, making it easy to find and retrieve the assets they need quickly.
Manage talent usage rights
Community members are often featured in city council and local government communications. By having these assets within a DAM, you're able to link consent forms to people featured in images or videos, as well as the ability to set automatic expiration dates and to run reports on files that have usage limitations. This is critical when featuring anyone, but especially so when it comes to children and older or indigenous members of the community.
Control versioning
The joy of seeing versions in one screen side by side cannot be overstated. Local government creative and comms teams use DAM software to track versions of their creative assets – whether it's a web page or old school letter box drop – to ensure they are always using the most up-to-date versions of their content.
Stay on brand
By creating and enforcing rules for image sizes, file types, and naming conventions, DAM software ensures digital assets are consistent with brand guidelines. Many city councils choose to make some folders with brand assets publicly available so the public and partners can easily access brand assets such as logos, fonts and colors. We don't need to tell you what a time saver this can be.
Collaborate and fast track approvals
Our local government clients use DAM software to facilitate collaboration and approvals among team members. Our workflow approvals enable comments and annotations that are fully traceable.
Distribute yet control access
While DAM systems are a centralized source for digital creative assets, they're also used to distribute those assets to approved users. Whether by email or URL links, assets can be shared with internal teams, external partners, and members of the media. Using a DAM enables you to link files stored in your DAM to websites and other portals so there is a single source of truth whereby it is 'stored once, but distributed broadly'. A great example of DAM software in action is its ability to control access to image and video libraries to ensure that they are only being used in accordance with local laws and regulations.
Remain compliant
Local government, or any government communications are renowned for their disclaimers and 'fine print'. A DAM can not only manage creative workflow approvals, but also provide templating tools that lets users customize creative executions by changing only permitted fields and automatically adding terms and disclaimers.
Understand usage
Within DAM software, you can calculate the ROI of your content by running custom reports on how, when and where digital assets are being used. Typical reports include most downloaded assets, or, web assets with the most impressions. It can even run the numbers on which internal and external teams are the most active and what assets they are using. These reports are easily generated in a centralized dashboard giving you complete visibility.
The reality is, local governments and councils use a DAM in much the same way as most companies, although often with far greater emphasis on compliance than some. To see how organizations implement theirs we've produced a handy guide to DAM Best Practices. Or if you're after a detailed rundown, check out our Ultimate Guide to Digital Asset Management.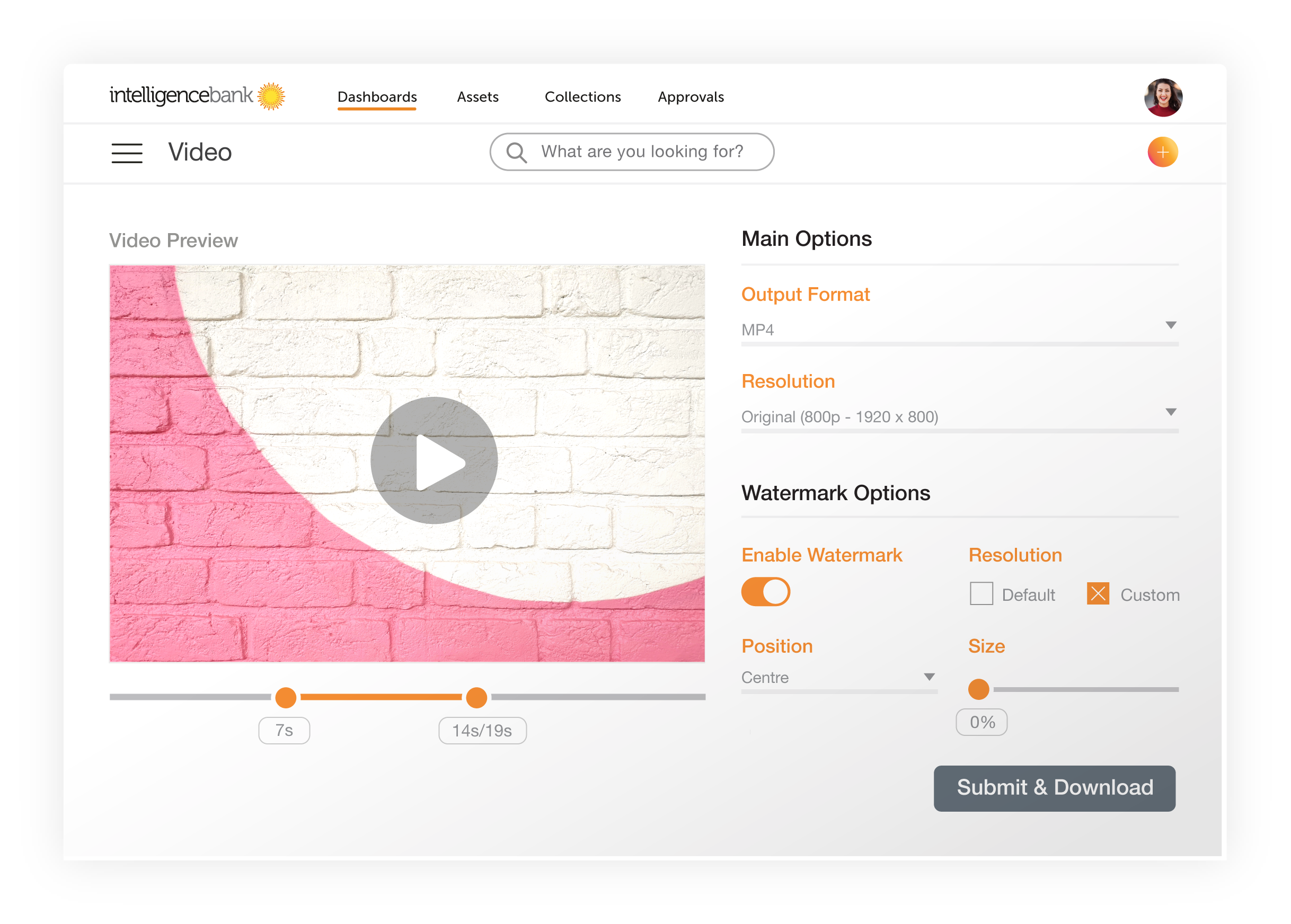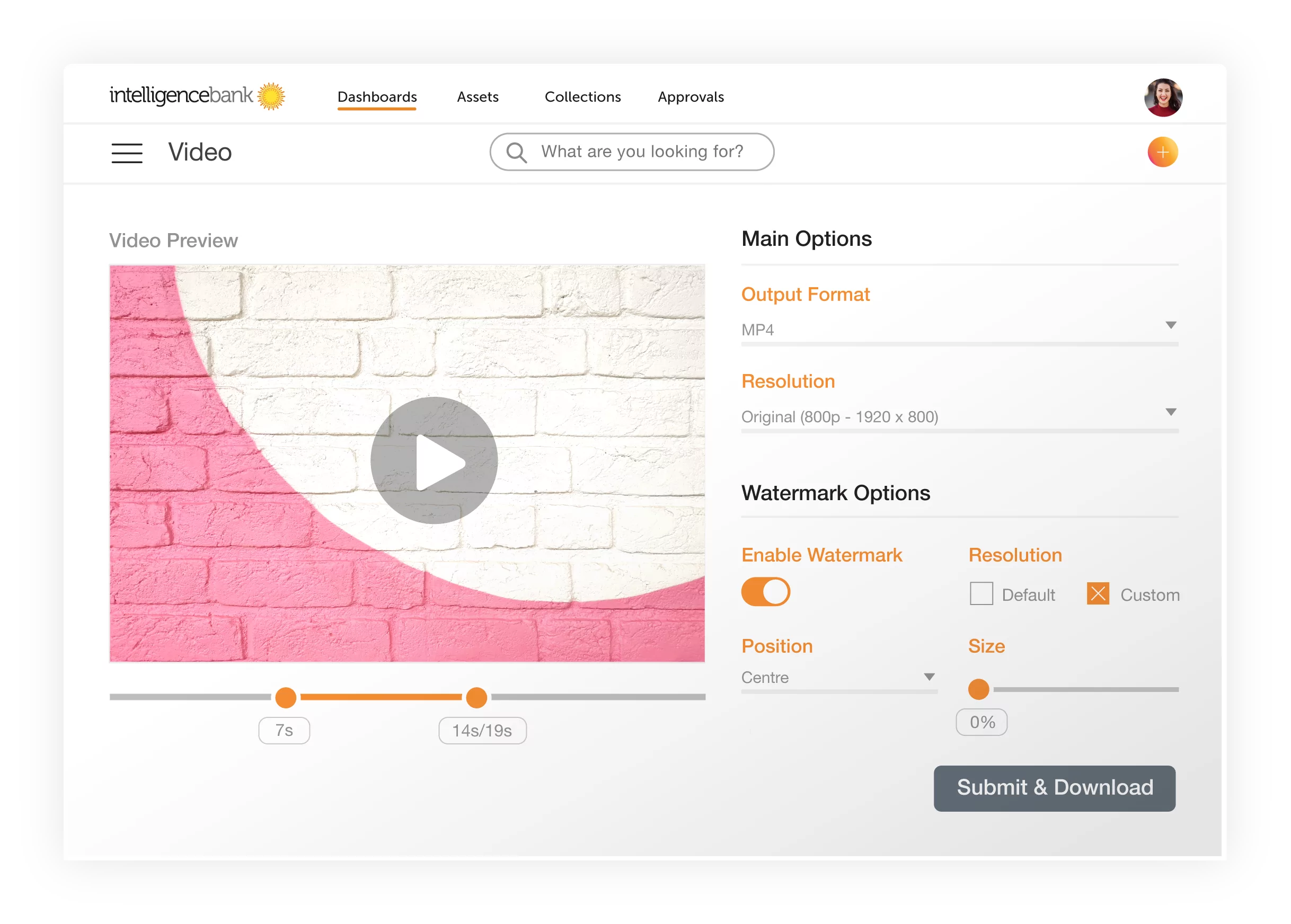 Image: IntelligenceBank Digital Asset Management software enables video management and editing
To get out of content chaos and into a world of systematized content management, book a demo. See how IntelligenceBank's digital asset management system can help you better manage brand and content compliance and help you produce content quickly.