There's only one thing harder than building a brand identity – preserving it. A strong brand created over time is the life and soul of an organization. It's where your true value comes from. The act of making sure your team, partners and even customers follow your brand guidelines is what we call "brand compliance." Yet with content demands on marketing teams being what they are, it's not difficult to veer off brand as creative swiftly passes through a conga line of agencies, freelancers, partners and remote offices.
Developing your brand involves a significant investment of time, money, expertise and culture. Even minor deviations from brand guidelines, (such as, the wrong tone or bad logo placement), can gradually erode its value. This is why organizations are getting serious about protecting their investment and are moving to more efficient ways of managing them via brand compliance software.
What is brand compliance software?
Back in the day, the only brand compliance guideline tool available was a hard copy of a brand book. You'd find them printed, bound and collecting dust in art directors' offices. We then shifted to PDFs where style guides could be more easily shared online. Now, we have the ability to create interactive brand guideline portals, and the exciting thing is, they can contain and do so much more than a humble brand guideline.
Brand compliance software can manage the entire creative processes from creative brief to ideation then launch. How far you take them is up to you. Here are some examples of what you can do:
Provide up to the minute brand guidelines
Never get caught working on an outdated set of brand guidelines ever again. Having your brand compliance guidelines online makes them easily sharable, searchable and downloadable. This real-time accessibility ensures that any updates, modifications, or new elements are instantly available to everyone who needs them.
No more sifting through old documents or relying on outdated PDFs – your brand guidelines are always at your fingertips, keeping your brand representation fresh, cohesive, and on point. Another great bonus to having dynamic brand guidelines is they have the power to bring your brand to life with the inclusion of video, audio and animated graphics.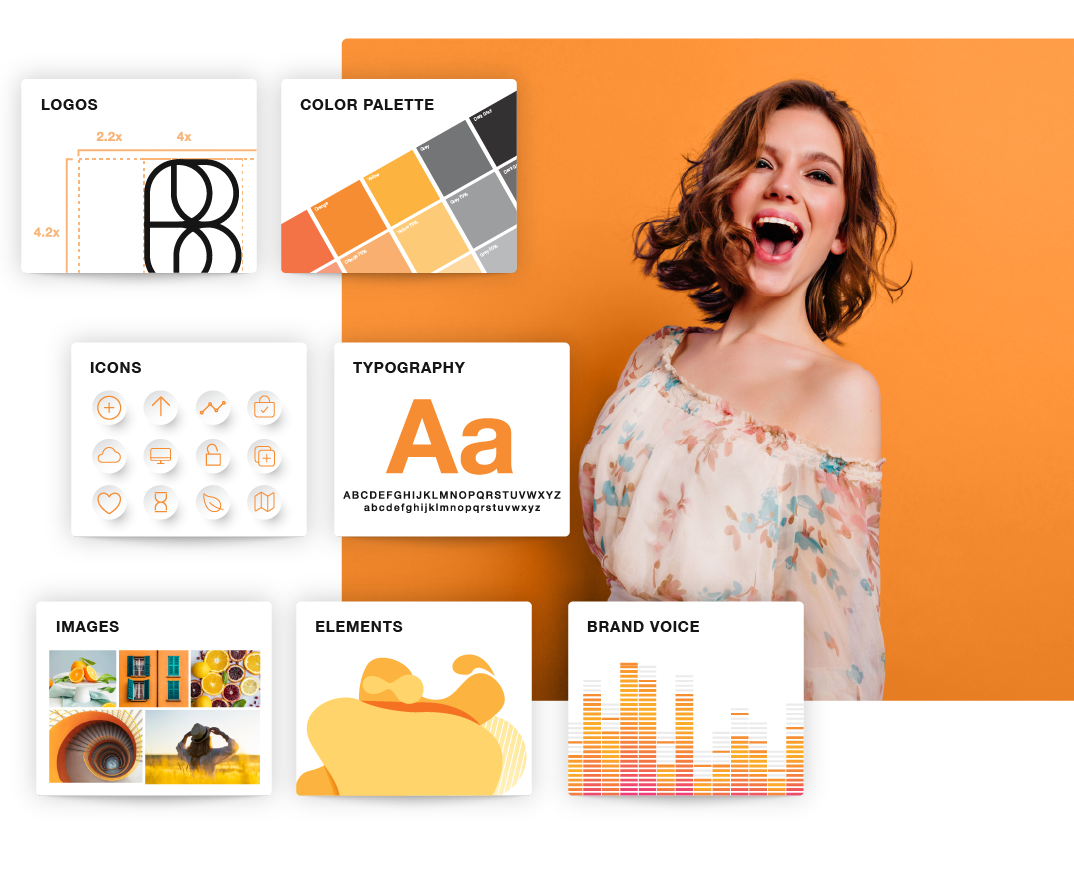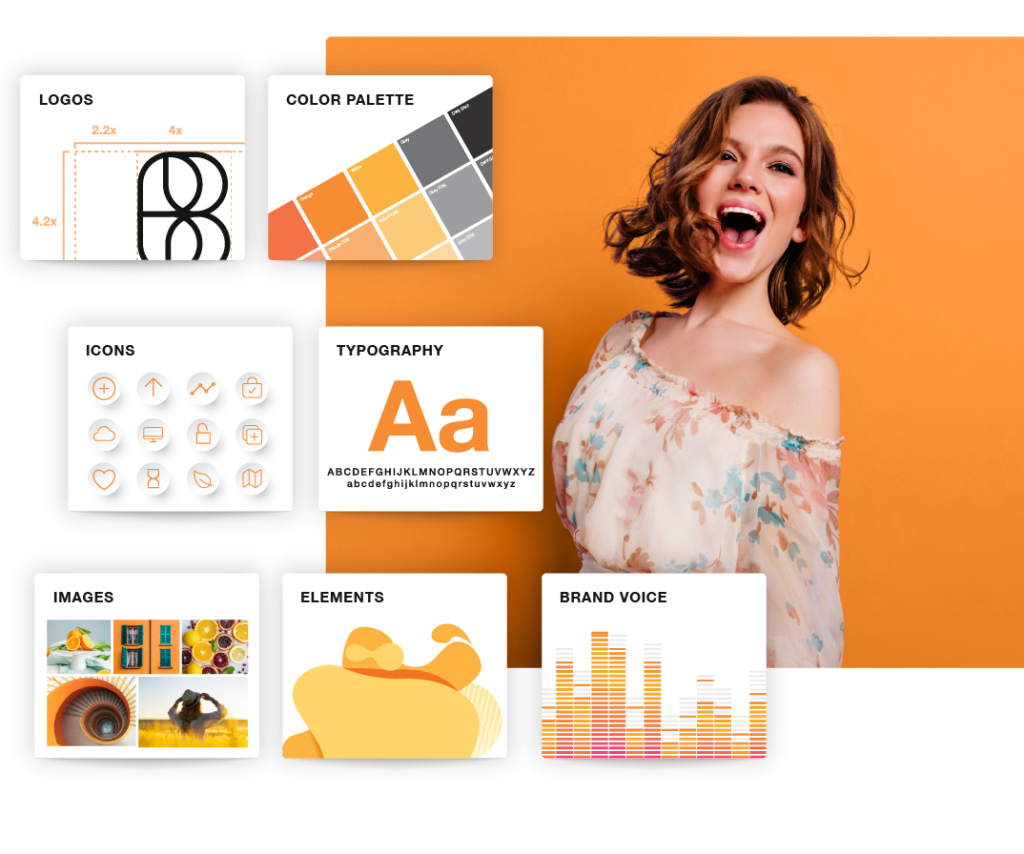 Quickly manage brand requests and approvals
Requests for brand assets and approvals can take up an insane amount of a marketer's day. With online brand guideline software, these functions can be managed from a central dashboard.
Access permissions can be set by brand, sub brand, department, agency or partner to enable fast download of brand compliant assets with no day-to-day involvement from you. You can also streamline requests for asset approvals via a dedicated Brand Inbox, which means no more hunting through email for comments and version histories. On the flip side, brand compliance software gives you the ability to request creative approvals from other stakeholders, as well as set reminders and store feedback.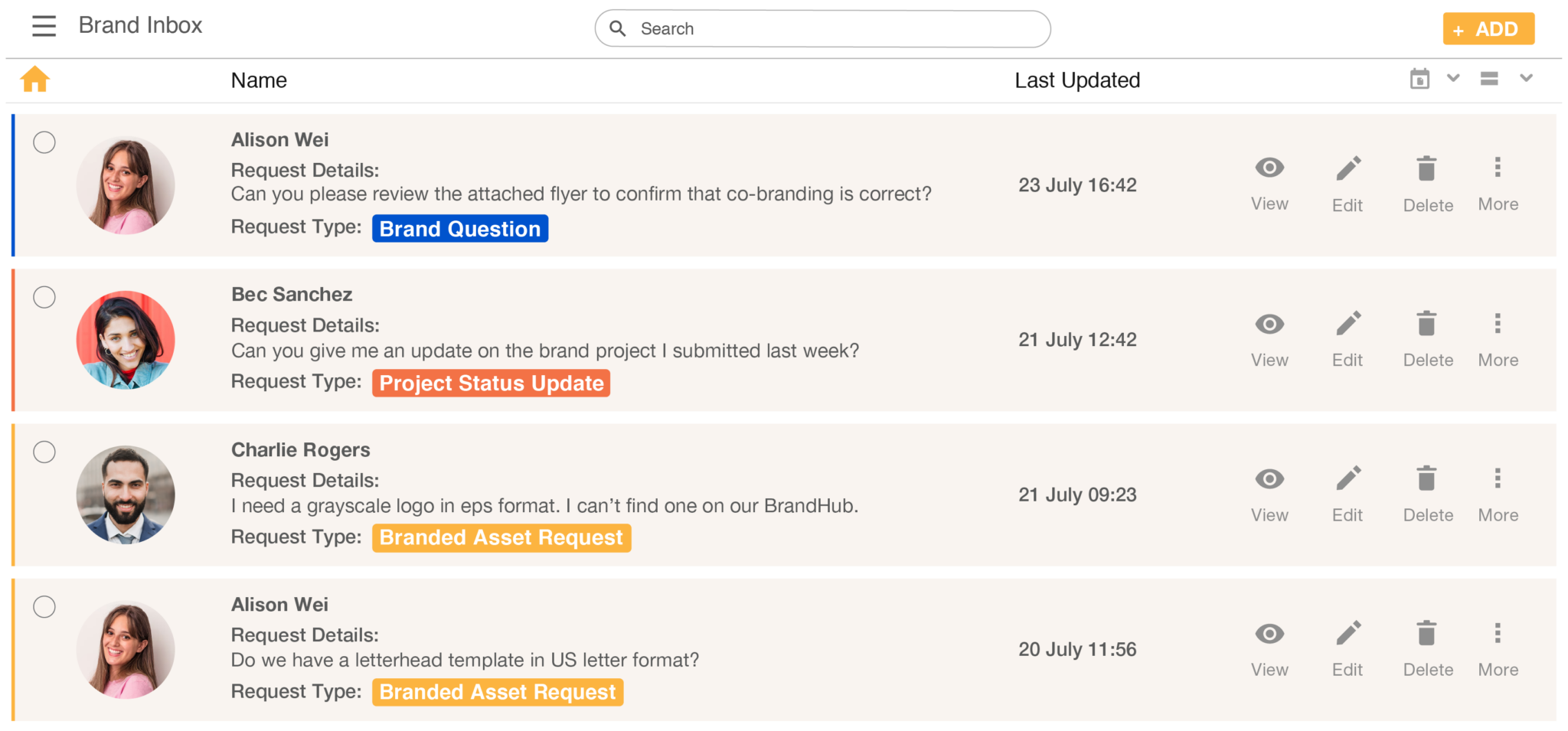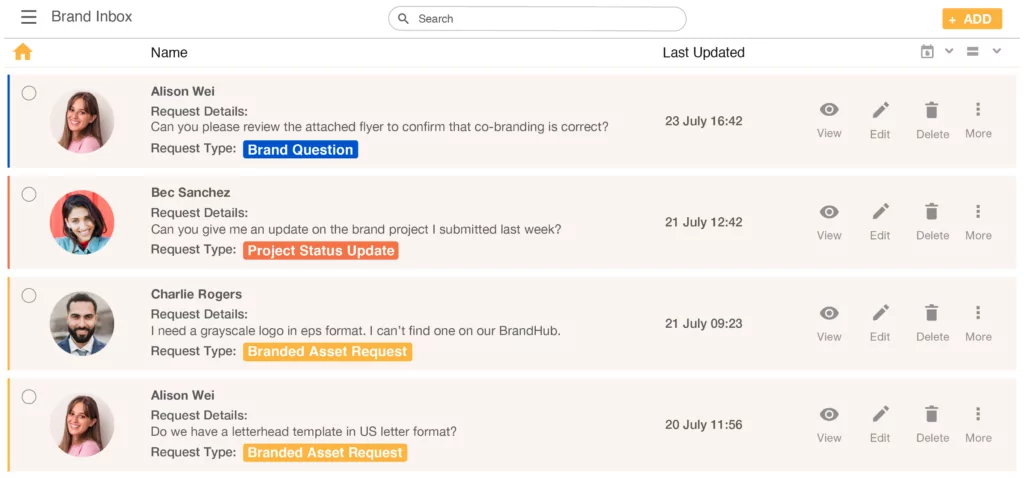 Link brand guidelines to brand approved assets
Start an online briefing form that carries a creative brief populated with files you know are cleared for usage and brand compliant. This means less time spent by designers searching for the right assets and more time dedicated to the actual creative work. With all the necessary resources in one place, collaboration becomes more productive, and the risk of using outdated or unauthorized materials is significantly reduced, ensuring consistency and therefore, strong brand compliance.
Set creative templates
Why reinvent the wheel each time you localize creative to update a price point or pack shot? Brand compliance software can house an enormous bank of brand compliant and legally approved finished art ready for customization. The feature is a game changer for global brands, franchise operations and resellers. By locking off brand critical elements within the template, they become editable by anyone with a keyboard – no design degree required.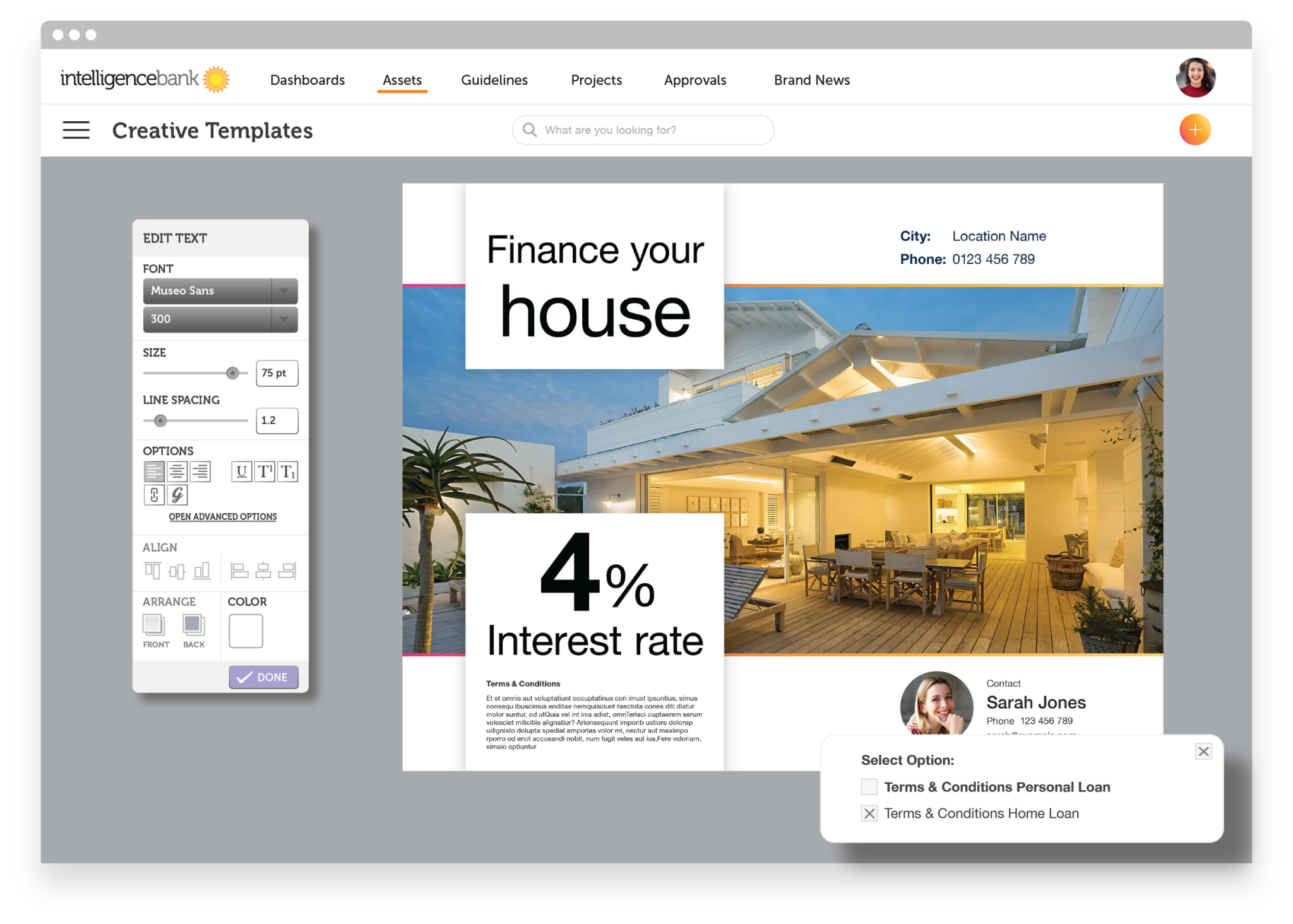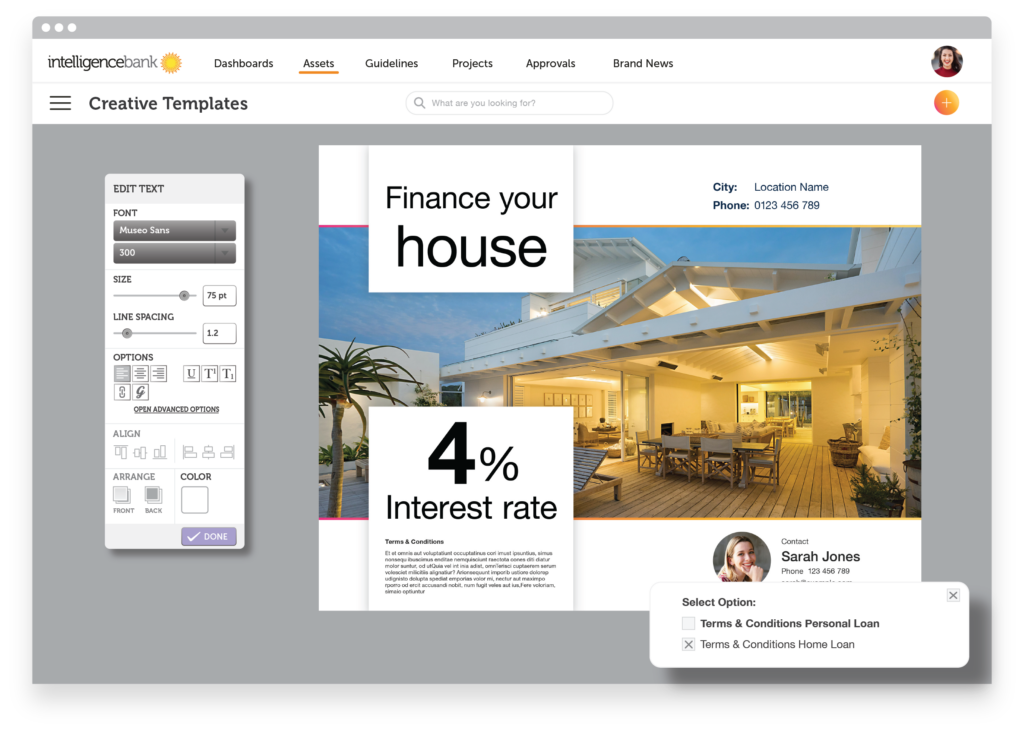 Track asset usage
Brand compliance software allows you to monitor those assets that are performing well, and those that are going to waste. It also enables you to set auto reminders to update 'always on' content such as collateral that contains fine print that can date easily. This proactive approach ensures that your brand maintains compliant, reducing the risk of obsolete information that can result in a regulatory breach.
It also helps in optimizing the ROI on marketing materials by prioritizing the assets that drive the most engagement and impact, ultimately contributing to a stronger and more consistent brand image.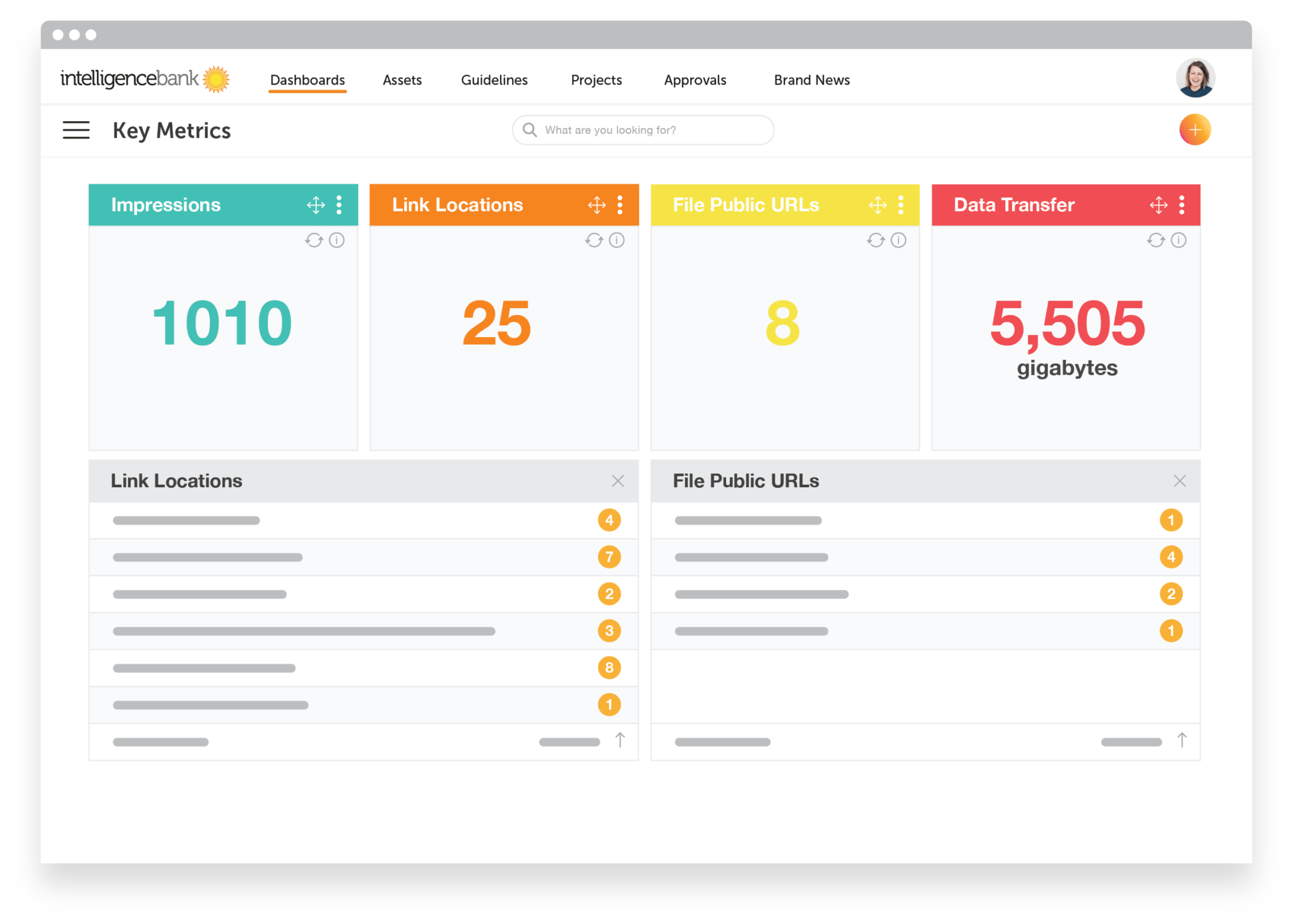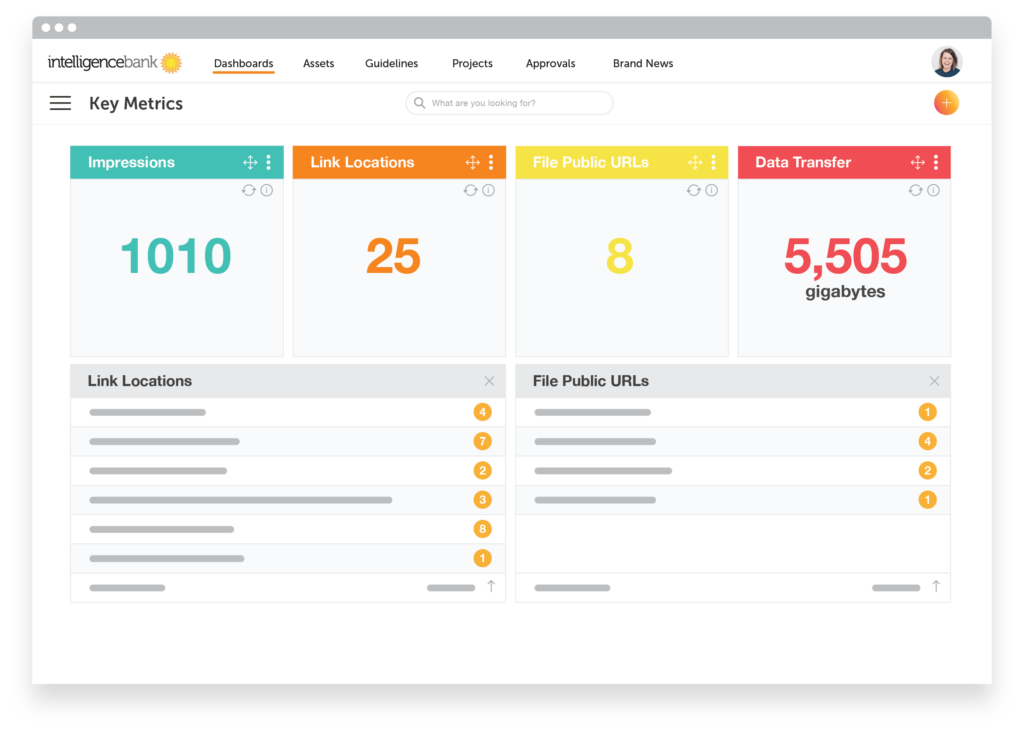 The pillars of brand compliance
Brand compliance is part of a trinty of marketing compliance requirements which includes legal compliance and advertising compliance.

To be fully brand compliant your brand's identity needs to be established in a way that gels with your overall marketing strategy. So, there's a lot more to it than making sure the logo is right. There are four major pillars to be aware of.


Brand identity
Brand identity is the heart of brand compliance. It encapsulates the unique characteristics, values, and personality that distinguish a brand from its competitors. Brand identity encompasses elements such as its mission, vision, values, and its overall purpose.
Visual consistency
Visual elements, including logos, talent, color schemes, typography, and design elements, are crucial components of brand compliance. Visual consistently also encompasses other tactile elements such as paper stock is used for promotional materials, the quality of packaging, and even what kind of swag you give away.
Tone of voice
This is the tone the brand takes when it communicates with its audience. Whether it's a playful and informal tone or a serious and professional one, maintaining a consistent tone of voice across all communications fosters familiarity and trust among your audience.
Messaging
A brand's messaging should reflect its identity and values. Consistent messaging helps to build a coherent narrative that reinforces the brand's image in a way that connects with its audience. This also extends to strategies around media placement and brand collaboration partnerships.
Why is brand compliance essential?
Here are some pretty good reasons to ensure your brand stays compliant:
Building trust
Consistency fosters trust in the market. When customers encounter a brand that delivers a consistent experience, they're more likely to trust the brand and make repeat purchases.
Differentiation
With so many brands competing for attention, consistent branding helps it stand out – especially if it is unique. In categories such as fast moving consumer goods, remaining on brand helps consumers recognize and choose your product as if they are on autopilot.
Customer loyalty
Compliant brands often enjoy higher customer loyalty. When customers have a positive and consistent experience with a brand, they are more likely to become loyal advocates.
Effective communication
Clear and consistent branding facilitates effective and efficient communication. It ensures your brand's messaging is understood with minimal effort. When you reduce the cognitive load on your audience, they don't need to expend extra effort deciphering your brand's identity or understanding its values.
Legal protection
Brand compliance also includes adhering to legal and trademark regulations. By protecting registered trademarks and intellectual property, a brand can avoid legal disputes that can be costly and damaging to its reputation.
How to achieve brand compliance
Achieving brand compliance is an ongoing process. It involves careful planning, implementation, and constant monitoring. Here are the key steps in the brand compliance journey:
Define brand guidelines
The first step in brand compliance is defining clear and comprehensive brand guidelines. These guidelines should cover all aspects of the brand, including brand story, vision, mission, values, visual elements, messaging and tone of voice. Well-crafted brand guidelines serve as a roadmap for your team, ensuring that every aspect of your brand identity aligns with the core principles and objectives, and they also act as a reference point to maintain consistency and clarity across all brand-related activities.
Build a brand compliant culture
Even though marketing teams are the overall brand custodians within a company, it's still everyone's job to ensure the success of a brand through good practice. Establishing and reinforcing a strong internal brand compliance culture makes the whole process much easier and more effective. Ensure that everyone within the organization is aware of the brand guidelines and understands the importance of brand compliance. Training programs and online brand resources can help employees align with the brand's objectives.
Maintain consistent visual identity
This includes the correct usage of logos, color schemes, typography, and design elements across all marketing materials, both online and offline. If you are a franchised or global organization, deploying brand approved creative templates that can be customized is a great way to ensure your brand stays compliant.
Ensure correct content and messaging
All communication must align with the brand's values and tone of voice. Only use creative assets such as imagery and footage that have been 'brand approved'. Use Digital Asset Management and compliance workflow software to help you and manage inventory (such as deleting expired assets) and creative approvals. These tools can also set reminders to help you regularly review and update.
Monitor and enforce
Consistently monitor brand compliance across all touchpoints. Implement processes for reviewing and approving marketing materials to ensure they adhere to brand guidelines. Address any deviations right away. Make sure brand compliance policies extend to social media for both employee, paid and organic activity.
Adapt to market changes
Brands must be flexible enough to adapt to changing market conditions while maintaining their core identity. Brand compliance should allow for evolution while preserving essential brand elements. Continuous improvement is key to long-term success.
Brand compliance is a commitment
While there can be a vibe and instinct surrounding brand compliance, that's not enough to go on when trying to keep an entire company on brand. It's a difficult task and its importance shouldn't be underestimated. A well crafted and protected brand can make or break your equity in the market. Brand compliance requires ongoing commitment, monitoring, and adaptation, but the rewards in terms of brand recognition and customer loyalty are well worth the effort.