Marketers sit firmly up there with scrum geeks, acrobats, ninjas, and cats when it comes to their ability to be agile. But what is Agile Marketing? Are you already doing it but didn't realize it was a thing? And if you're not using Agile Marketing principles, we show you why incorporating them using the right tools can shake up your campaign management style for the better.
Why was Agile marketing developed?
Traditional marketing project management models are predominantly linear and often slow to adapt to change. This is not only frustrating for marketers, but also results in brands missing out on maximizing opportunities that present themselves throughout the year.
The Agile Marketing Concept Explained
Inspired by the agile practices used by IT professionals, a group of marketers devised a new approach to marketing project management. In 2012 they released the Agile Marketing Manifesto which is made up of five values that then expand out to ten principles. They are designed to simplify and free marketing teams up so they can move fast, be adaptable, collaborative, test, learn from facts and move on. The focus is always on the outcome for the customer and the business rather than flexing a volume of perfect work that took all year to approve.
Simply put, Agile Marketing is an operating model that lets inter-connected teams make smart decisions faster. It facilitates rapid optimization of the conversion funnel and continual feedback and measurement.
Agile Marketing is also an attitude. It encourages front footed, open-minded thinking that values action over perfection. And just because it's fast doesn't mean it's loose. Quite the opposite. Most organizations will have a central online hub with Agile Marketing Tools to create, store, and channel workflow from planning to analysis of results.
Agile marketing in practice
In contrast to the way marketing has been done traditionally, Agile Marketing shortens delivery cycles and creates feedback loops that inform continuous improvement.


By working in short cycles, constantly testing and learning along with being open to change, you can stay ahead of the curve and keep your marketing strategy not only relevant but effective.
Agile Marketing also encourages collaboration between cross-functional teams with frequent iterations and continuous feedback. This approach breaks down internal fiefdoms and the 'silo' mentality by leveraging skills and sharing resources and knowledge.
In theory this is great model – perfectly suited to the hectic pace of today's marketing environment. However in practice, without a system of record like IntelligenceBank things can move quickly from hectic to chaotic.
We owe a lot to Agile software development methodology, but it is – respectively – an easier ride for programmers. Agile Marketing is hard. While developers can instantly see what works and what doesn't, Marketers can't. On top of that, most major brands have external creative teams and have made internal moves to 'product' tribes and squads with one marketer in a team. While this has some great benefits, the major drawback is the lack of centralized marketing infrastructure.
Without a 'Mothership' style marketing hub, Agile Marketing becomes counterproductive. Double ups on hours and resources, quarantined results and the frightening ease of which you can go off brand are the norm when you don't have a common system and the right tools – just like software developers have.
Find software that is designed specifically for marketers rather than generic project management tools you have to fall in line with. IntelligenceBank's Marketing Operations platform was purposefully developed to manage the entire marketing loop from planning to completion. Our suite of products fall into three categories that can be cherry picked or bundled. They are Marketing Operations (the tools), BrandHub (your IP) and a Digital Asset Management system (for creative assets).
Marketing Operations tools
Affectionately known as MOPs, they're built to manage campaigns of any size end to end with functionalities that include:
Master Campaign Briefs that set the overall creative strategy and where the business case and budgets are approved.
Sub briefs, tasks and preset templates
Online Creative Workflows and Approvals with Proofing and Markups to collaborate in real time.
Scheduling and accountability. Visualize and prioritize campaigns, tasks and initiatives in a Kanban board so there is transparency and flexibility.
Automation of frequent requests via an 'Ask Marketing' inbox
BrandHub
Having a central Brand Portal with your Brand Guidelines, story, best practice examples and downloadable high res files is a no-brainer. The idea here is to keep the latest iterations not only accessible but unmissable for any agency, partner or 'newbie'. IntelligenceBank's BrandHub can house anything 'brand' and better yet – can be customized so it looks like your brand rather than third party software
Digital Asset Management system (DAM)
A robust content library which at its core is a home to all your creative assets and documents. Look for a DAM that:
Is secure
Has grunt to cope with large volumes of complex files
Helps you find those files fast with granular tags and AI
Allows collaborators to add notes, such talent usage rights within files
Lets you save and share images and video assets into multiple different file formats.
Compares multiple versions of creative
Makes markups, transcribes and edits easy
Groups assets onto personalized, sharable lightboxes
Connects seamlessly with other software your team is already using (e.g. InDesign, Excel)
Manages approvals
Allows those with access to 'self-serve' to get what they need
Go for a beautifully designed, intuitive platform and one that offers 24/7 customer support.
And finally, look for a platform that has the full suite of these functionalities bundled together so they hum. IntelligenceBank is one of the few that do. Find out more in our Agile Marketing Playbook below.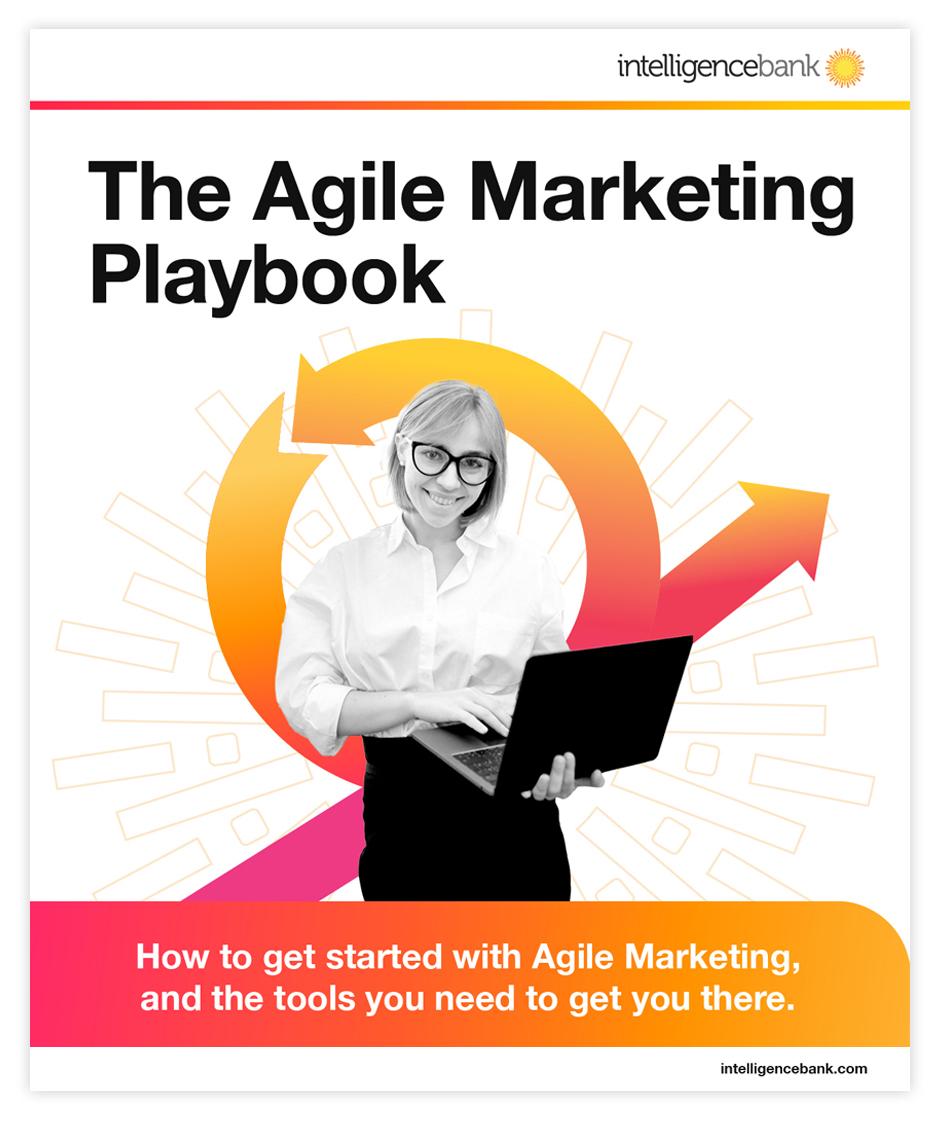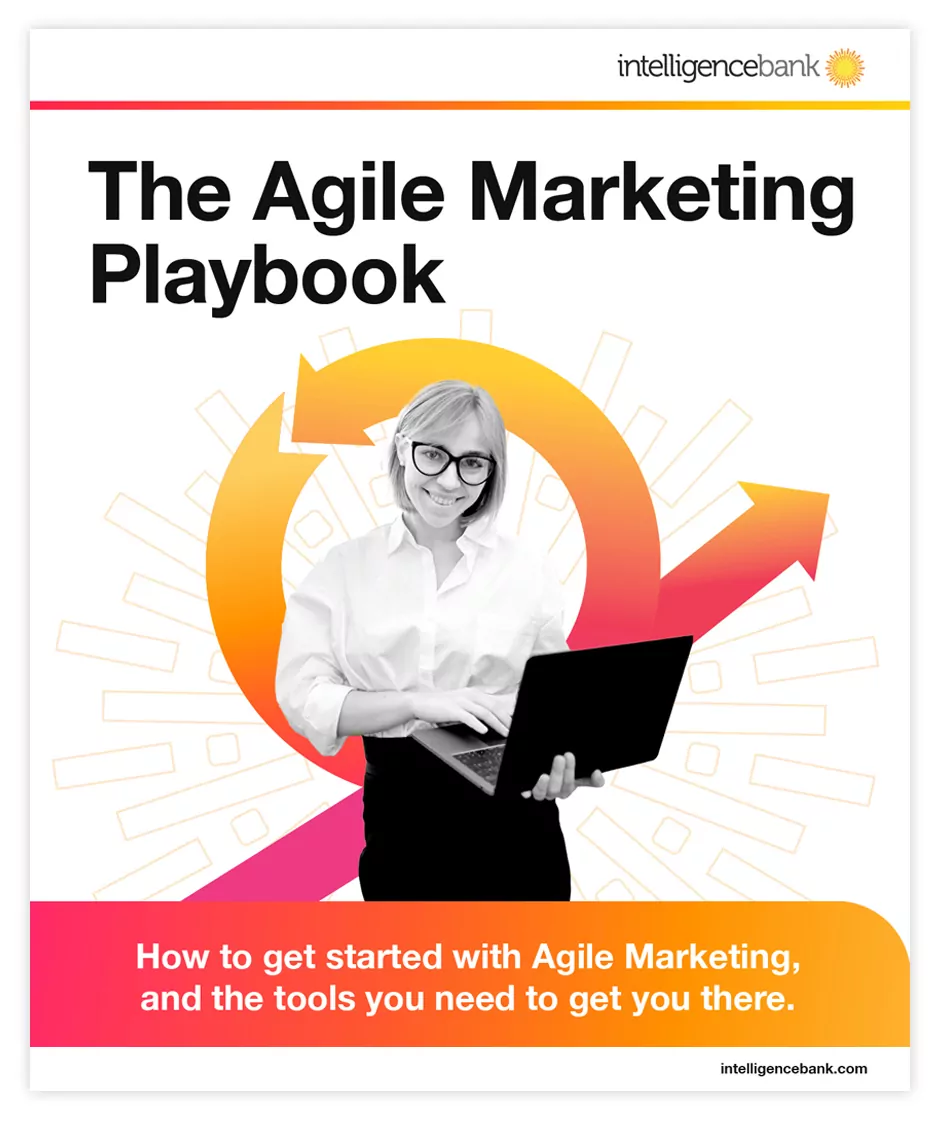 Benefits of Agile Marketing
Speed
The most significant benefit of Agile Marketing is improved speed to market. This is largely due to increased productivity and the ability to more easily change and prioritize work.

Growth
Agile marketing also helps you make better decisions because it forces you to constantly test and learn from feedback and data. By trying new things and measuring the results, you can quickly identify what is working and what isn't. This iterative approach allows you to constantly improve the performance of your campaigns without having to rely on guessing or hunches.
Transparency and Collaboration
Another key benefit of Agile Marketing is that creates visibility into a team's processes through visualized workflows such as Kanban boards. This is key when pivoting and ordering priorities.
Flexibility
An Agile process allows marketing teams to respond to market dynamics. Master briefs set the vision and strategy, while campaign briefs provide flexibility on tasks, priorities, resourcing, timelines and budget.
If you would like to know how you can elevate your team to an Agile way of working using our Marketing Operations, BrandHub and Digital Asset Management platform, reach out to one of our experts, we have offices globally.