Over the past few years, an opioid epidemic has swept across the USA and those responsible are starting to be reprimanded. In the legal case of Oklahoma against Johnson & Jonson, Judge Thad Balkman determined that "False, misleading, and dangerous marketing campaigns have caused exponentially increasing rates of addiction, overdose deaths." The US$572m fine would have been enough for the pharma company to feel the sting, but the negative PR from this ruling will continue to linger for Johnson & Johnson.
Regulatory frameworks around marketing of healthcare and pharmaceuticals exist in America, Europe & APAC. These rules and guidelines are there to protect consumers from physical harm, but also to safeguard their rights to privacy in such a sensitive industry. On top of this, successful business is built around trust and loyalty, and many companies have additional policies in place to ensure marketing connects with the consumer in a positive way. So how did Johnson & Johnson get it so wrong?
In regulated industries, it's vital that marketing teams implement technology to streamline processes, ensure marketing compliance and leave an audit trail. We've seen that more companies are turning to Marketing Operations Software to do just that. A marketing operations platform incorporates multiple tools that help to ensure that false or misleading claims aren't made in advertising and that the correct disclaimers are always included. It also streamlines marketing operations and protects your brand, using digital asset management and online brand portals for increased efficiencies and compliance.
Consent Forms & Usage Rights
In hospitals and healthcare, real people and their stories are frequently used by marketing to build empathy and trust. Because of this, the correct systems need to be in place to ensure that marketing output is sensitive to their privacy, emotions and is aligned with their expectations. Regulation exists to protect these rights and any photo or video that could identify a patient may be subject to HIPAA restrictions. The first step to achieving marketing compliance is by storing digital files using a Digital Asset Management (DAM) system. Unlike traditional systems for managing files, such as company share drives, additional information can be stored with all digital assets. Keywords, metadata and filters allow all files to be easily found, updated or restricted based on permissions or expiry dates.
Management of consent forms is especially important when dealing with people in the healthcare system and it's something that institutions such as hospitals often find difficult to manage. There is nothing more insensitive or distressing than using images of a family member or child who has recently passed away. Digital Asset Management mitigates the risk of this happening by linking consent forms to images and media, adding review dates and locking expired assets so that they cannot be used.
The platform acts as a single source of truth for approved digital content, with multiple distribution capabilities. Images and videos can be shared directly with your CMS or social media using public links, giving you the power to track your content and know exactly where it is being used. Where consent is revoked or usage rights expire, these images can be instantly updated by adding a new version or making the original file unavailable.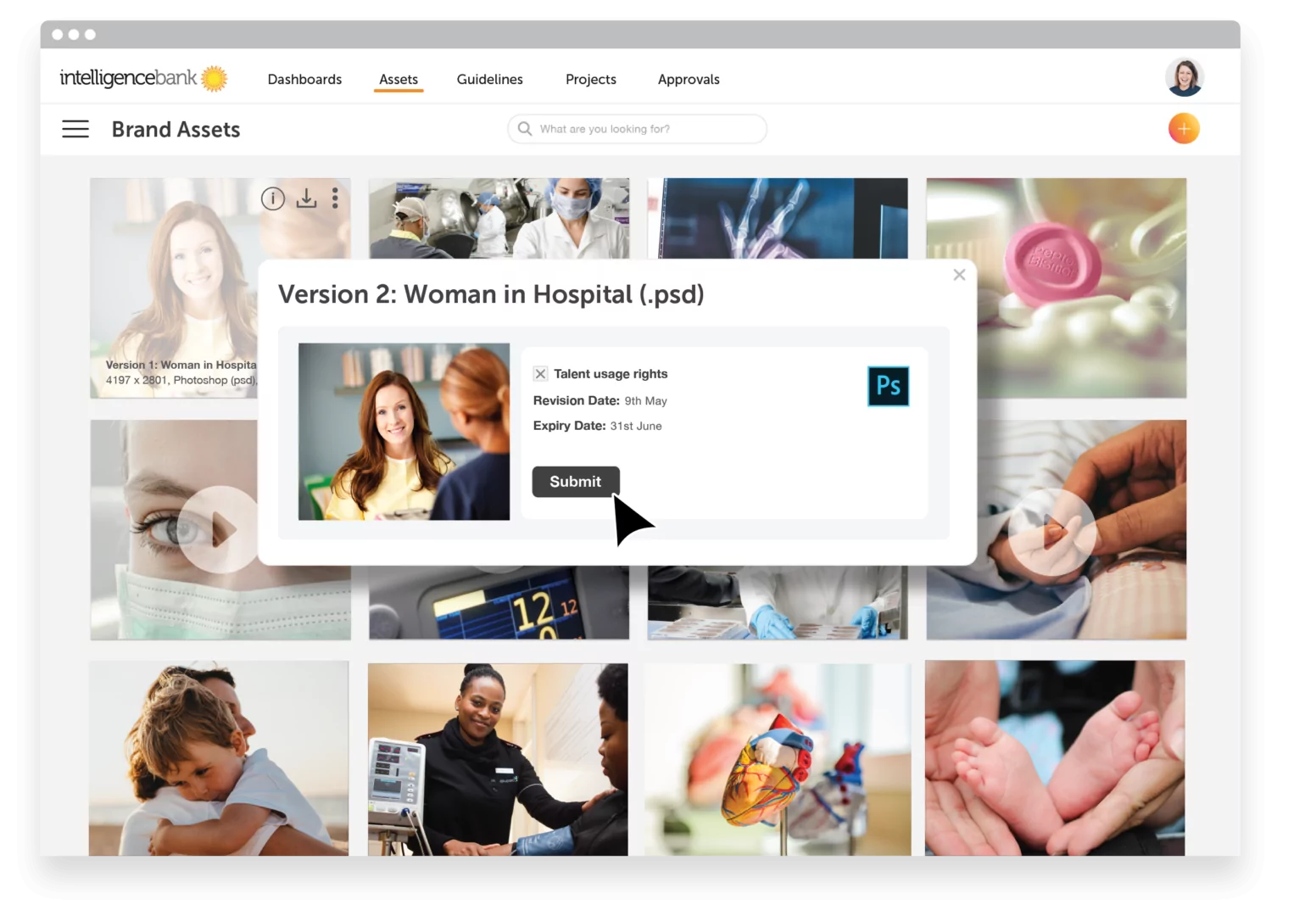 Online Releases
Where consent is required the easiest way to manage release forms is by incorporating them directly into your marketing operations software. Editable forms allow you to capture consent information, storing it directly within your platform, making it simple to link consent information to assets and trigger alerts.
Because these forms can be customized to your specifications, as regulations change you can quickly adapt by updating the form or easily review where you may not have sufficient rights to use assets featuring staff, patients or paid talent.
Regulatory Checklist
Achieving compliance is easiest when it is built into the briefing process of all marketing campaigns. Building your regulatory checklist into the briefing process ensures that key considerations are addressed from the beginning. This is especially important when working with agencies or third parties to develop creative content as they may not have a full understanding of requirements and risks associated with healthcare marketing.
Your regulatory checklist can also be built out as a risk self-assessment tool for marketing staff, completed before final creative is sent to legal teams for approval to ensure that all basic requirements are met.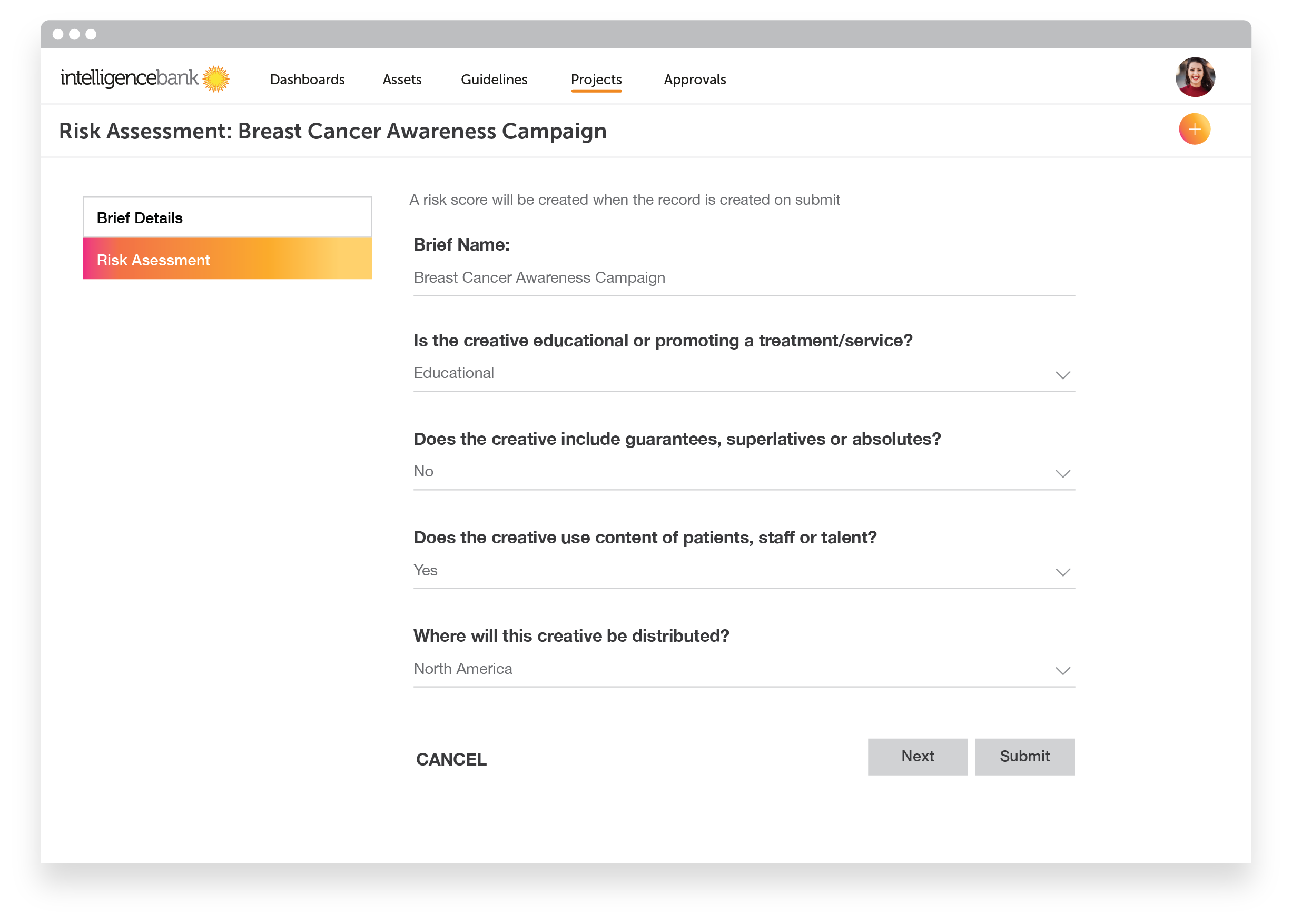 Disclaimer Engine
As we've seen with Johnson & Johnson, having the correct disclaimers on products is essential for marketing compliance. This frustrating requirement is often the main contributor to the backlog of marketing work parked with legal departments.
You can streamline this process by allowing marketing teams to self serve, using the correct disclaimer from the beginning. The IntelligenceBank disclaimer engine is a logic-based system used to determine which disclaimer needs to be included. The engine combines information about product type, media or other factors and generates the correct disclaimer based on the information given. Then, when creative is sent to legal for approval, signing it off is all that's required.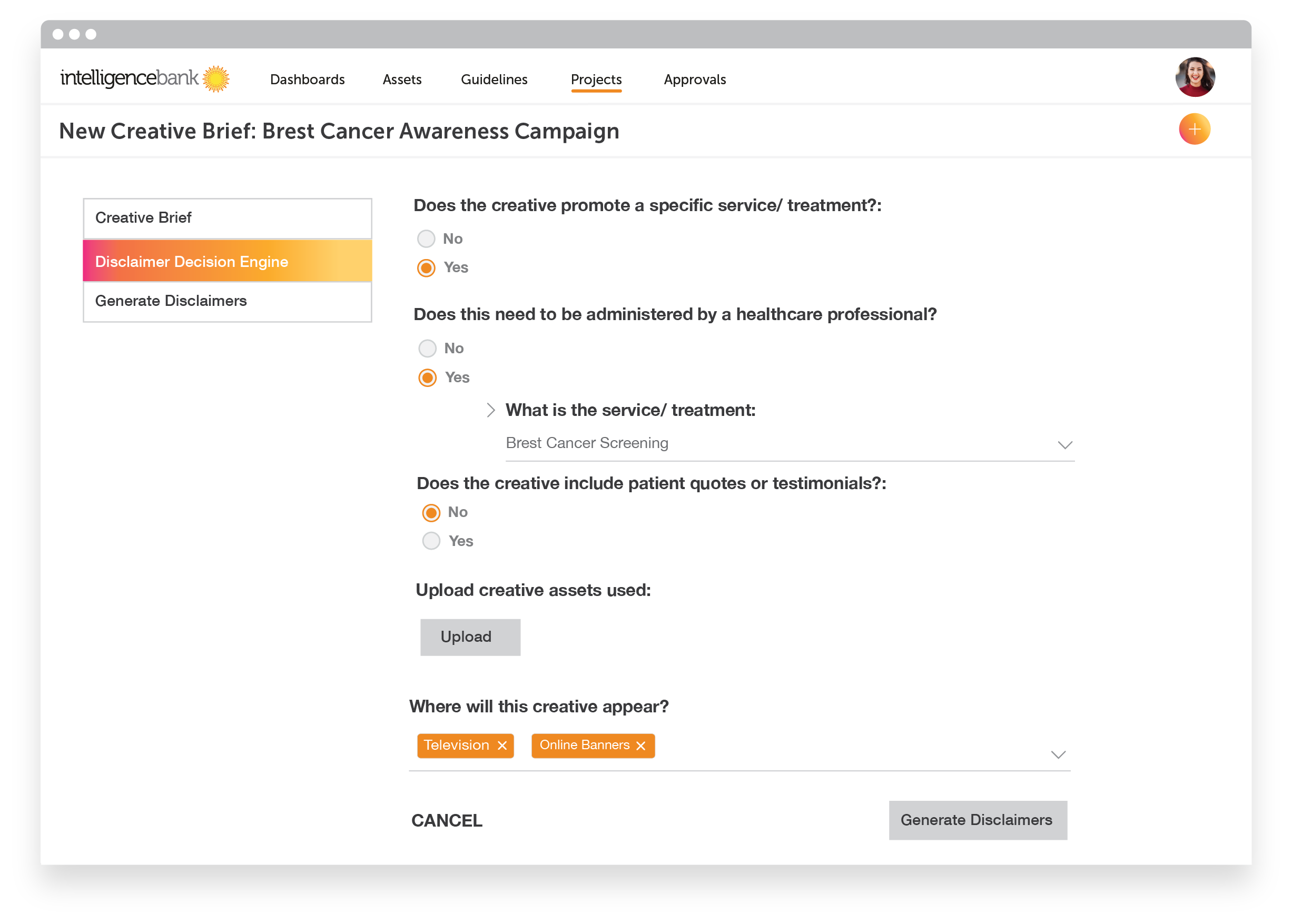 Creative Workflow & Approvals
To get great work out the door, all creative production and marketing output follows a process with multiple steps. By recognizing these and incorporating them into the platform in the form of a workflow, you ensure that important steps are not missed. Additionally, you can also gain insight into how close to completion a project is and plan for the future. For businesses that are shifting towards being Agile in their project management methodology, having a clear view of workflows is vital for resource planning.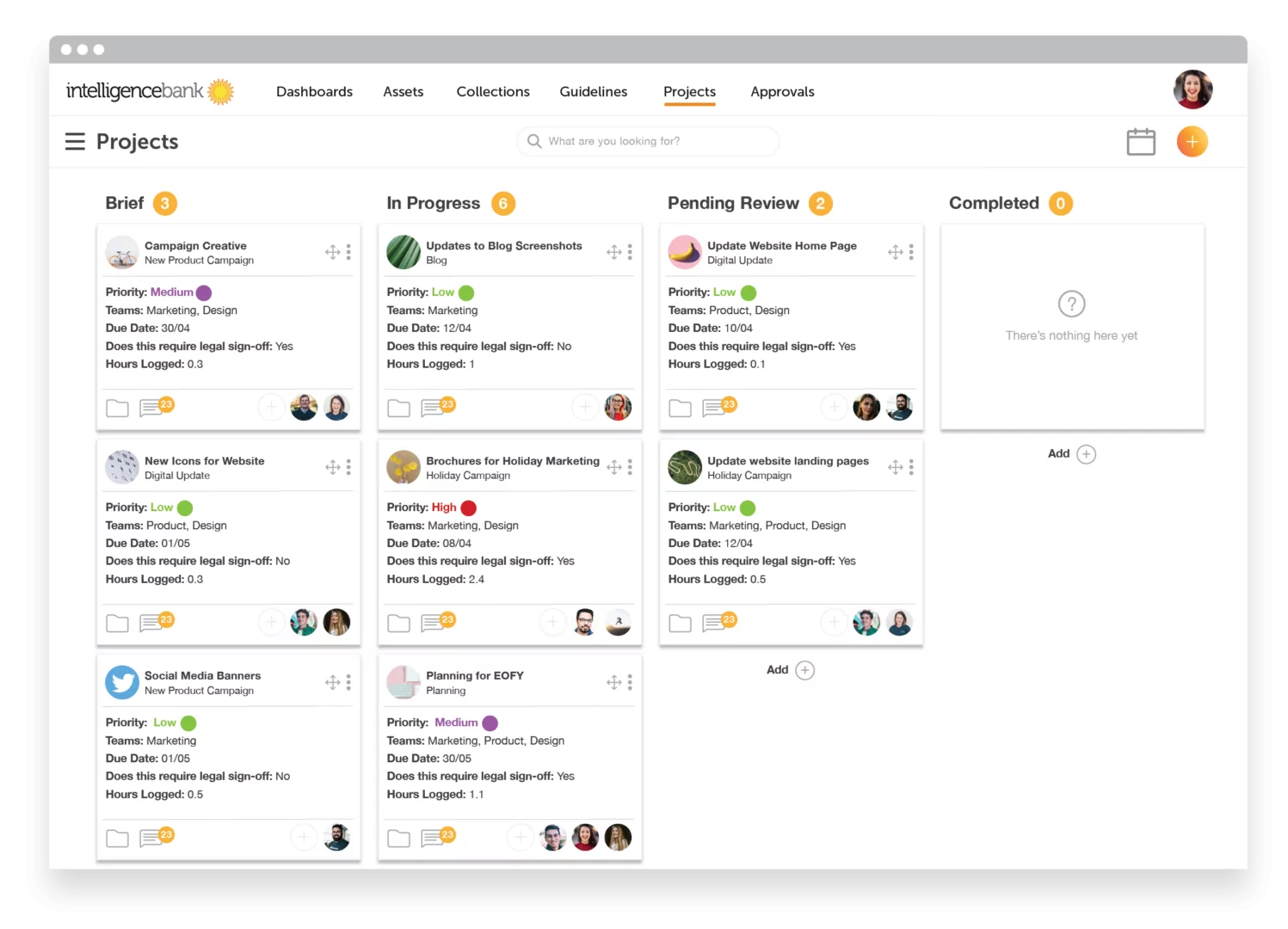 Workflows can also be used to ensure that all creative and marketing content goes through the correct approval process. For example approvals can be triggered when the progress of a job moves from 'in progress' to 'review'. By building this into the workflow, content is never distributed without legal sign off and you can avoid a compliance breach.
Proofing
To ensure all assets and resources within your organisation stay brand compliant, the proofing process is necessary. The proofing tool provides a streamlined and interactive workplace which allows you to search, filter and report on comments, request file changes in real time and upload new versions of assets within the same approval request. Additionally, proofing allows your team to time stamp comments on audio files and provide comments in one intuitive and integrated space.
Proofing provides a collaborative space that allows users to give and receive feedback. Our all-in-one platform helps move content through the marketing compliance process so you can get work done faster, have an audit trail of approvals, track what's important and stay brand compliant.