To meet expectations in the fast paced world of modern marketing, it's necessary to have the proper tools for effective project management.  More content is being created than ever before, for multiple markets, a range of products and segmented audiences.  With so much to consider there are too many spinning plates to successfully execute planned activity without technology to help.
Marketing Resource Management (MRM) Software also known as Marketing Operations Software, provides the framework that supports marketing project management, helping you track, manage and report on creative production and marketing output.  It is a unified system which streamlines processes, allowing you to manage brand compliance, marketing workflows, ROI on creative production and budget tracking all within the one platform.
Online Creative Briefs
Having an effective briefing system at the beginning of creative workflows is the first step in streamlining project management.  It not only provides the outline for projects and tasks being completed, but also indicates which workflow it will need to go through to final sign off.  Online creative briefs ensure that all information including dimensions, creative direction and messaging are provided prior to kick off, so that quality work is produced from the beginning and there is less back and forth later on.
Briefs can also be used to capture information about tasks and projects, giving you the ability to not just manage creative production, but your entire marketing plan.  Link tasks, projects and assets from within your DAM. Then, enrol them in workflow and request approvals on certain criteria such as budget spend, and managing your marketing from end to end.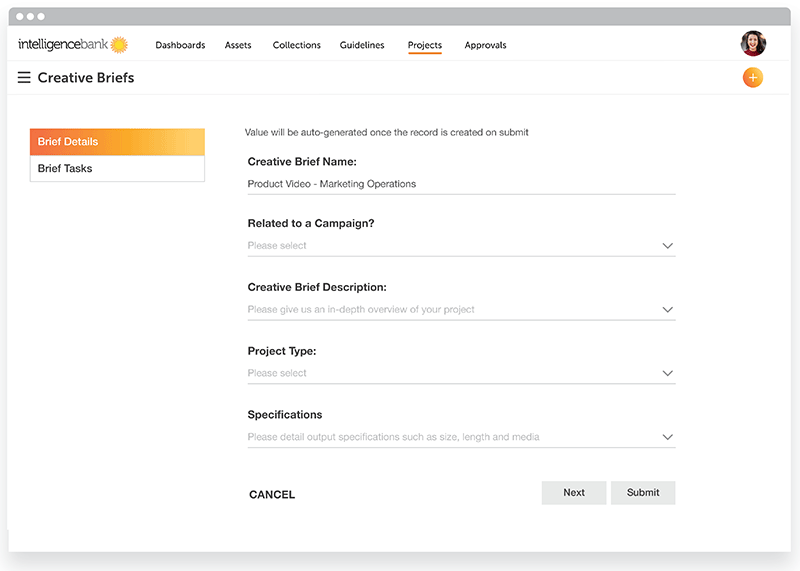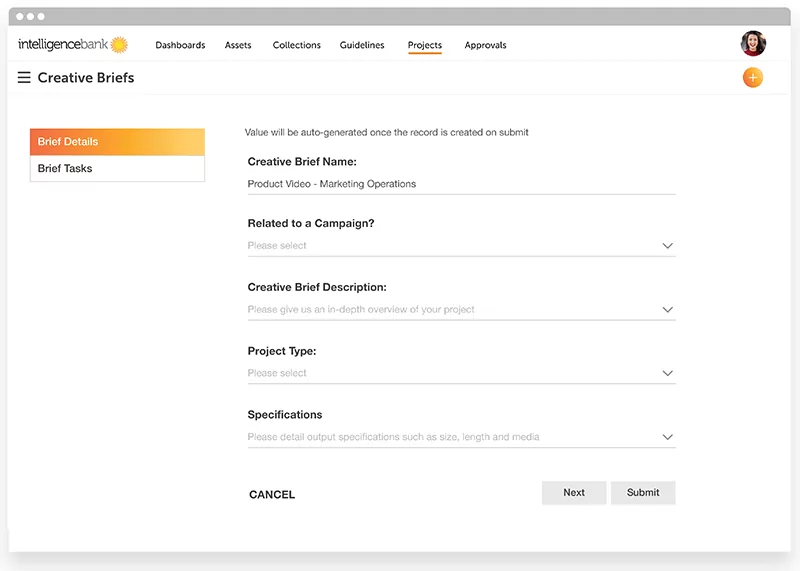 Workflows and Approvals
Workflows and approvals are a key part of MRM Software, moving work through a process to completion.  Prior to MRM, moving from step to step using email and spreadsheets left significant room for error and slowed everything down.  Building your processes and approvals into workflows, gets your team out of these legacy systems and working dynamically within your MRM platform.
Creative Project Management
Advanced MRM software offers multiple ways to view and manage work.  By using Kanban boards you can get a snapshot of where in the workflow your marketing tasks are.  This gives you insight as to whether they are on track to meet deadlines or if they may become stuck in a bottleneck.  For example one of your designers may have 5 projects briefed and the increased workload is too much. Some of this work can be redirected to another designer when the brief is approved, spreading the load. Calendars can also be used for a holistic view of projects planned for the day, week, month or year.
This agile way of working helps manage staffing and resource allocation. Briefs inform how many design hours are needed, if external agencies need to get involved, or if brand, legal and compliance teams need to sign off on final work.  Then, kanban boards give visual indication as to when those resources will be needed. By understanding these requirements for each of your current projects, you can effectively manage your marketing resources, work to budget and meet important deadlines.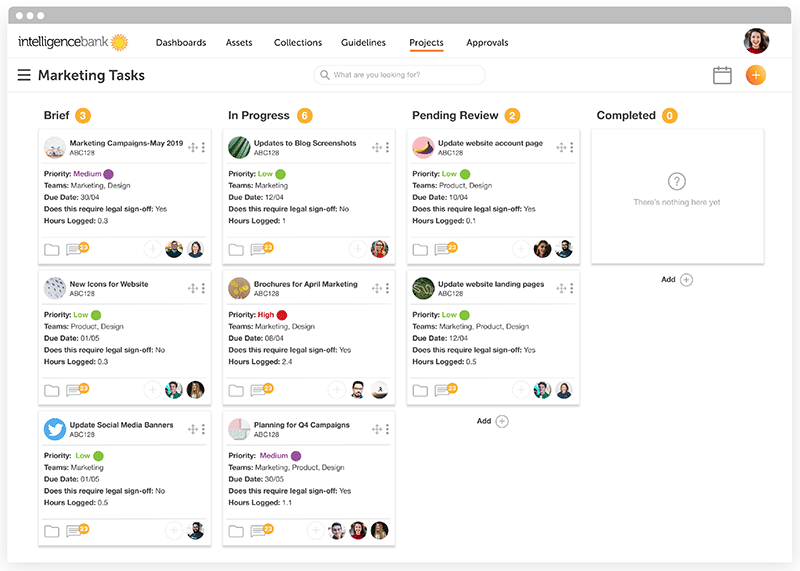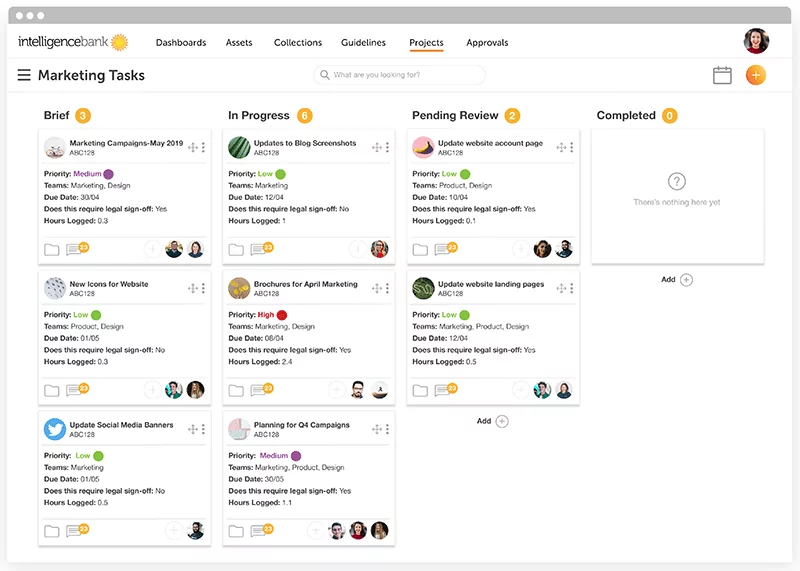 Brand Governance
Securing brand governance is an important step in streamlining marketing project management. This can be achieved using multiple features of MRM Software. The first is Digital Asset Management, providing a system to store, manage and distribute your digital assets – including logos, fonts and approved creative.  By using a DAM your creative and marketing teams can easily find the approved assets they need, decreasing production time and removing the opportunity for rogue branding.
An Online Brand Portal is another feature that exists to ensure brand governance by taking your online brand guidelines and making them accessible to the wider business.  It's a point of access to the branding team and ensures that the correct brand assets are used every time. Instead of pulling a logo from google or spending days waiting for the brand team to email through approved images, files are instantly accessible via the portal, downloadable in the formats required.
Where there are concerns that these assets will be misused, creative templates lockdown brand elements while giving users the freedom to customize content.  By using digital asset management, a brand portal and creative templates, users are able to self serve. This relieves your marketing and creative teams of simple and repetitive work, freeing up time to focus on key projects.
Reporting and ROI
Dashboard reporting gives you a live view of activity within your MRM platform.  For example, when managing a team of staff you can gain an understanding of when they are working above or below capacity by using a workload matrix.  It can also show you what your team are working on next, a progress bar against projects, or the spend of your budget. Dashboard reporting provides a snapshot of current activity, giving you insight as to where potential problems may arise.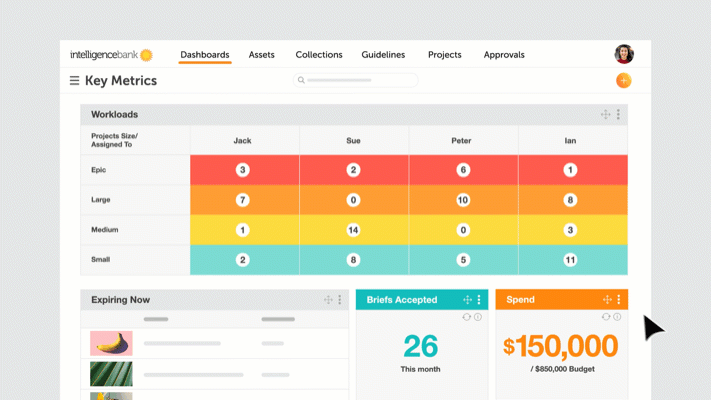 Aside from being able to gain a visual understanding of how close work is to completion and where your resources are being used, custom reports can be easily generated from within an MRM platform.  They provide greater insight into the way your marketing and creative teams work, allowing you to optimize your processes and continually improve. This data empowers you to report on ROI and have a greater understanding of where to direct resources, allowing you to budget for the future.
So, while Marketing Resource Management Software has several creative project management capabilities, many of its other features also increase productivity and transparency into marketing production.  It helps businesses track, manage and report on marketing operations to streamline creative production and marketing processes.