If you've found the holy grail of digital asset management software, it's kind of your duty to share with your marketing peers. Particularly the ones in financial services, as they have more than their fair share of hoops to jump through.
The finance industry is quite rightly, a tightly regulated industry in just about every aspect. It's also a progressive industry that has been using innovative FinTech to automate services for decades. Yet marketing departments often lagged behind without the proper tools to streamline workflows and manage brand and digital assets until relatively recently.
Thankfully, the days of working in silos, endlessly searching for the right digital asset and using outdated versions of content are behind us. Many marketers are enjoying the benefits a digital asset management system to organize, control, and distribute creative assets with ease and confidence knowing they have been approved with an audit trail prior to sharing.
How a DAM benefits financial services marketers
A Digital Asset Management system enables fin marketers to streamline their workflows, improve collaboration, and ensure consistency in branding and messaging. Here are just a few examples of how financial services marketers can leverage the core components of a Digital Asset Management platform to make their lives easier:
Asset organization:
Need a picture of a happy couple enjoying their retirement? BAM! It's right there in the DAM. Want to distribute a promotional video across all your social media platforms or have external brokers access approved logos? No problem, just drag and drop it from the DAM software which has tight controls on making available only approved assets. DAM software allows financial services marketers to organize and categorize their digital assets, making it easy to find and retrieve the assets they need quickly.


Version control:
A DAM system can enable you to track content from cradle to grave,making sure it is always using the most up-to-date and approved material. The ability to see a side by side comparison of multiple versions of creative with traceable mark ups saves hours of detective work auditing who asked for what change and when. Kiss 'final final final' file naming goodbye and seamlessly manage versions of creative better.


Brand management:
Digital Asset Management software is more than just a repository to organize creative files, it also ensures digital assets are in line with brand guidelines. That means no more images that have been shot 'off brand', files that have the wrong typeface, or wrong logos or colors. . With DAM software, financial services marketers can create and enforce rules that keep their digital assets consistent and on-brand.


Collaboration and approval:
Financial services marketers are used to having a lot of 'investment' in their creative campaigns from a range of cross functional departments. Digital Asset Management software makes it easy to facilitate collaboration and approvals among team members, with features such as workflow approvals, comments, and annotations.


Distribution and access control:
Financial services marketers have full control over their asset distribution. With Digital Asset Management software, they can send their digital assets to the right people at the right time, whether it's internal teams, external partners, or customers. And they can make sure those assets are being used properly and legally, all while keeping an eye on who's got access to what.


Compliance:
In the world of financial services marketing, compliance is key. DAM software can help ensure that marketers stay on the right side of industry regulations, such as APRA, FINRA, and SEC rules. By keeping a record of all approvals and sign offs to create financial services advertising and promotion, financial services marketers can rest easy knowing they're staying compliant.


Reporting and analytics:
Financial services marketers can use DAM software to analyze the performance of their digital assets, such as which ones are getting the most attention and which ones are converting leads into customers. If your DAM is used in a headless capacity and automatically creates links that are embedded in your website or other portals, from the DAM you can also track impressions from public access of a linked asset.
IntelligenceBank has 13+ years experience helping financial marketers implement Digital Asset management software. We are trusted by leading financial institutions worldwide, such as the National Australia Bank, Canadian Western Bank, ANZ, Insignia Financial and Suncorp. Our Brand Compliance Playbook for Financial Services provides insights and practical applications for the finance industry and can be downloaded here.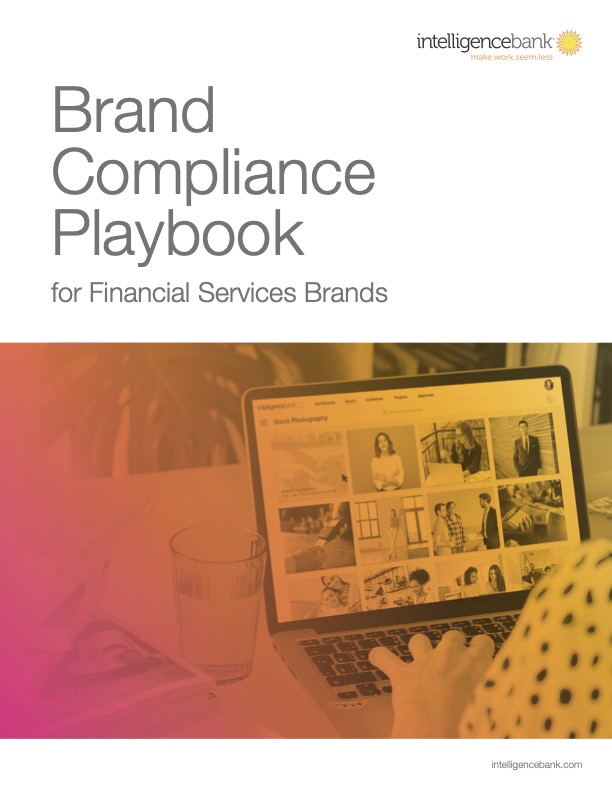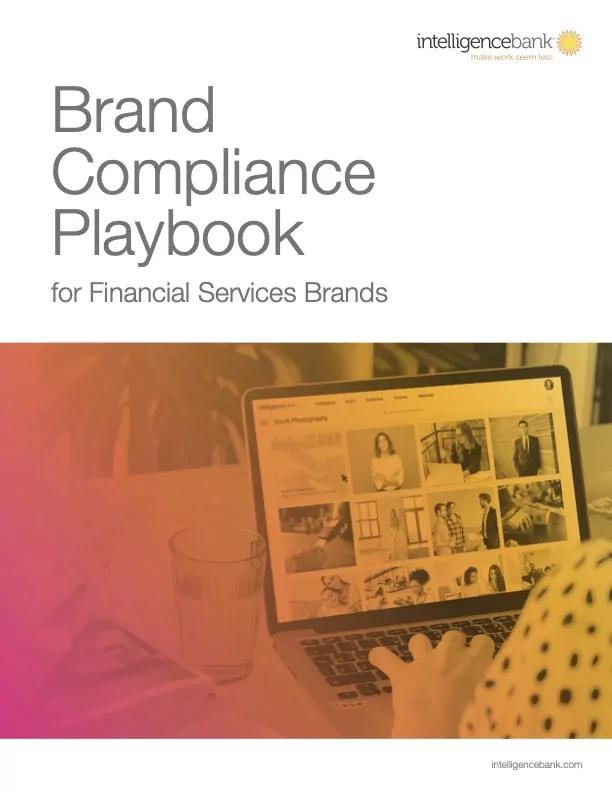 Image: IntelligenceBank Brand Compliance Playbook for Financial Services
Financial services marketers invariably work with a large volume of digital assets. A Digital Asset Management platform can support both volume as well as a vast range of file types. Whether your creative assets are image based, audio, video, or other complex design files they can be efficiently stored and accessed.
Without a DAM, marketers open themselves up to inefficiencies, delays in campaigns, and errors in compliance with industry-specific regulations
A DAM software system can help address these challenges by providing a centralized platform for storing, organizing, and sharing digital assets, as well as enforcing brand guidelines and compliance regulations. It can also provide tools for collaboration, approval workflows, access control, reporting, and analytics, enabling financial services marketers to work more efficiently and effectively.
To find out more, watch our webinar detailing Digital Asset Management software best practice or contact us for a live demo.