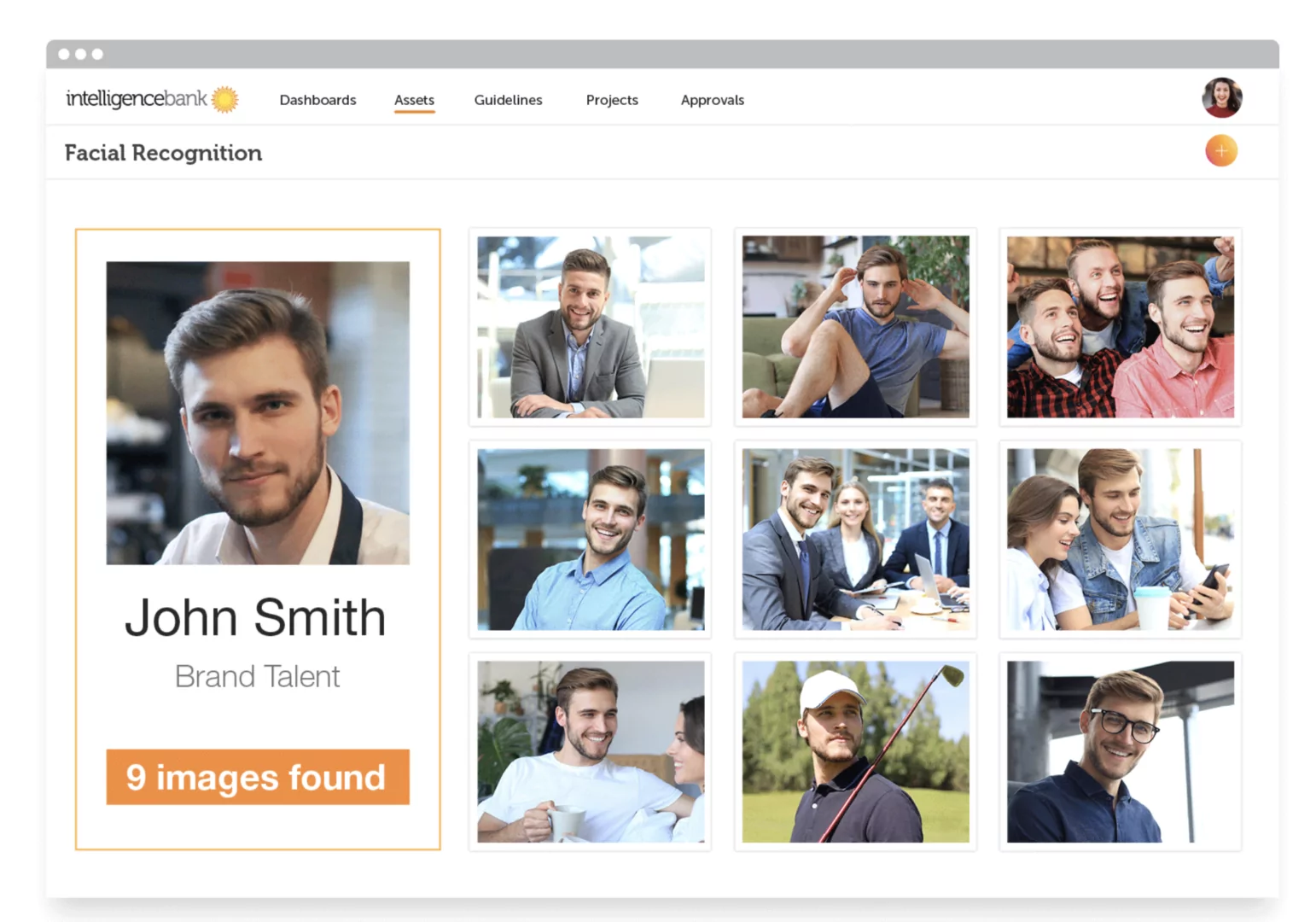 Digital Asset Management (DAM) software is incredible for making digital files easy to find and managing brand compliance. However, until now, isolating key individuals featured within these files has been a manual and time-consuming process.
Facial recognition uses AI to train your DAM to recognize faces and tag matching assets with a name or keyword. Essentially it allows you to instantly find images of a particular person that is already stored within the DAM. For newly uploaded assets, it provides a tagging suggestion so that a person's name can be used as a searchable keyword.
Here to help brands who use ambassadors, key staff or customers to represent their brand, facial recognition makes it easy to find repeated images types or talent that has been used across multiple campaigns.
Here are 4 reasons you need facial recognition:
1. Archive Assets
When an individual is no longer associated with your business or if your strategy changes, you may want to remove or archive images of a particular person. While this sounds like a simple task, for brands that house thousands or even millions of assets within their DAM it can be a problem. 'Name' tagging may have been applied to some images correctly, yet there is no guarantee that this is universal. You also run the risk that typos exist in your 'name' tags.
For marketers in regulated industries, archiving of content is not just good practice – it can act as a marketing compliance risk. For example, many healthcare marketers rely on content from their 'boots on the ground' staff, or customers who are receiving medical care. In these instances, talent usage rights must be strictly adhered to so that images of gravely ill or recently deceased people are not being used to market healthy living. It's essential that these brands are able to quickly isolate and update all images to avoid a compliance breach or negative public relations attention.
2. Renew Talent Rights
When a brand has possession of a digital file, it doesn't necessarily mean that it has unlimited rights to use. Talent usage rights are agreed upon with those who are featured in images or videos, or for those who have created them – such as photographers.
Usage rights are not static, they can be updated, changed, extended or even transferred. Facial recognition makes it easy to renew or update these usage rights by allowing users to take a stocktake of all the images held of a particular individual. Usage rights can then be updated in bulk, cutting down on administration and ensuring that all files are updated.
3. Identify People and Talent
As modern marketers, we are always looking for efficiencies to operate more effectively. Facial recognition helps to cut down on time spent sifting through the DAM by isolating all images of an individual.
If you are in government and need to select an image of the Mayor opening a school you can look through images of only the Mayor to find what you need. Or, if a particular model is suited to your next campaign, you can see if they have been involved in other work that might be appropriate.
4. Update Tags or Dates
Being able to search for all images of an individual means that you are also able to update tags and dates associated with them in bulk. The ability to quickly apply these changes – instead of manually updating them one by one – not only saves you time but also helps to keep the data within your DAM relevant and up to date.
If a member of your leadership team receives a promotion, this makes it easy to update throughout the DAM. Or if a customer used in your images has just been married and has changed their name, you can update this within moments.
To learn more about the Facial Recognition add on for our Digital Asset Management software, contact us today.