IntelligenceBank understands the balance that needs to be struck when creating marketing content for investment products and services – producing on brand content quickly and efficiently while adhering to Financial Adherence Regulatory Authority (FINRA) compliance.
FINRA is a government-authorized not-for-profit organization that oversees U.S. broker-dealers to protect investors and ensure the market's integrity. Equally, it also exists to protect the investing public against fraud and bad practices.
To ensure investment services brands get it right every time, IntelligenceBank makes what can be a complex process simple, with Marketing Operations Software that helps streamline the creative production process and ensures there is a robust audit trail for reporting and submissions to FINRA.
Creative approvals that used to be captured in emails, messaging apps and spreadsheets can now be captured in a single system. This means you have more accurate data, a process all staff and agencies can easily follow, and can avoid costly mistakes.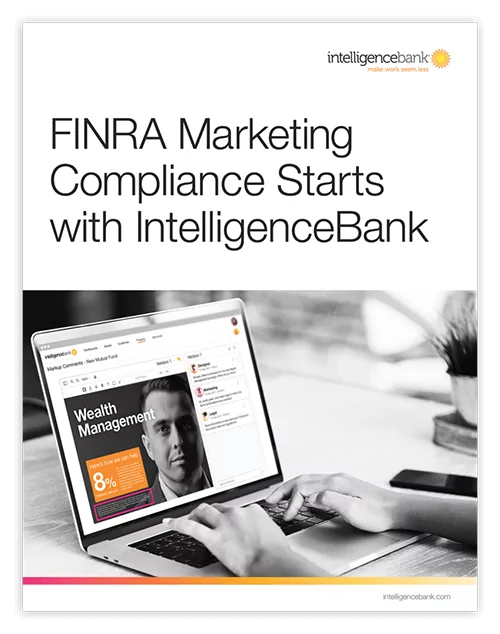 To understand the full benefits IntelligenceBank's Marketing Operations Software can offer to help stay FINRA compliant, download our whitepaper "FINRA Marketing Compliance Starts with IntelligenceBank".
IntelligenceBank's Digital Asset Management and Marketing Operations Software is used by leading brands worldwide. Our unique workflows help move content through the marketing compliance process so you can get work done faster, track what's important and stay compliant.
Read more about how IntelligenceBank can transform your marketing operations in an environment of increased regulatory compliance.