Baptist Health is an outstanding example of how a US health organization is leading the way through these times of crisis.  Headquartered in Kentucky, Baptist Health is a health network made up of eight hospitals; 300 points of care; some 3,000 employed or associated physicians and 2,700 licensed beds.
Since 2015, Baptist Health has been an IntelligenceBank Marketing Operations and Digital Asset Management (DAM) software client.
Here's how they quickly repurposed sections of their marketing operations platform to coordinate and standardize communications in response to COVID-19:
The healthcare industry is in overdrive as they work through mitigating the consequences of the outbreak.  Not only are they working hard to meet the unprecedented demand from all points of their operations, but they're also having to accelerate their crisis communications strategy when deploying accurate, timely and sensitive information.
Fortunately for Baptist Health's Creative Services team, they are digital natives and are used to quickly distributing assets and information across their hospital and physician network.  When the COVID-19 pandemic hit and escalated quickly, the team were well positioned to assemble materials and centralize their information easily and quickly.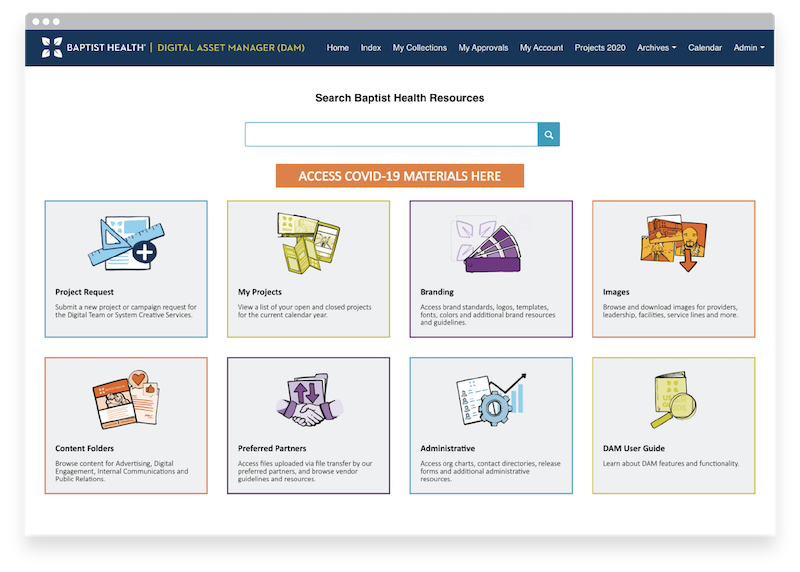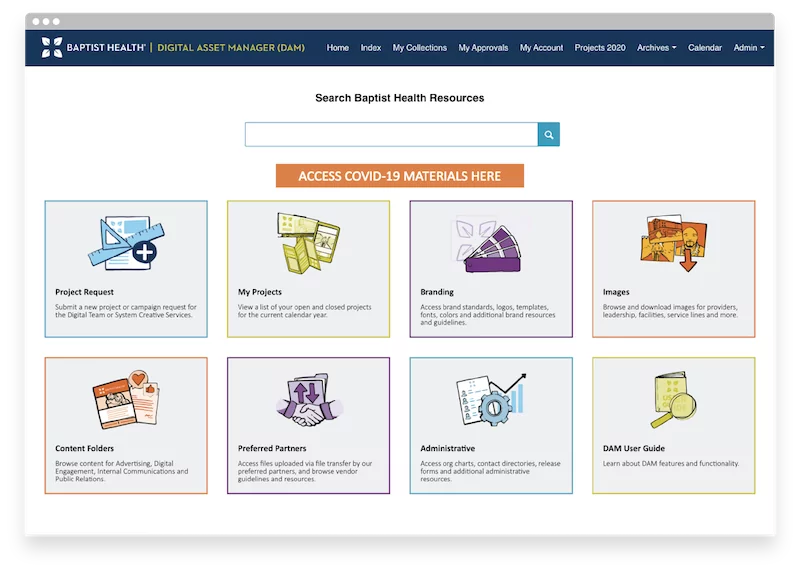 "We've experienced a rapid influx of projects related to COVID-19, including everything from education materials to print signage to digital/social content," said Andrew McLeroy, Creative Manager, Baptist Health. "We needed to provide access to templates and other assets for our teams across the system so they could customize materials and deploy them immediately."
At IntelligenceBank, we helped modify Baptist Health's existing platform and created a dedicated custom home page to host COVID-19 related materials.  Once it was established, the Baptist Health team were then able to update and inform their registered users across the network on "how" and "where" they could access related materials – easily and immediately.
As the outbreak continues to evolve each day, so are new government measures and policies.  Having an online centralized COVID-19 hub, allows Baptist Health to keep up with these daily changes and respond quickly by altering necessary artwork, templates, messaging, assets and materials seamlessly.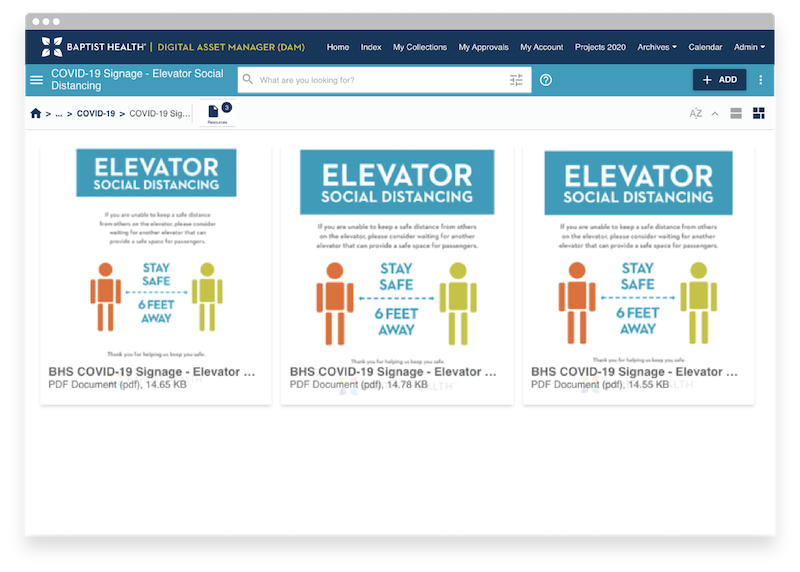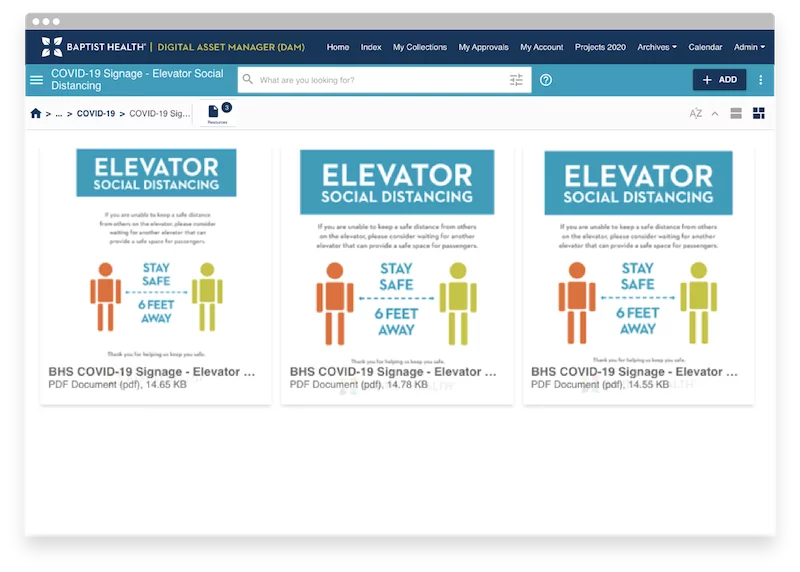 Their online platform facilitates the easy sharing of content, assets, signage, templates, stock photos of the virus, social distancing instructions, videos from their leadership team and print and digital signage – all pre-approved by management for immediate use.
Having the perfect platform to easily store materials and distribute information has been an essential part of Baptist Health's response to the pandemic and ongoing operations.  Deploying COVID-19 related materials quickly allows the hospital network to continue to run efficiently, even with a number of staff working remotely.
"IntelligenceBank has been essential to providing a central location for up-to-date assets and materials where we can share instantly across our system in a rapidly changing environment," confirmed Mr. McLeroy.
If you are seeking one-click access to crisis statements, protocols, content, collateral and more, we would welcome a conversation and host a Crisis Communications Hub demonstration.