As marketers, a big part of our daily workload revolves around managing deadlines for multiple campaigns.  Having a clear understanding of 'what' is due 'when', is essential for meeting targets and producing quality work.
Never miss a deadline
Every day our Marketing Operations clients use our software as a holistic project management tool.  It brings order and clarity to all marketing activities, from briefing to execution, and provides geographically dispersed teams with a structured way of collaborating and communicating.
IntelligenceBank Marketing Operations Software enables our marketing clients to easily manage online creative briefs, collaborate with designers, route approvals and distribute content. All while keeping marketers, creatives and other stakeholders on track and on time.
Being able to automatically assign dates to key milestones is another foolproof way our clients achieve streamlined marketing operations – making sure deadlines are never missed.
Auto-assign default dates
Typically, marketers have an overwhelming number of due dates to manage. It starts with getting the campaign brief completed on time, then ensuring that creative is developed swiftly – right through to seeking legal approval and sign-offs.  Having a system in place to manage all of the due dates helps avoid last-minute scrambles or even worse – actually missing deadlines.
We all know that every good campaign starts with a solid campaign brief. At IntelligenceBank, our online briefing forms are fully customizable and are tailored around our clients' internal systems. They capture information about the work that needs to be done (including creative specifications, target audience & legal requirements) and they also include key dates within the production timeline.
Often to determine if there is enough time to produce the task at hand,  one must work backward from the production due date.
Within IntelligenceBank, key dates can be auto-populated based on a due date. This feature removes the guesswork and ensures that there is enough time allocated to complete each milestone and safeguards that nothing has been left to chance.
Take for example, a brief for a digital campaign that has a due date of July 15.  Based on this due date, the system will remove any guesswork or administration and works backward to auto-populate the following milestones:
July 1: Submit brief for creative agency
July 7: Approve creative internally
July 10: 5 days needed for legal sign off
July 15: Final submission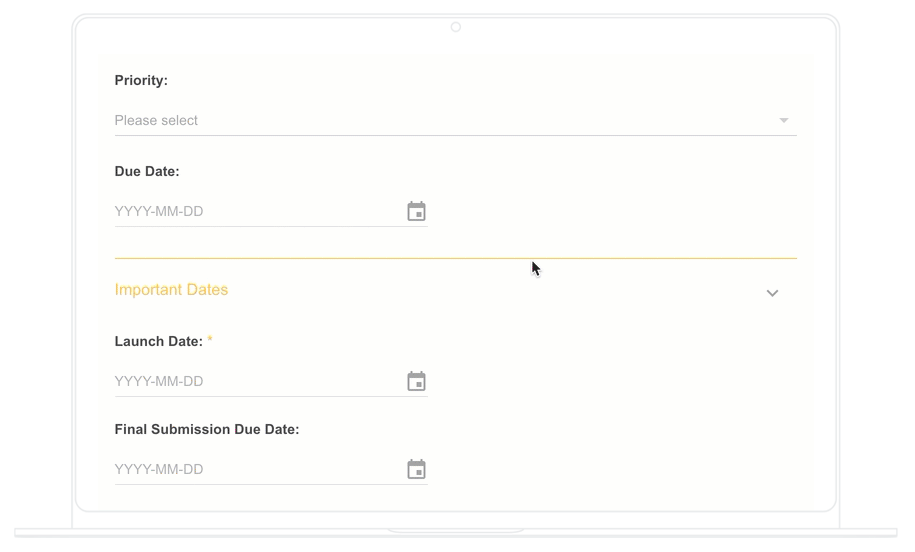 Auto-assign conditional dates
While marketing calendars are built around deadlines, not all deadlines are of equal importance. Even though the auto-assign default dates function alleviates time pressures in areas where bottlenecks occur (such as creative production and legal sign off), it doesn't account for the nature of the project such as importance, urgency, or even the tasks's size or complexity.
This is where conditional logic plays a critical role. By selecting the nature of the project, it incorporates these factors into the briefing form and assigns a date based on the logic provided.
Imagine that you have submitted a creative brief for both a television (TV) advertisement and a social media banner.  The TV advertisement is going to require a lot more time in creative production than the social media banner.  Therefore, the allocated due date will reflect this difference:
'Hi priority' TV advertisement: allocated due date is 4 weeks from brief submission
'Low priority' social banner: allocated due date is 7 days from brief submission
The benefits
In summary, when using either 'Default Auto-Assign' or 'Conditional Auto-Assign' date fields, marketing teams are able to:
Prioritize work: Having all due dates visible within the one calendar
Manage workloads: Teams are given enough time to complete tasks
Remove pressures: By allocating enough time, it eliminates the chance of off-brand work or even worse a marketing compliance breach
Increase visibility: Bird's eye view into current & upcoming projects plus resources
Allocate time: For the more 'risky' projects
Never miss a deadline: Required approvals are being met
To learn more about IntelligenceBank Marketing Operations Software and how it can help your team manage projects and never miss a deadline, contact us.