Organizations are scrambling trying to interpret new policies and work through mitigating the consequences of the pandemic.  While adjusting to these new workplace procedures, they're also having to move whole portions of marketing operations online – as collaborating over a workstation is no longer physically possible. A crisis is difficult to handle when everyone is in the same room, and it's compounded when the vast majority of your co-workers are working remotely.
As the situation evolves, companies are relying on their marketing departments to help communicate their crisis response and balance the tension between speed, accuracy and quality.  This is the real value provided by marketing and communications leaders as they lead or contribute to a vital role in their company's cross-functional "crisis response team".
The difficult question is "How?" 
The first step in managing complex communications, where sign off needs to occur through multiple departments is to have a single system to centralize, approve, standardize and project manage responses.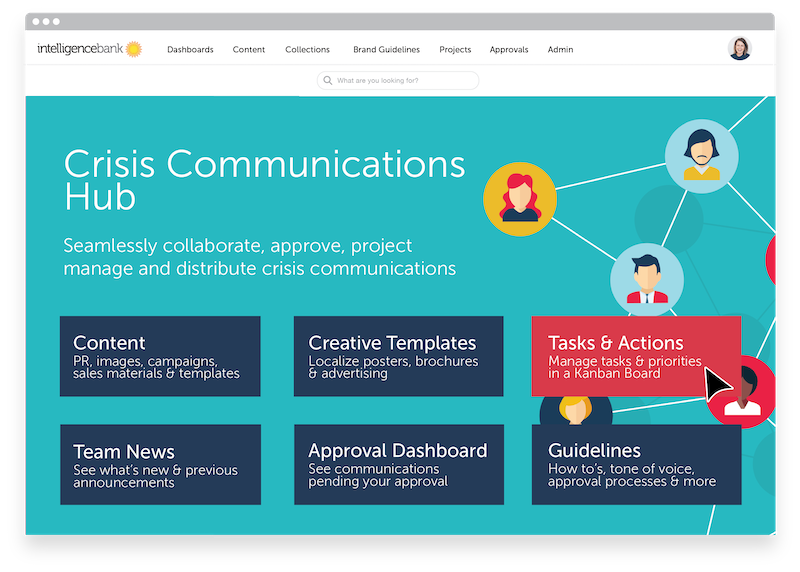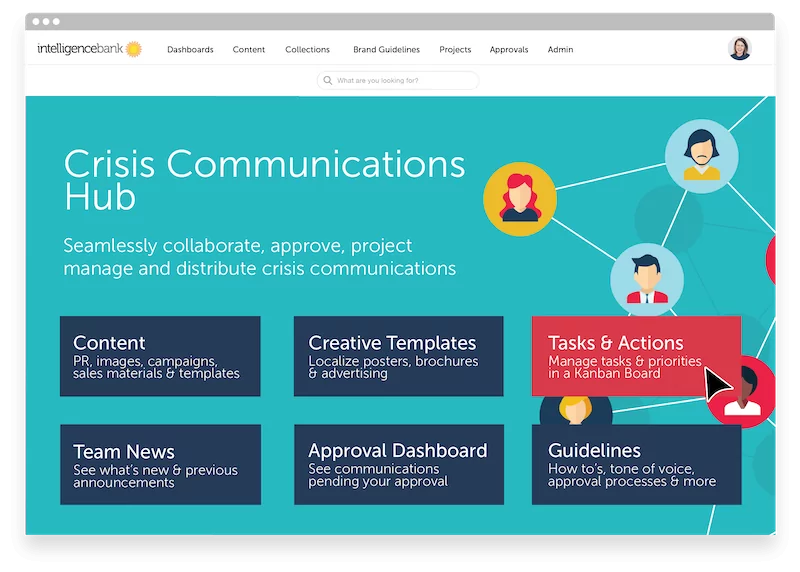 According to Tessa Court, CEO of IntelligenceBank, "we have been amazed how so many of our clients have quickly repurposed sections of their marketing operations platform to coordinate and standardize communications in response to COVID-19.  This is the ultimate pivot, highlighting how necessity is breeding creativity and ingenuity." She adds, "while traditional media expenditure has dropped approximately 35% since the onset of COVID-19,  marketing departments are turning their attention to internal and corporate communications, as well as digital media to get the response messages out."
To help you collaborate and share up-to-date information during these challenging times, here's how creating a 'Crisis Communication Hub' within IntelligenceBank can help you deliver quality communications quickly during this period of uncertainty:
1. Manage Communications Requests, Tasks and Priorities in One Place
Create a COVID-19 communications intake form, to approve communications pieces, assign contributors from across the business, and manage messaging and creative approvals.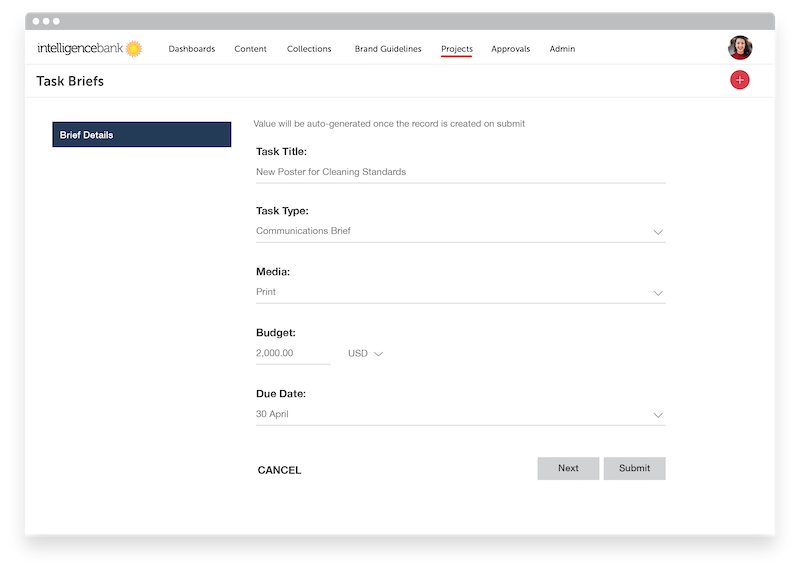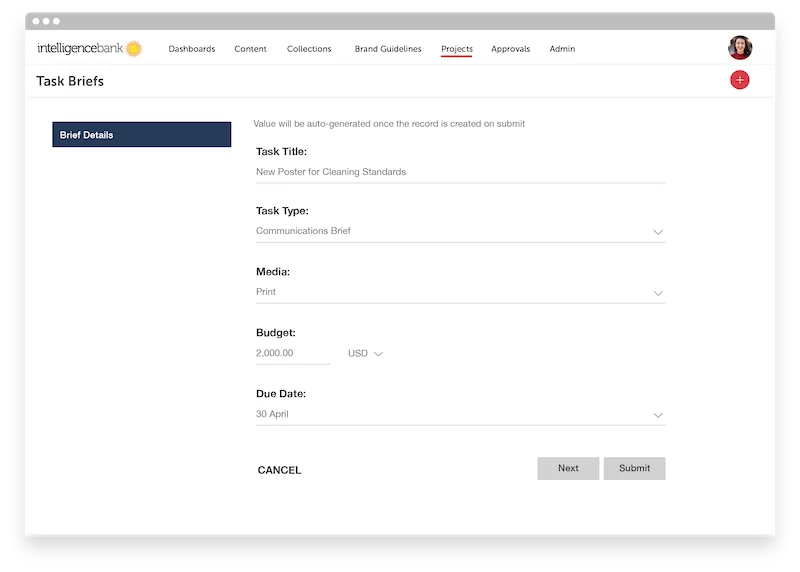 As a team, once a request has been approved and assigned, have a single view of all tasks, and 'drag and drop' projects to change the status or priorities.  This makes it easy for people across the marketing function, as well as senior management to gauge the status of each project.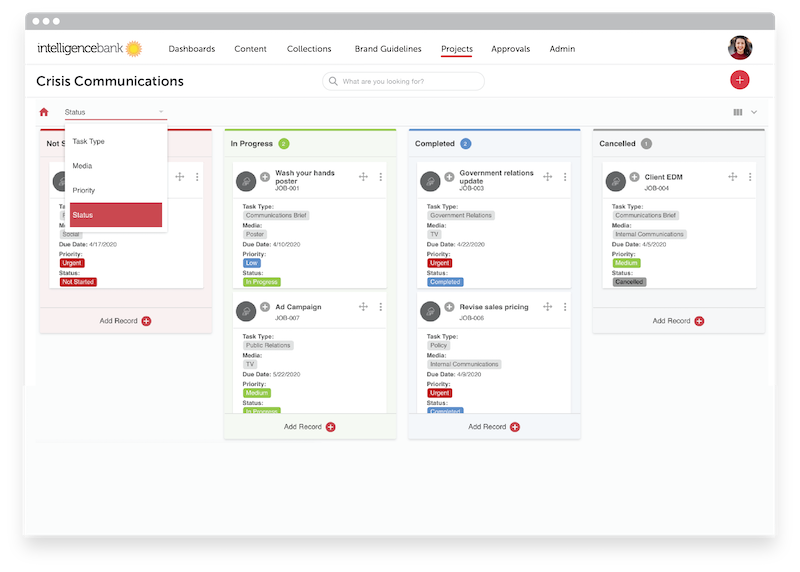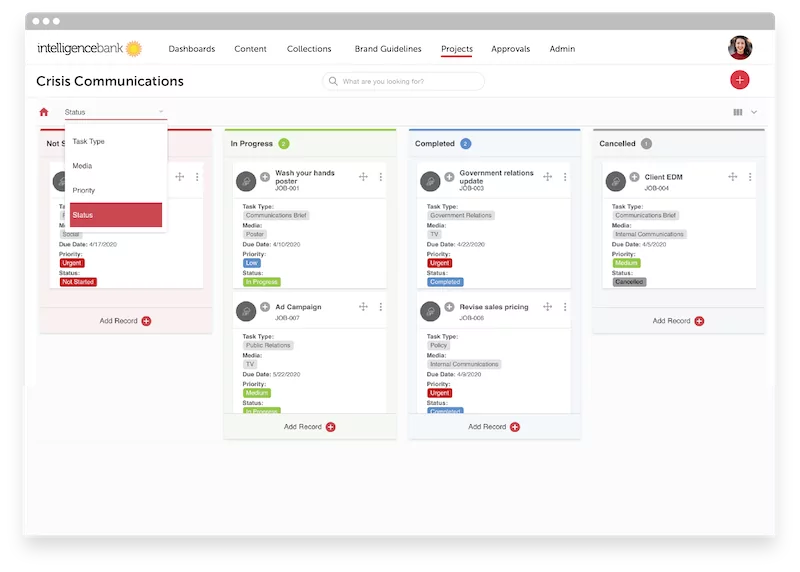 2. Centralize Communications So Everyone Has the Latest, Approved Version
By centralizing all of your approved "crisis" files within the Digital Asset Management System, your stakeholders can have access to the latest assets, video messaging, brochures, media releases, hygiene artwork, staff alerts and external communications.  Not only will your team automatically receive alerts when new content is available, but with version control, you can ensure the correct versions are being used.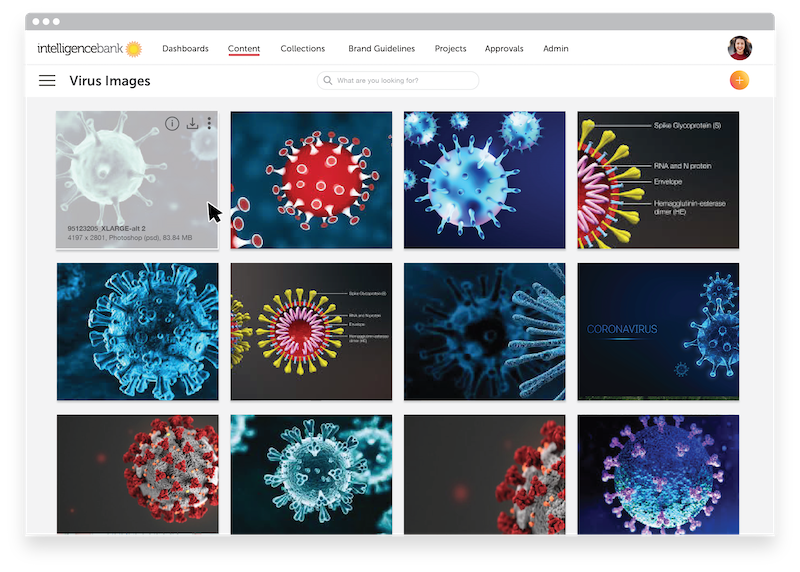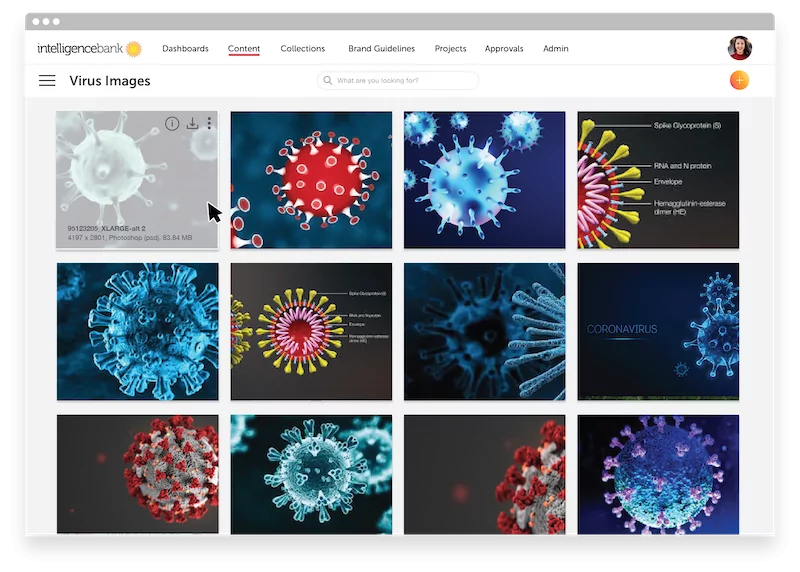 3. Publish Online COVID-19 Communications Guidelines
The tone of voice in your communications during a crisis matters.  Adding elements to your online brand guidelines such as tone of voice, design elements during an emergency and when to use which media is critical, especially when collaborating across so many departments.  Given today's circumstances, never before has empathy-based and customer-centric language been more critical.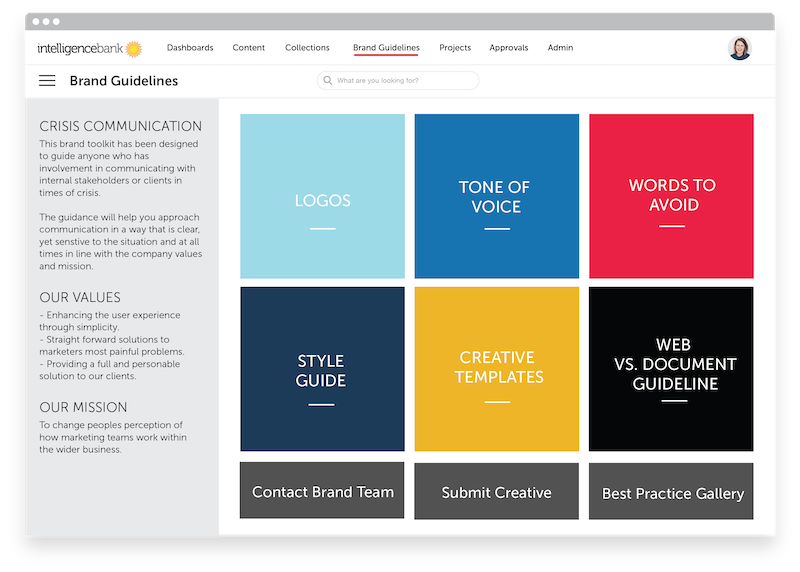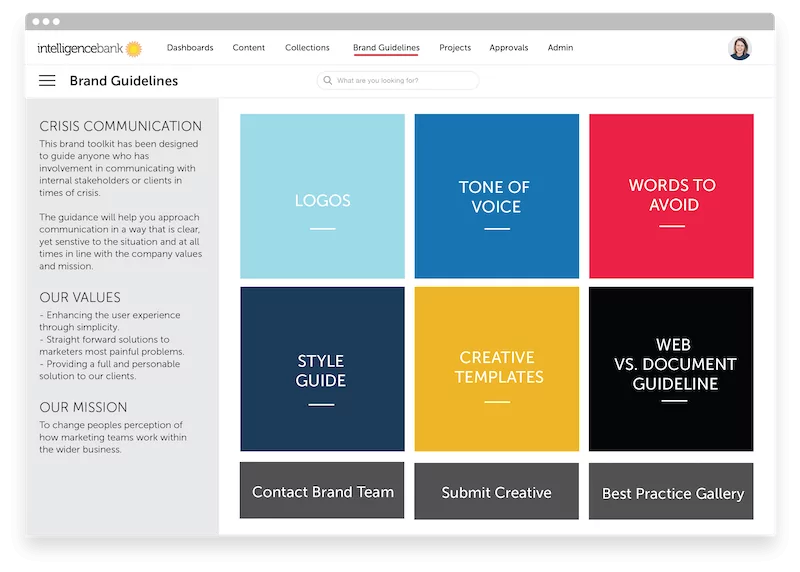 The online guide can direct people to use language that is appropriate:
"Thank you for your patience" (gratitude) and "We're here for you" (safety)
As well as language that is not appropriate:
"Don't" (scolding) and "This is unexpected" (alarming)
4. Localize 'Outbreak Messaging" With Creative Templates: 
When you have a geographically dispersed team, ensuring that all creative production complies with your brand guidelines and crisis communications strategy and tone is a huge challenge.
Creative templates can help you instantly localize "repeatable" creative such as social media backgrounds and hand washing posters while at the same time, reducing the opportunity of producing insensitive creative.  Created as InDesign files by designers and approved by your crisis communications teams, specific parts of your templates can be locked down while others are left open for customization.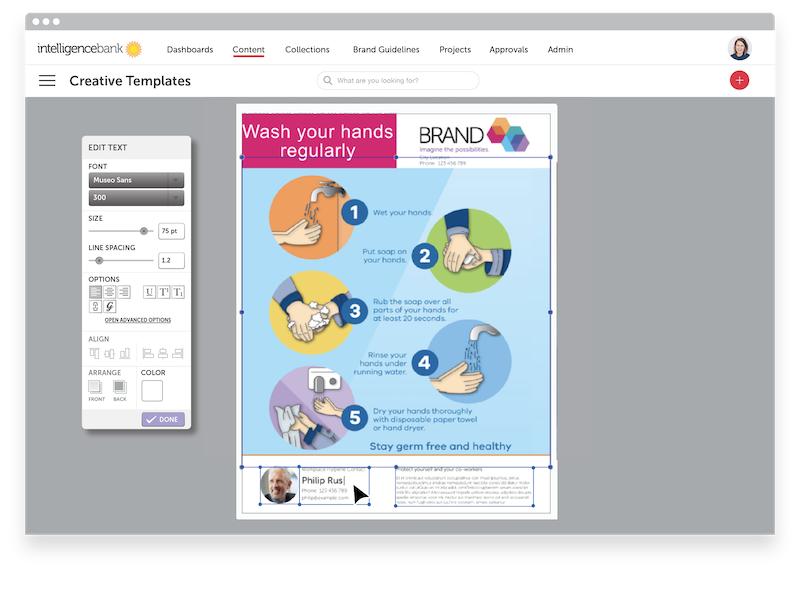 By providing your team with pre-approved templates you will gain greater control over your messaging, as well as significantly reducing the costs spent on design resources as well as time to market.
5. Streamline Communications and Don't Lose Them in Email
The crisis news feed provides the most up-to-date communications to your internal team and is the first place for your audience to look for new information.  The dedicated feed removes the chaos of email threads and automatically shares updates such as remote working updates, social distancing codes of conduct, government advice and staff alerts. As part of your crisis activation plan, these live updates will keep your stakeholders informed and feeling reassured.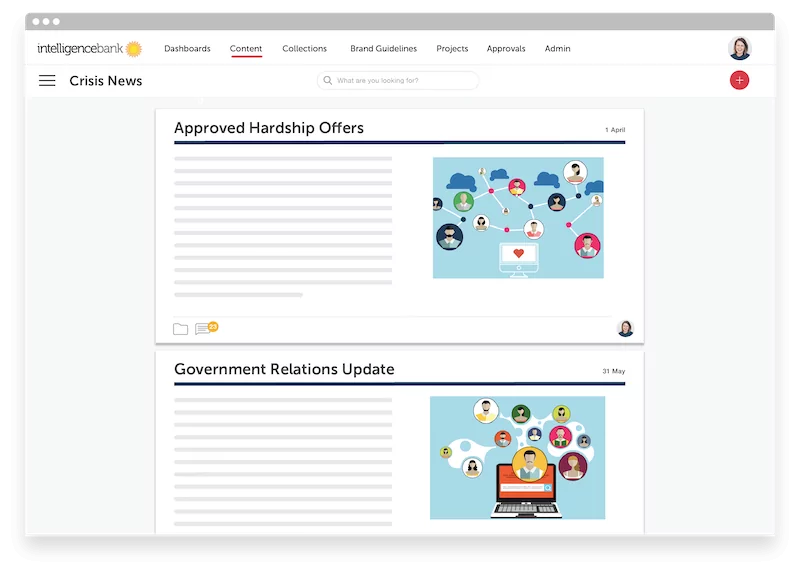 With each and every new policy that is being introduced, organizations of all shapes and sizes are finding themselves in crisis and fast-moving situations.  In order to respond quickly and adeptly, they're having to create crisis response teams to communicate "what they are doing" and "what resources are available" for staff and respective communities to feel safe and supported.
Thankfully – with the evolution of marketing operations platforms – organizations can have one-click access to crisis statements, protocols, content, collateral and more.  IntelligenceBank's flexible solution has helped several marketing teams, such as Baptist Health and others, merge together their crisis communications plans and their marketing technology stack into one platform – enabling them to deploy emergency messaging quickly while maintaining 'remote control' of the situation.
If you're a newly formed marketing "crisis response" team and you're trying to balance the tension between the speed and quality of your communications, contact us and we can share with you best practices.