Gerber is a leading provider of high-quality plumbing products for both kitchen and bathroom applications.
In 2020, Gerber chose IntelligenceBank as their Digital Asset Management, Marketing Resource Management and BrandHub Portal solution.
We asked them some questions about how they decided on IntelligenceBank as their solution provider, and what their experience with the tools have been so far.
How does Gerber use IntelligenceBank?
Gerber uses IntelligenceBank to store a wide range of assets including images and collateral. IntelligenceBank also serves as the source of truth for product technical documents and powers the links to these documents on our website via API connection.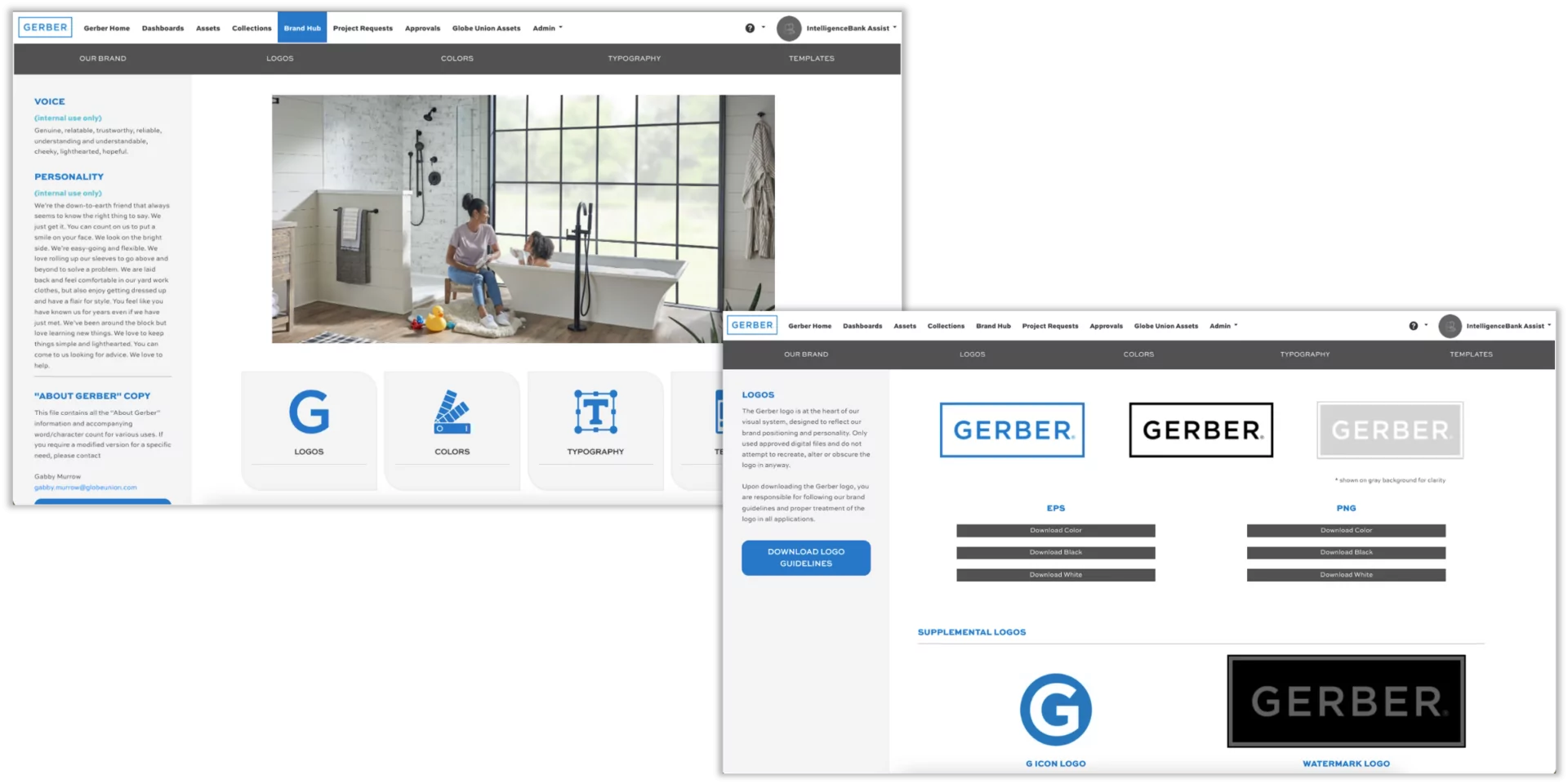 Why is it important for Gerber to have a system like IntelligenceBank?
Before IntelligenceBank, we had a messy shared internal drive that was not owned by one team to keep it clean and up-to-date. IntelligenceBank allows us to be more efficient and organized. These changes have allowed our teams to breathe easy knowing that everyone is working off of the same page and that the right assets are confidently being used and shared.
"IntelligenceBank allows us to be more efficient and organized."
What problem did IntelligenceBank solve for Gerber?
Gerber did not have an organized, single source of truth for marketing assets that was easily accessible for internal employees or business partners. When we implemented IntelligenceBank, it allowed us to solve that issue and have a consolidated library that people could pull from and know they are using the correct, most up to date versions of our assets.
How does the self-serve platform help save time, streamline and improve how their stakeholders request, search and produce creative assets?
Creating "Collections" in IntelligenceBank has been an incredible timesaver for our manufacturers' representatives. It has empowered them to gather curated information for their customers without needing to take the extra step to reach out to the marketing team to gather the assets for them. This has allowed our marketing team to focus on creating new content and expanding our library, rather than having to file repeat requests.
How did you launch IntelligenceBank internally? What were the secrets to your success?
We held a training and a refresh training for users. We also recorded a few helpful hint videos for users to go back and reference that were tailored to how our users would most commonly use the platform. This allowed them to constantly learn the system and make the process smoother as it was being used and the asset library grew.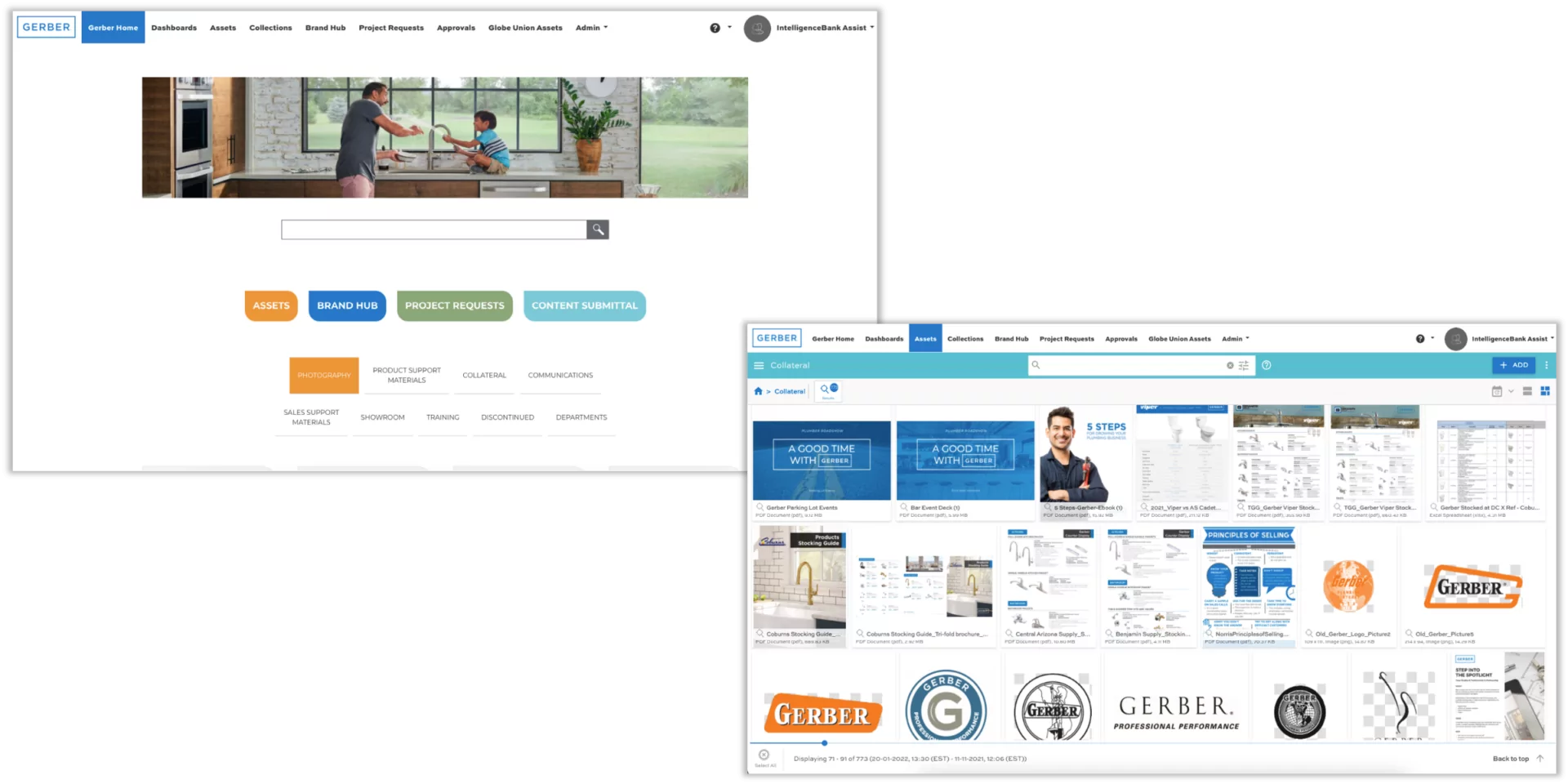 How have you been successful in getting people to use the system?
To ensure people use IntelligenceBank, we made sure that we set up all of those who would be interfacing with the software. We also educated our staff on the capabilities of the platform so they knew exactly what they could use it for. Lastly, once we onboarded the system, we turned requests for materials into learning opportunities, and showed them how the self-service feature can eliminate the need to reach out and ask for materials.
What are the results so far?
The results so far have been mostly great! Just like any new system, there are some growing and learning pains, but through continued training and referencing, we have been able to help those more resistant to change. Over the last year, we have been getting a lot of use and we expect that trend to continue.
What do you love most about IntelligenceBank?
The two things that we love most about IntelligenceBank are all the problems that the platform has allowed us to solve such as requests coming into the marketing team, the consolidated locations of our assets, and the peace of mind that the correct assets are accessible by the people who need them. The other thing we love about IntelligenceBank is the continued support we have received and still receive from the team. It truly feels like they want to see us succeed and make the most out of the platform.
What's next for Gerber?
We want to harness the power of the general public being able to access specific assets, such as downloading product images or technical documents. This feature would allow us to more easily share large files that might not be about to be shared through traditional channels like email. If we could set up our system to be able to have virtually no restrictions on sharing due to file size or type, that would allow us to create all new collateral like we couldn't before.
Contact us and find out how IntelligenceBank helps marketing teams with collaboration, efficiency and compliance.