Marketing Resource Management
Work faster and stay compliant with creative briefs, workflows, expense requests, content management and brand style guides
Connect all your Marketing Dots
Our marketing operation management software is designed to help you get to marketing quickly, and easily manage marketing compliance.
Escape the chaos of managing creative projects in spreadsheets, emails and shared drives – and say hello to your new Marketing resource management system of management, creative collaboration, brand compliance and marketing approvals system – all in one place.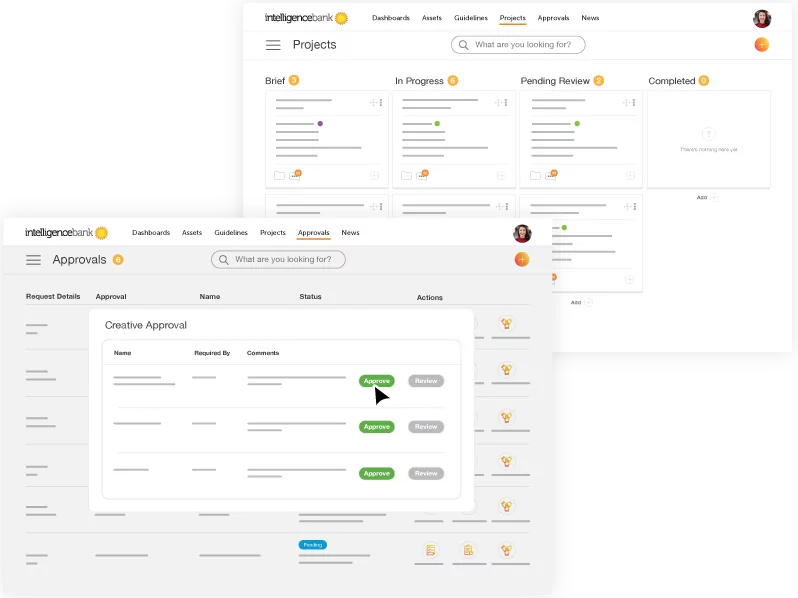 Plan and approve campaigns
Streamline campaigns with briefs, collaboration, and approval workflows.
Ensure briefs and creatives have brand, budget and legal approval.
Keep track of individual and team marketing activities and budgets.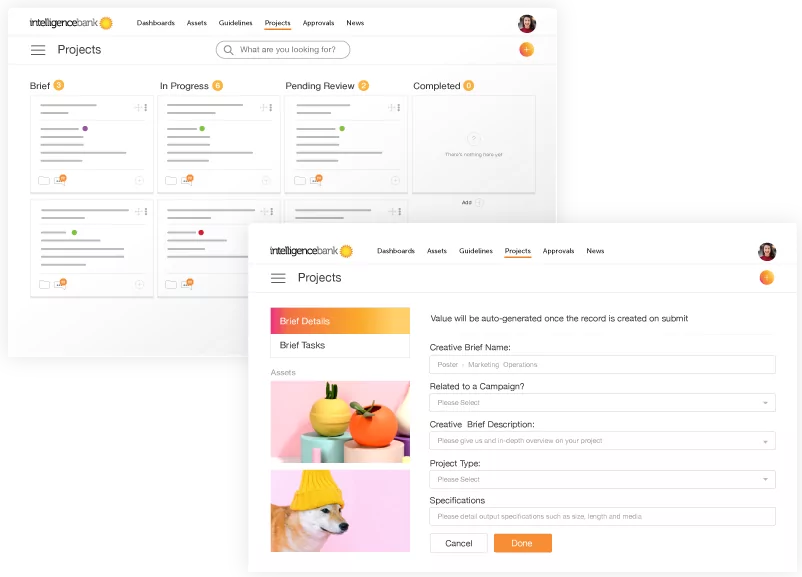 Visualize marketing projects
Visualize projects with Calendar, Kanban and Card views of your projects.
Assign tasks and keep track of what your team is working on – both individually and as a collective.
Link from each project to briefs and creative assets.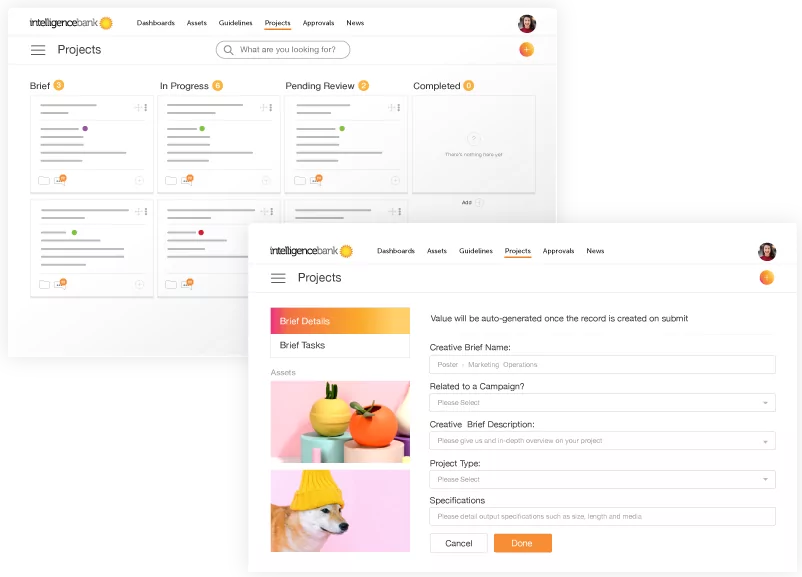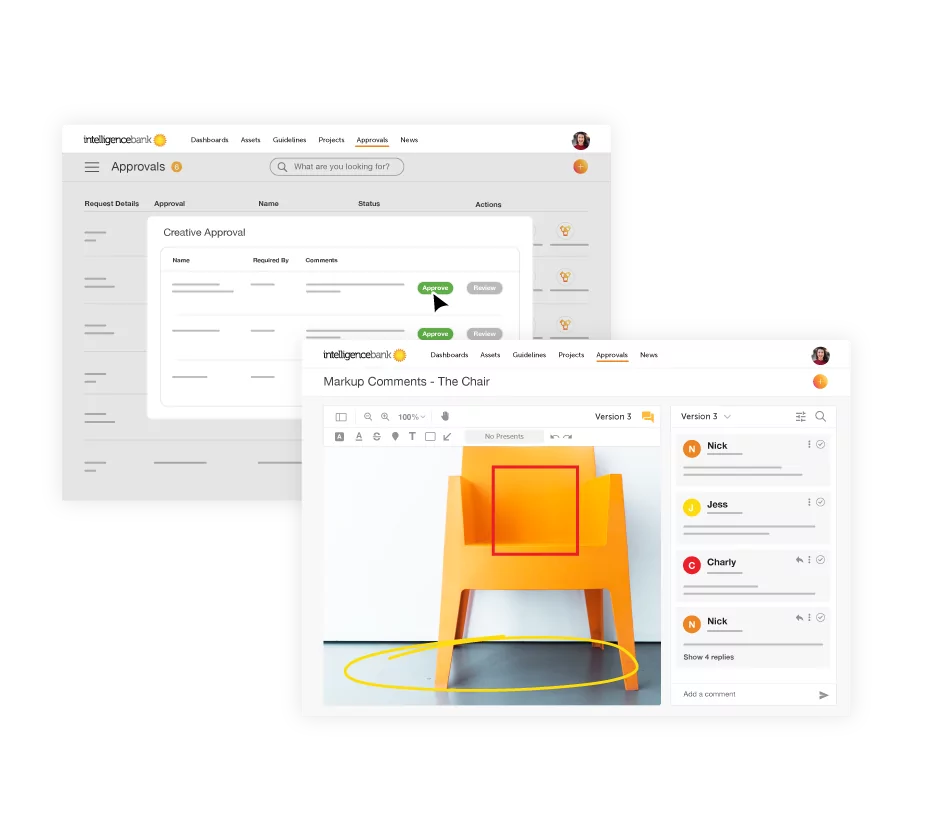 Empower team to collaborate in real-time with markups, alerts and audit trails. 
Annotate and make comments directly onto creative assets – including PDF's, audio and video files.
Compare version drafts side-by-side to instantly see how changes were made.
Access every creative version together in one location for better record keeping.
Associate files, comments, and all drafts to Projects and keep track of exactly what your team is working on.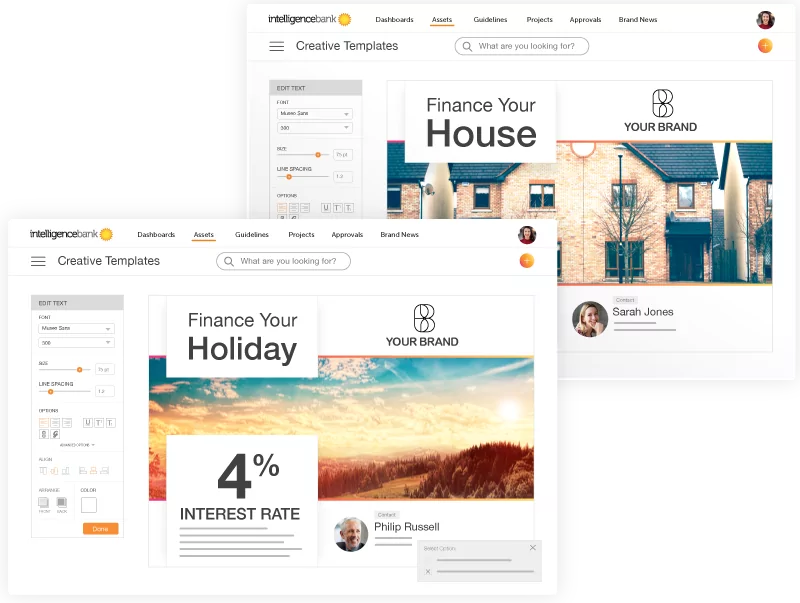 Automate marketing operations
Enable teams to self-serve and localize marketing collateral.
Build ads with locked-down Creative Templates, giving teams freedom to customize without 'going rogue'.
Perfect for creating customized stationary, sales collateral, banners, social posts, ads and posters.
Brand Inbox to capture all marketing requests – and automate repetitive tasks.
Reduce production time, risk, and give the business what they ask for sooner.
Digital Asset Management all in one place.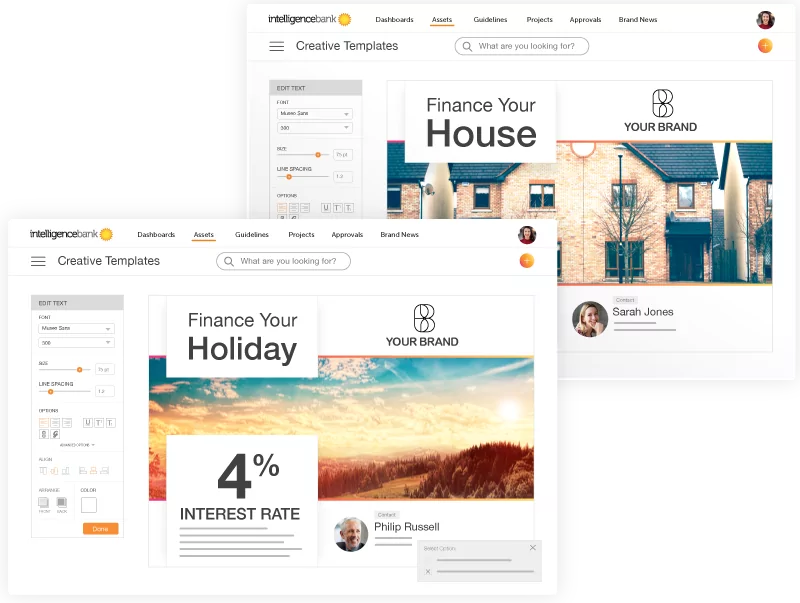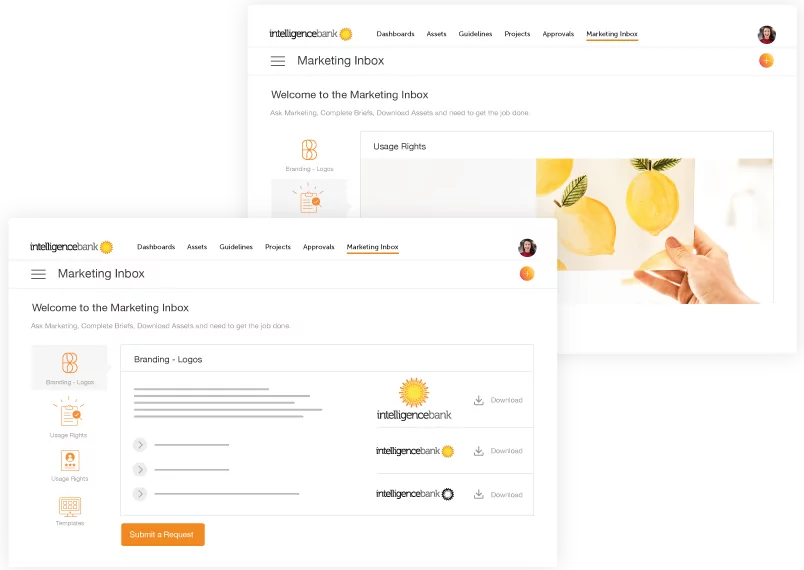 Online brand guidelines help marketers and agencies find brand assets quickly.
Marketing approval platform ensure all creative is brand compliance – with brand checklists and approval workflows.
Limit asset usage to brand approved files only, with verified talent usage rights.
See who is accessing different assets, and how they are being used.
Update assets across multiple platforms to ensure the latest creative is always being used.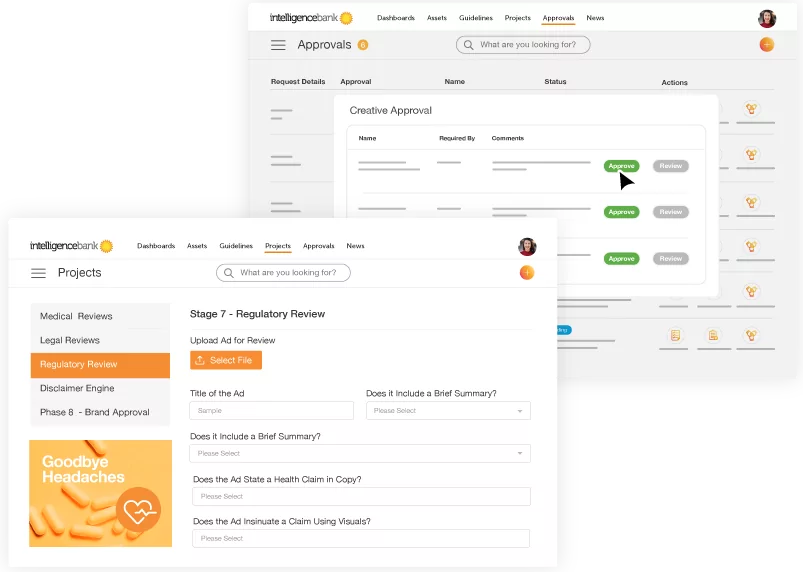 Make compliance easy for everyone
Keep a record of requests, approvals and usage.
Score creative based on risk profile, and automatically elevate riskier content for approval.
Disclaimer engines display 'fine print' when required.
Legal checklists and marketing risk assessments are integrated with Briefs ensuring compliance is followed from the beginning.
Reports and dashboards to track marketing activity, talent usage, adherence to compliance processes, budgets and creative usage. Perfect for analysis and audits.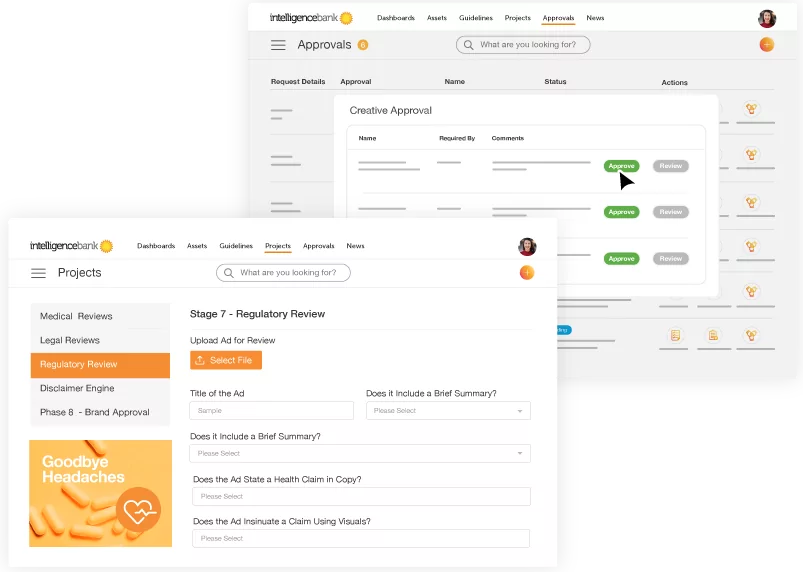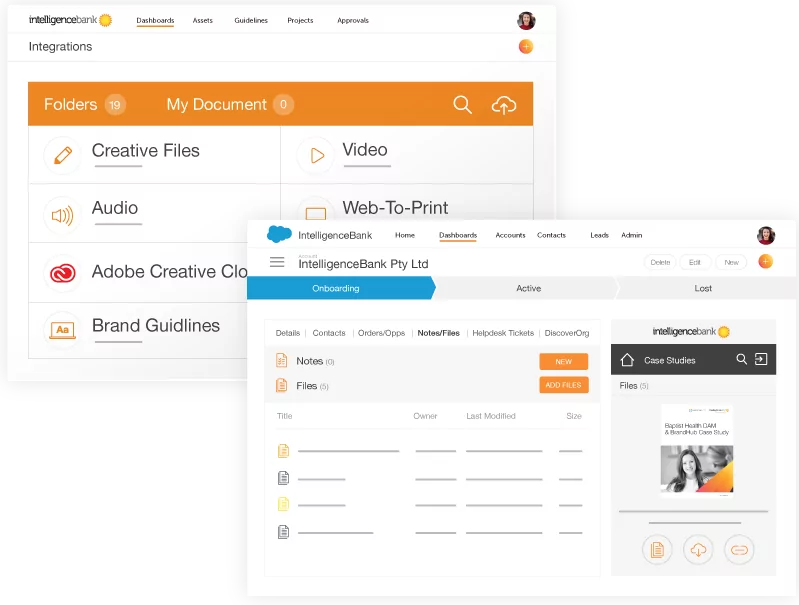 One platform that connects your marketing apps
Achieve marketing efficiency and brand compliance across your entire MarTech stack.
Access DAM assets directly within InDesign, Photoshop and Illustrator.
Integrate DAM assets with your website CMS, such as WordPress, Drupal, AEM, Contentful and more.
Edit Word, PowerPoint and Excel files directly inside your DAM.
Hundreds of out-of-the-box workflow integrations (Handshakes) available. Configurable API for ad hoc integrations.
Marketing Operations Features

Creative Briefs
Creative briefs, tasks and intake forms to manage everything you normally manage in a spreadsheet.

Kanban + Calendars
Track Campaigns, Briefs and Tasks by Status, Due Date or Owner. Visualise project schedule in Calendar view .
Assign + Track Tasks
Manage marketing teams and agencies by keeping track on all projects and tasks.

Brand Checklists
Make sure creative complies with brand and regulatory guidelines before it goes out.

Risk Scores
Setup project risk scores generated by criteria such as pricing, new product launch or media spend.

Brand + Legal Approvals
Convenient checklists to ensure creative complies with brand and regulatory guidelines.

Conditional Logic
Assign approval workflows based on conditional logic – such as new launch, budget spend amount or risk scores.

Disclaimer Engine
Manage disclosures centrally. Integrate with Creative Briefs or third party apps via API.

Brand + Legal Approvals
Convenient checklists to ensure creative complies with brand and regulatory guidelines.
Compare MRM Vendors with The Forrester Wave™
IntelligenceBank named a Contender in The Forrester Wave
™ 
for Marketing Resource Management, Q3 2022 report.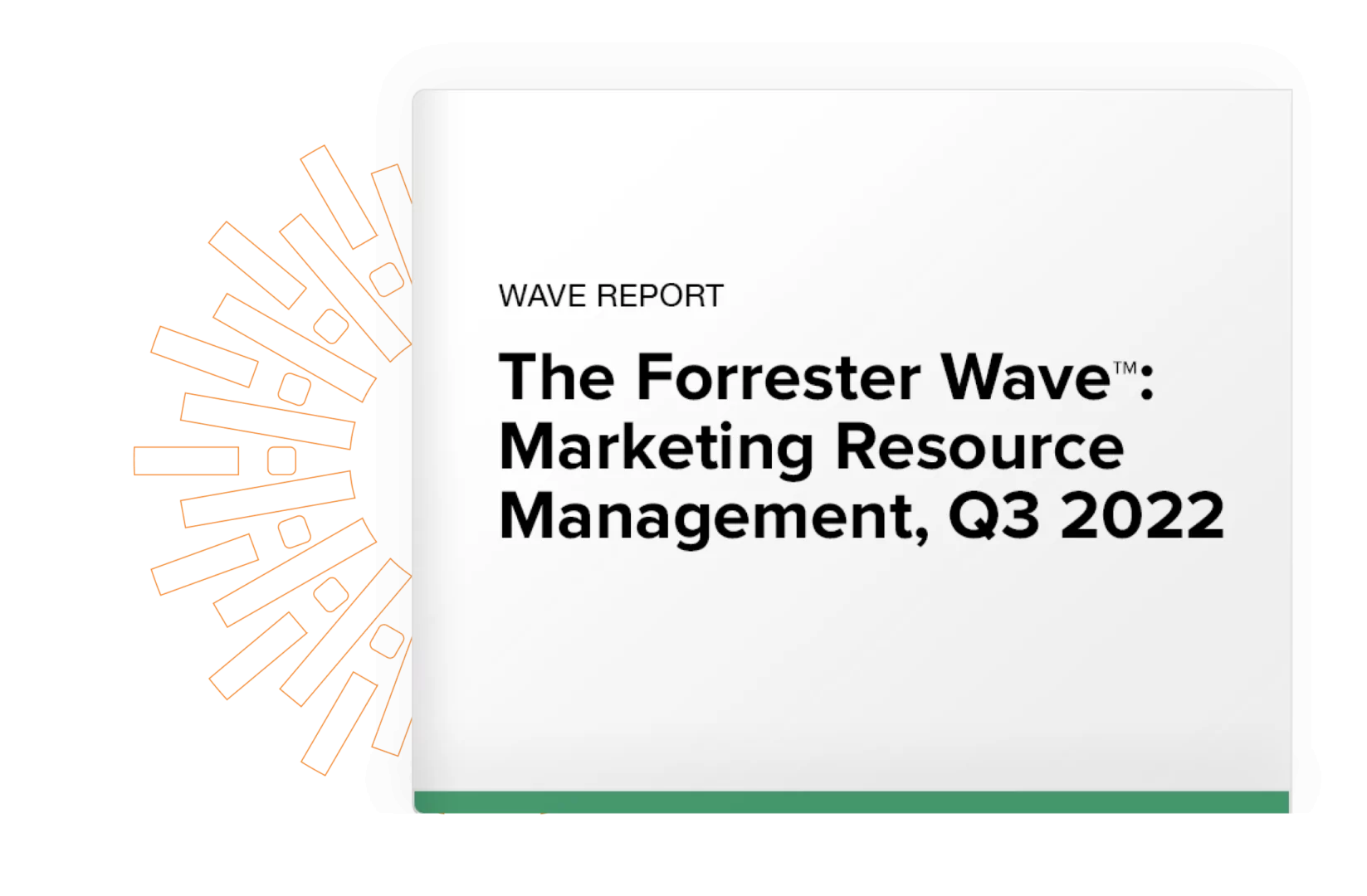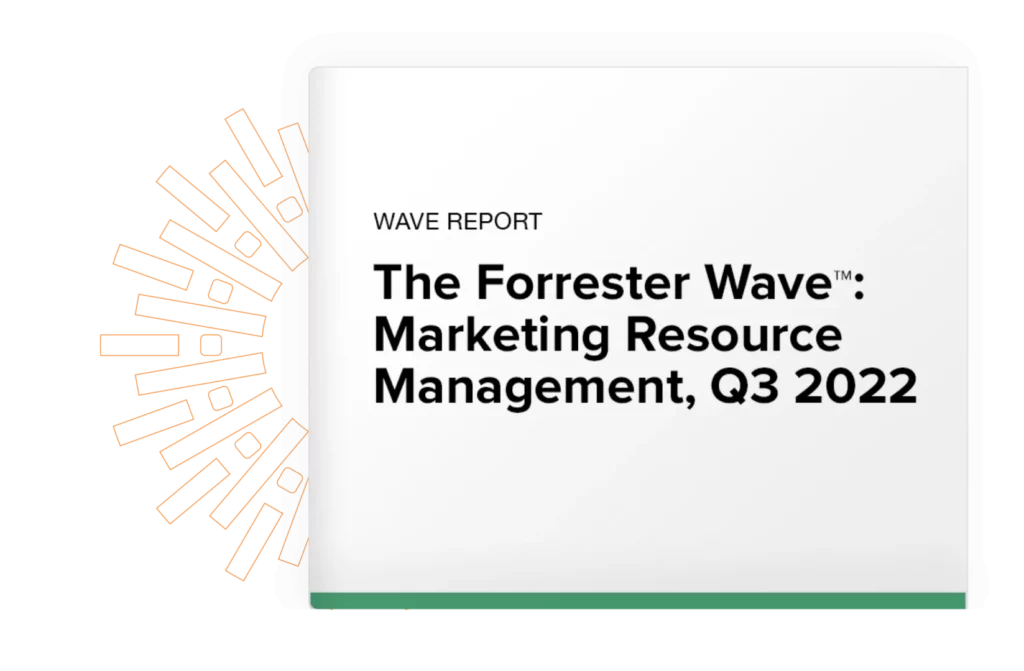 See why great brands love IntelligenceBank and experience what we can do for you.
Hear how our relationship with our clients has helped make their businesses better